Is Tim Pawlenty Running For President, Or Pope?
Tim Pawlenty said in a speech on Friday that America needs to "turn toward God."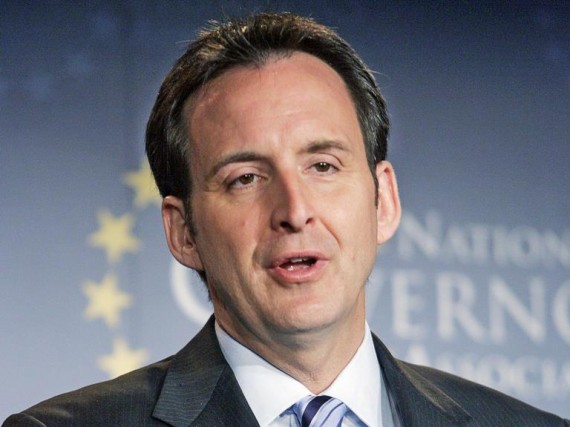 In his speech to the Faith and Freedom Conference on Friday, former Minnesota Governor Tim Pawlenty sounded more like a guy trying to lead a religious revival than a candidate for President:
Tim Pawlenty positioned himself as the 2012 GOP field's most experienced social conservative, touting his opposition to abortion, defense of traditional marriage and devout Christianity.

"The best sermons aren't preached, they're lived," he told the Faith & Freedom Conference in Washington on Friday.

The former Minnesota governor pointed to his record, arguing that the evangelical and social conservatives in the audience should trust that over whatever rhetoric they hear from all the other presidential candidates who address them.

"You're going to say, 'Boy, that sounds pretty similar,'" he said. "But I also hope you ask the question, 'Who's actually done it?' Not just talking, who's actually done it. In the land of Al Franken, we moved the needle on all of it."

Pawlenty struck a more religious tone linking his usual stump speech themes of fiscal responsibility and American greatness stump speech to Christian thinking.

"We need to be a nation that turns toward God, not away from God," he said.
Now I understand that Pawlenty was speaking before a group of religious social conservatives, and this this is a demographic that he is trying hard to attract in 2012. However, is it really appropriate for Presidential candidates to be making appeals like this? Pawlenty's comments strike me as being different from the "God Bless America" that President's typically include at the end of major national address; that's a generic public expression of piety. Pawlenty's comment, though, is a direct exhortation to Americans to adopt a specific religious belief. That strikes me as being just a little bit beyond the pale.
Of course, Pawlenty's speech wasn't designed to appeal to persons such as myself, so perhaps I'm reading too much to it. In general, though, I I'd prefer my Presidential candidates to take about policy and leave the religion to the preachers.