Israel Intensifies Attacks On Gaza, Hints At Ground Invasion
Things look to be going from bad to worse in Gaza.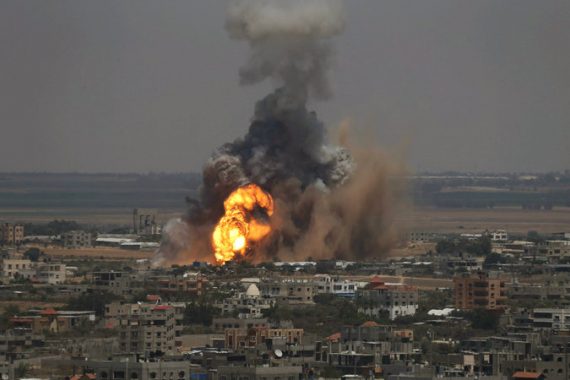 The conflict between Israel and Hamas-controlled Gaza appears to be intensifying yet again, and there are at least some indication that we could be headed for yet another Israeli land invasion of the crowded Gaza Strip:
JERUSALEM — Israel began an intensive aerial offensive in Gaza early Tuesday, bombing more than 50 targets, including at least four homes that the military said belonged to militants, after about 80 rockets were fired out of Gaza on Monday, reaching deep into southern Israel. Military officials said additional reservists were being called up in anticipation of a possible ground assault.

As the airstrikes and rocket fire continued on Tuesday, the Israeli military said that its targets had included what it called a "terror command center embedded within civilian infrastructure" utilized by a militant in the southern Gazan town of Rafah. Nine people were lightly wounded in an airstrike on a house in Khan Younis, in the southern Gaza Strip, according to Ashraf al-Qedra, a spokesman for the Health Ministry in the Palestinian coastal enclave, which is dominated by Hamas, the Islamic militant group.

The air campaign comes after three weeks of escalating confrontation, with rocket attacks from Gaza against southern Israel, and Israeli airstrikes on targets it has described as concealed rocket launchers, training sites and weapons manufacturing facilities associated with Hamas and other militant groups. It also comes against the backdrop of broader Israeli-Palestinian tensions following the kidnapping and murder of three Israeli teenagers in the West Bank last month and what appeared to be a grisly revenge killing of a Palestinian teenager in Jerusalem last week.

Al Aksa radio, run by Hamas, reported that residents received warnings a few minutes before the houses were bombed. Hamas's military wing said in an emailed statement that the bombing of the houses was "a serious escalation" that "will oblige us to enlarge our attacks deeper into Israel."

Early on Tuesday, the Israel Defense Forces announced on Twitter that they had "commenced Operation Protective Edge in Gaza against Hamas in order to stop the terror Israel's citizens face on a daily basis."

According to a statement from his office, the Israeli defense minister, Moshe Yaalon, said that "Hamas is leading this current confrontation to a place in which it aspires to exact a heavy price from our home front."

"In the last few hours we have attacked with force and struck dozens of Hamas's assets," Mr. Yaalon added, saying that the military was "continuing its offensive effort in a manner that will exact a very heavy price from Hamas." He said the campaign was likely to last more than a few days.

In a conference call with reporters, Lt. Col. Peter Lerner, a spokesman for the Israeli military, said there would be "a gradual increase in the pressure we are putting on Hamas."
Further details of the announcement from the Israeli military make it seem as though a ground invasion is certainly being considered, if it hasn't been decided upon already. Additionally, it was announced just a few hours ago that the military had been authorized to call up an additional 40,000 reservists in connection with ongoing operations. Given all of that, the prospect of an Israeli ground invasion of Gaza seems to be quite high.
The outcome of such an operation, of course, is rather inevitable. The superior Israeli forces will overwhelm Hamas and, at least temporarily, impede its ability to launch rocket attacks against Israeli civilians. At the same time, though, its inevitable that such an attack will lead to the kind of civilian casualties that will inflame Palestinian passions yet again, in no small part due to both the congested nature of Gaza itself and the fact that Hamas commonly stations its resources in areas that are populated by civilians, Even with the most precise attacks and airstrikes, civilian casualties are inevitable. At some point, Israel will declare the operation a success and withdraw. Things will be quiet for awhile, only to ramp up again when Hamas has recovered. It's all a perfectly vicious little circle.
At the same time, though, I'm not sure what the solution to this particular problem would be short of military action. The issues that Israel has with Hamas are, in many ways, fundamentally different from the ones it has with the Palestinian Authority in the West Bank. In the later case, the conflict revolves around issues regarding settlement expansion and the status of Jersusalem. These are, in the end, issues that ought to be capable of being resolved diplomatically if and when the parties reach the point that they are really willing to do so. When it comes to Hamas, though, the issues are close to being existential from Israel's point of view, or at least far less capable of being resolved diplomatically under current circumstances. Unlike the Palestinian Authority, Hamas does not recognize Israel's right to exist and dedicates itself to the destruction of the State of Israel. This was the same position that was once taken by the PLO under Yassir Arafat, and relations between Israel and the PLO did not change until the organization retreated from that stance. On top of that, Hamas has engaged in a consistent campaign of terrorism in the form of suicide bombers and rocket attacks against civilian targets that is clearly designed to kill as many Israeli civilians as possible, and of course to terrorize. How, exactly, Israel is supposed to deal with such an organization diplomatically is unclear.
Photo via New York Times