It Is News That Apple's New CEO Is Gay?
Tim Cook is succeeding Steve Jobs as head of the world's biggest technology company. Does it matter that he's gay?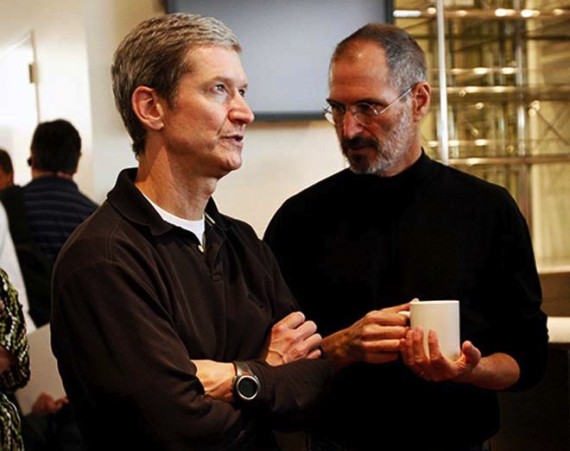 Ever since Steve Jobs' decision to step down as CEO of Apple was announced, there's been an undercurrent of discussion in some sectors of the media about whether certain facts about the private life of his successor are newsworthy. Within hours after it was announced that Tim Cook would succeed Jobs at the head of Apple, Felix Salmon was arguing that the media should not ignore the fact that he is, apparently, a homosexual:
Tim Cook is now the most powerful gay man in the world. This is newsworthy, no? But you won't find it reported in any legacy/mainstream outlet. And when the FT's Tim Bradshaw did no more than broach the subject in a single tweet, he instantly found himself fielding a barrage of responses criticizing him from so much as mentioning the subject. Similarly, when Gawker first reported Cook's sexuality in January, MacDailyNews called their actions "petty, vindictive, and just plain sad."

But surely this is something we can and should be celebrating, if only in the name of diversity — that a company which by some measures the largest and most important in the world is now being run by a gay man. Certainly when it comes to gay role models, Cook is great: he's the boring systems-and-processes guy, not the flashy design guru, and as such he cuts sharply against stereotype. He's like Barney Frank in that sense: a super-smart, powerful and non-effeminate man who shows that being gay is no obstacle to any career you might want.

One of the issues here is that most news outlets cover Cook as part of their Apple story, and Cook's sexuality is irrelevant to his role at Apple. And so the other story — the fact that the ranks of big-company CEOs have just become significantly more diverse — is being overlooked and ignored. And that's bad for the gay and lesbian community more broadly.
Salmon's post generated much commentary from his readers, much of it negative, and Salmon defended his argument in a later post:0
There is nothing salacious about someone being straight, or being gay. Insofar as you think it's salacious, that's because you think that being gay is somehow naughty, or shameful. Is this an invasion of privacy? To a certain extent, yes. More people know more things about Tim Cook now than they did a few weeks ago. That's what happens when you become the CEO of Apple.

In any public corporation, there's a small number of people whose jobs are outward-facing, and at the top of the list is always the CEO. He's the public face of the company; if you see a corporate profile on the cover of a glossy magazine, chances are it will be illustrated with a big picture of the CEO. If you don't want your face splashed across the world's media, then you shouldn't be CEO of a massively valuable company which touches millions of people. Sometimes, as in the case of Mark Zuckerberg, entire movies — and not particularly accurate ones, either — are made about you and your personal life. Reporting that Tim Cook is gay is absolutely nothing, in the invasion-of-privacy stakes, compared to The Social Network. But CEOs, especially CEOs of public companies, are public figures. Their salaries are a matter of public knowledge. When you're a public figure, you lose a certain amount of privacy. And the higher your profile rises, the more privacy you lose. Tim Cook knows that; he knows that it's silly to expect to be the CEO of Apple without the world knowing that he's gay. So let's stop pretending that we're not talking about this subject for his sake.
Regardless of why the media isn't talking about it, it seems rather clear that Cook isn't talking about it. It certainly can't be because he's feared for his job. California outlaws discrimination in the workplace based on sexual orientation, and Apple has a reputation for being among the most gay-friendly employers in the California technology community. Even though it isn't something that he broadcasts, Cook's sexual orientation is apparently common knowledge in that community. More importantly, it clearly hasn't hurt his rise at Apple to the top position, an appointment filled with tremendous responsibility and symbolism simply because of who he is replacing.
Why should it matter, then, who, if anyone, he sleeps with when he goes home at night?
Steve Jobs has been a part of the business and technology world since the 1980s, and I didn't know until I looked it up on Wikipedia that he was married and had four children, including one from a previous relationship. Outside of Melinda Gates, who has taken a public role as the head of her husband's foundation, I couldn't name a single family member of a prominent CEO, and I consider myself someone who is fairly well informed when it comes to business news and news in general. Clearly, the media doesn't pay significant attention to the personal lives of these people. Why? Because it isn't really relevant to their jobs. Why should Tim Cook be treated any differently simply because the gay community wants to force him to play the part of a role model, a role that he may not want to play?
I understand Salmon's argument, but if Tim Cook choose to keep this part of his life private, then why is it any of our damn business?