It Looks Like Lindsey Graham Is Running For President
And the fun part is that his main motive for running appears to be the opportunity to troll Rand Paul.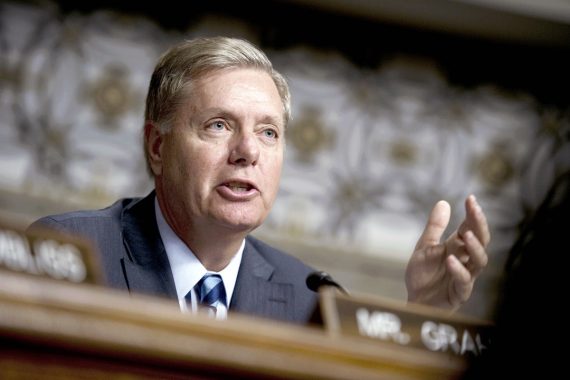 It would appear that South Carolina Senator Lindsey Graham is pretty close to getting into the Presidential race:
Sen. Lindsey Graham said Sunday there's a better than 90 percent chance he'll run for president, saying he'll decide in May.

"If I can raise the money, I'll do it," the South Carolina Republican said on "Fox News Sunday.

Graham said he'll win South Carolina if he's on the ballot, pointing out he won his reelection primary there last year by more than 40 points, despite challenges from multiple candidates. A recent poll of the GOP presidential primary field in South Caroilna, however, showed him trailing Wisconsin Gov. Scott Walker, former Florida Gov. Jeb Bush and Texas Sen. Ted Cruz.

"If I didn't think I could win South Carolina, I wouldn't be talking to you," Graham said.

The South Carolina senator offered the strong signal that he'll run for president after being told that former Hewlett Packard CEO Carly Fiorina recently indicated she was 90 percent certain to enter the race. Asked by Fox host Chris Wallace to offer a percentage likelihood that he'd run, Graham said, "91."

The third-term senator has staked his prospective bid for the GOP presidential nomination on his foreign policy chops, running as a hawk on Iran and using the Fox News interview to land broadsides on some of his potential Republican opponents and the Obama administration.

Still, he's viewed skeptically by a Republican base wary of his support for immigration reform that includes a pathway to citizenship and of a debt reduction plan that would raise new revenue in addition to cutting entitlement and other spending.
Realistically of course, Graham simply isn't much of a factor in the Republican Presidential race. Despite his claim that he could win the state, he isn't showing any evidence of that in polling. He's currently in third place in the RealClearPolitics average at 12.7%, behind both Jeb Bush and Scott Walker. More importantly, he is such a non-entity outside of South Carolina that he isn't even included in the polling in places like Iowa and New Hampshire, and he hasn't been included in most of the national polling. Theoretically, if Graham could somehow pull off a surprise win in the South Carolina Primary it would arguably give his campaign a boost, but that's not exactly guaranteed. Much like Rudy Giuliani in 2008, who bet his entire campaign on a big performance in the Florida Primary, basing the fate of the entire campaign on the outcome of the South Carolina is more likely to send it to an early end than be the key to future success.
It's possible that Graham could do well in New Hampshire, I suppose. If he runs, he could potentially earn the support of fellow Senator John McCain, who has a long history of doing well in New Hampshire and has been called on as a campaign surrogate for everyone from Kelly Ayotte and Mitt Romney to Scott Brown when he ran for Senate last year. At the same time, though, Graham would be running against a fairly strong field that is going to have a lot of appeal for conservative and moderate voters in the Granite State. It's very hard to see how an avuncular Senator from South Carolina is going to distinguish himself in a crowded field like that.
One gets the impression that Graham isn't thinking about getting into the race because he thinks he can win. For months now, he's become one of the Senate Republican Caucuses most frequent speakers on foreign policy issues, and a vocal critic of Kentucky Senator Rand Paul. Along with John McCain and Kelly Ayotte, Graham has been an outspoken critic of the President's foreign policy and an advocate for a more aggressive foreign policy platform on the part of Republicans whether the subject involves Syria, ISIS, Yemen, Ukraine, or pretty much anywhere else in the world. He has also criticized the growing movement inside the party for a less aggressive foreign policy, which is perhaps best typified by Paul. On some level, it's not too hard to believe that he sees a potential Presidential campaign primarily as a means to advance his foreign policy views, and to undercut Rand Paul. Get the popcorn out, folks, because this is going to be fun to watch.