The Centrality of Nominations
American political parties are controlled by the primaries.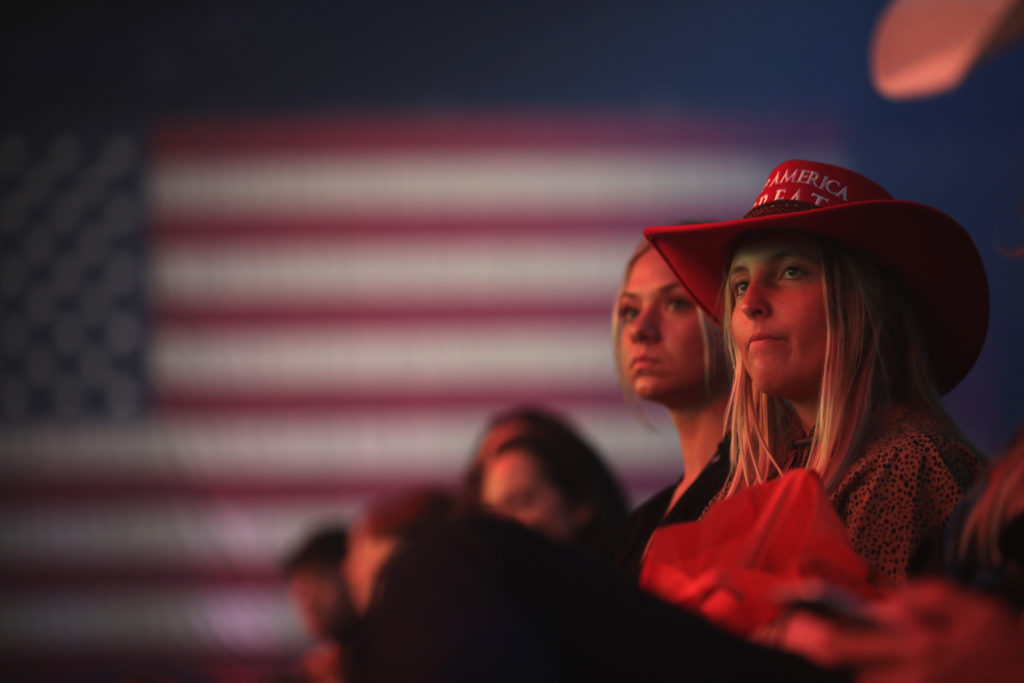 Let me be explicit about the underlying issues in my post about McConnell and Trump: the major political parties in the United States lack central leadership because no one controls the usage of their labels. I have noted this before (indeed, multiple times) but there are no tests of knowledge or ideology, no required boot camp to attend, no audience with the Grand Poobah of the party that one has to endure. To be Republican or Democrat requires only self-declaration. And to be a candidate for office requires winning the party's primary.
Now, it is true that what I have written above does not apply to third parties (although there are some limited examples of third party primaries). It is also true that there are some limited examples of party conventions being used to name Republican or Democratic candidates at the state level. But in the main, and far and away so, elected officials in the US self-select into their partisan affiliation and win access to the general election ballot via primary elections. They then reap the benefits of those labels in the general, regardless of what party leaders may or may not want. More accurately, perhaps, at that point, all they want is for their co-partisans to win, regardless of anything else (such as whether they are on the fringe or more in the mainstream).
This is an extremely important feature of American politics. It is also unique to the United States in its application. A handful of other parties in other countries have used mechanisms like primaries, but nothing anywhere matches the US in the long-term, nearly universal usage of this mechanism.
Indeed, it is my view that the single most significant (although hardly sole) reason for the stability and durability of our two-party duopoly is the primary system.* It takes away the incentive of factional actors to form new parties. It is easier and cheaper to seek the nomination of one of the two major parties than it is to form a new party.
The Tea Party faction of the GOP is an excellent illustration of this.
A more recent example would be Marjorie Taylor Greene (R-GA14). She is an unabashed supporter of QAnon. Had she tried to form a QAnon Party to run in the 2020 general, she would not have won the seat. The district is overwhelmingly Republican (in 2014 and 2018 the Republican was unopposed and in 2018 he won over 76% of the vote). The winner of the Republican primary is destined by math to win the seat.**
Greene had more money than her competitor in the GOP primary (for an open seat), and won a plurality of 40.6% in the first round of the primary, and went on to win the run-off with 57.1%. She then crushed her Democratic opponent because there are far more Republicans in GA14 than there are Democrats.
The point here is that an entity called "The Republican Party" did not go out and select Greene. Some "they" did not choose to proactively let a QAnon adherent into the party but now here she is.
Now, party leadership in Congress could shun Green, but they have no incentive to do so. At a minimum, the GOP is in a highly competitive environment in Georgia. They have to worry about every vote for Governor and for Senator–and those statewide contests are coming in 2022. How willing would even an idealized GOP House leadership (which, BTW, we do not have) be to risk upsetting Republican voters in GA14? Plus, every R seat is still an R seat and not a dreaded D seat.
So, this is, to deploy a cliche, the tail wagging the dog. Greene is a fringe actor who was able to walk in the open door of the primary process. Now, the national party is in the position of at a minimum passively validating QAnon.
And this is how parties evolve in the United States. In other systems, such fringe actors would either be unable to find a way into the legislature due to lack of electoral support or they would be relegated to being a member of a fringe party (as opposed to being a party a few seats away from being in the majority).
In another system, anyone voting for Greene would have to consciously be voting for the fringe instead of having Greene be part of a far larger mainstream party (in, again, a rigid duopoly, with effectively only two choices). Being the nominee of a mainstream party washes a lot of the fringe off of a candidate for most voters (even if it is only a surface cleaning).
It should be said again: most voters, even informed ones, use party label as the key sorting mechanism when deciding for whom to cast their vote.
Trump himself is the ultimate example of what I am talking about. There is no entrance exam to enter the presidential primaries. There are no party leaders who control access to the party's label. The label is sitting there for the taking and when Trump won the nomination we won a key leadership position in the party, and that was orders of magnitude more the case when he won the presidency. Just look at how Republicans like Lindsey Graham talked about Trump when he was just a guy in the primary versus when he was the nominee versus when he won.
And his role in the party allows him to communicate with the party mass and that mass listens to leadership (as masses do). And so now we have widespread belief in a number of lies. This power could be leveraged into influence over nominations in 2022. (That and the money that Trump has raised on the backs of those lies).
So, when we look at political calculations for both Trump and McConnell (and, really, numerous GOP actors) it is exactly this: the amount of influence that Trump might have over the coming primary season. The character and tone of the party will be dictated by those chosen by those primaries.
McConnell (and others) know that if Trumpists win primaries in safe GOP districts (or states for the Senate) then those Trumpists will come into power, with all that would mean for the legislative behavior of the party going forward. But they also know that if Trumpists win in competitive states/districts that that could help Democrats.
Further, a third party, even if it only draws small numbers, could very much damage Republican chances in competitive races.
There is a delicate balancing act going on here wherein Republicans like McConnell understand the chaos that Trump could cause in 2022 if his influence with likely primary voters (i.e., "the base") remains high. But there are also a lot of members of Congress, which includes the roughly 65% of the House caucus who voted to reject the AZ slate of electors, who fear that influence on their own nominations and are acting accordingly.
Never forget: the most fundamental goal of any elected official is to get re-elected (or to move on to higher office). This shapes their behavior more than ideology or public policy (because to further your ideological and policy goals you need to be re-elected). Re-election is a first-order goal.
The main goal of legislative parties is majority control of the chamber and so a fringe co-partisan is better than the sanest member of the opposition. Partisan control of the House, for example, is about the number of people with Rs by their name, regardless of their views or beliefs. As such, Minority Leader McCarthy has every incentive to kowtow to the fringe if he thinks that fringe can win his caucus a few more seats.***
Indeed, one of the main reasons I constantly harp on about representativeness is that we need the electoral rules to better align the motivations of politicians with the actual preferences of voters. This is why a system that effectively gives people only two choices produces a Representative Green when a proportional representation system would likely have produced, at worst, a small QAnon party.**** PR helps corral fringe groups into small parties rather than giving them direct access to large ones, as is the case in the US with open access nomination process and noncompetitive single-seat districts.
Put another way: primaries allow smaller factions of the larger party to capture control of nominations, In turn, those factions often win control of legislative offices because the general election is non-competitive. This then skews the party's behavior toward the fringe rather than to the broader public. It subverts the very idea of representation. And all of this are key features of our political system.
There are deep, structural reasons for why we are where we are (not that they are the sole reasons).
We need democratic reform badly, but I fear we aren't going to get it.
---
*It isn't simply because of single-seat plurality elections (i.e., Duverger's Law). Canada, India, and the UK all use that system of election and all three have more than two viable (i.e., seat-winning) third parties. The range and depth of mulitpartism in those cases varies, but one cannot argue that single-seats plurality causes the US duopoly.
To be clear: the primaries are not the sole reason, as presidentialism in general and the EC in particular, help contribute (as do other factors).
**I know that it is possible that some mass-level change of position in a district could take place, but the probability is extremely low (near zero, in fact).
***I would posit that McCarthy's calculations are different than McConnell's because of the margins in the two chambers and the fact that Senate races tend to be more comparative than House contests. McConnell just lost control of the Senate because of Trump. McCarthy might be able to leverage Trumpism to win back the House. (This requires more thought, I would note).
****I know it feels like QAnon has taken over the GOP, but the reality is that actually running a QAnon platform would be a radically different thing than being able to drape oneself in the cloak of a mainstream party that has been in continuous operation since the mid-19th century and that is deeply embedded in the identities of tens of millions of Americans.