McConnell and Trump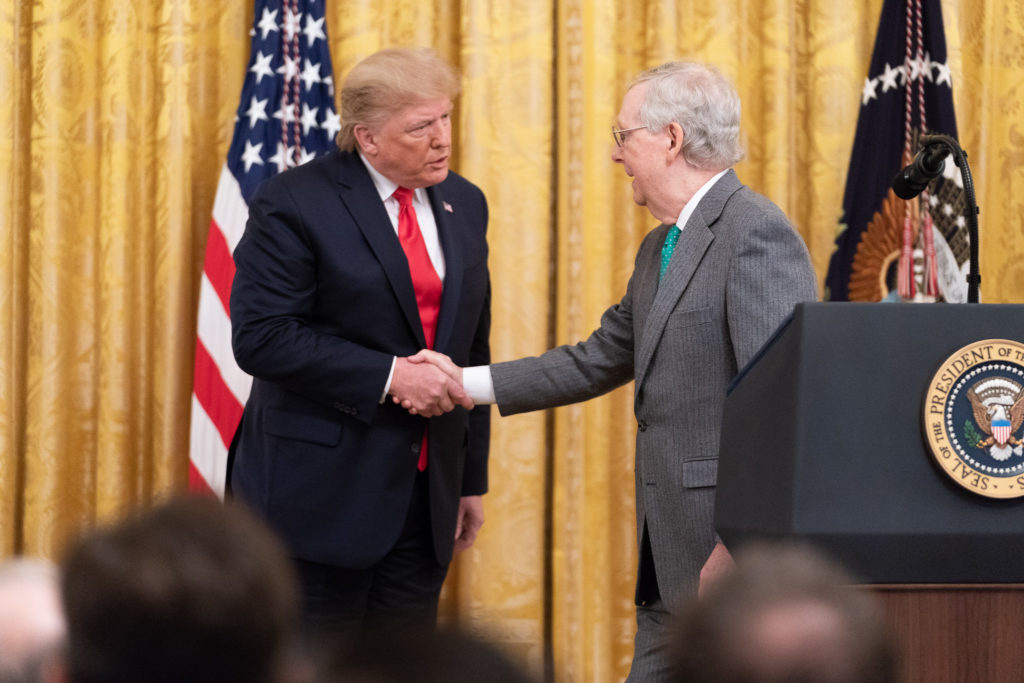 Jane Mayer has a piece in the New Yorker entitled Why McConnell Dumped Trump with the subheading: "After the Capitol assault—and after losing his perch as Majority Leader—the senator finally denounced the outgoing President. Was it a moral reckoning or yet another act of political self-interest?" I did not need to read the piece to know that that answer was "another act of political self-interest."
Still, even with that spoiler (ha!) the piece is worth a read, and the entire Trump-McConnell relationship sits in the middle of internal difficulties in the GOP at the moment as well as Trump's ongoing need to be noticed.
McConnell indulged Trump's initial post-election behavior in a bid to bolster GOP voting in the Georgia run-off and gambled that if he didn't do so that Trump might have scuttled those races. It was a gamble that didn't pay off since McConnell is now the Minority Leader.
One of the most remarkable aspects of the Georgia run-off is that it is highly likely that if Trump had behaved like a normal politician and conceded instead of spending weeks casting unfounded doubt on the electoral system, the GOP would likely have won one or both of the Georgia Senate run-offs. But the relentlessness of his attacks almost certainly had three effects that were all to the detriment of the Republicans: 1) they helped motivate Democrats, 2) they likely turned some moderate Republicans against their own party (either leading to vote-switching or abstention), and 3) they caused some true-believers to stay home because, after all, the system is rigged.
In regards to Georgia, the piece discusses the way Trump directly intervened, including a meeting with Perdue of which I was unaware.
Days before the runoff, the insider said, the President forced Perdue to leave the campaign trail for a secret meeting at Mar-a-Lago, Trump's private club in Palm Beach, Florida. There, Trump coerced Perdue not just into taking his side on election fraud but also into supporting an increase in the size of pandemic-relief checks to two thousand dollars—a figure that McConnell and Senate Republicans opposed. If Perdue refused, Trump made clear, he might withdraw his support. At the time, a spokesman for Perdue's campaign denied that Trump had pressured Perdue. But, soon after the Mar-a-Lago meeting, both Perdue and Loeffler began echoing Trump's call for larger relief checks, placing themselves and McConnell in an embarrassing political bind. Trump, meanwhile, went on Twitter and attacked McConnell's opposition to the bigger relief checks, calling it a "death wish." The President's behavior toward the candidates led the insider to a simple conclusion: "Trump is a thug."
Gee, you don't say?
What this illustrates, being Trump's obviously mafiaesque way of doing business, is that Trump was out for Trump, not the party, as anyone paying attention clearly knows.
And the candidates and party leadership reaped what they sowed:
As it turned out, the Republican leadership's complicity with Trump was not only cynical; it also may have been an egregious miscalculation, given that voter data suggests his unchecked behavior likely cost the Republican Party the two Georgia seats. The chaos and the intra-party warfare in the state appear to have led large numbers of moderate Republican voters in the suburbs to either vote Democratic or not vote at all. And in some deeply conservative pockets of Georgia where the President held rallies, such as the Dalton area, Republican turnout was unexpectedly low, likely because Trump had undermined his supporters' faith in the integrity of American elections.
After the Georgia election, McConnell was free to pivot as he saw fit. And he pivoted pretty dramatically against Trump.
His speech on the floor of the Senate concerning the Cruz challenge of the AZ slate of electors was important because he spoke the truth. It is important to say that I think he did so not in service to the truth, but rather for his own cynical, self-serving reasons. But truth is truth regardless of the motivation behind its utterance, and what he said, many Republicans needed to hear (even if many of them still ignored said truth):
The voters, the courts, and the states have all spoken. They've all spoken. If we overrule them, it would damage our Republic forever.

[…]

So I believe protecting our constitutional order requires respecting the limits of our own power. It would be unfair and wrong to disenfranchise American voters and overrule the courts and the States on this extraordinarily thin basis. And I will not pretend such a vote would be a harmless protest gesture while relying on others to do the right thing. I will vote to respect the people's decision and defend our system of government as we know it.
Likewise, McConnell spoke more truth earlier this week:
"The mob was fed lies," McConnell, R-Ky., said in a speech on the Senate floor Tuesday afternoon.

"They were provoked by the president and other powerful people, and they tried to use fear and violence to stop a specific proceeding of the first branch of the federal government, which they did not like."
Now, these truths are tainted by the fact that McConnell himself helped perpetuate doubt in the public, as Mayer notes:
in the weeks after November 3rd, McConnell continued to lend tacit support to Trump's increasingly dangerous claims that he was the true victor. In a combative Senate speech six days after the election, McConnell declared that Trump was "a hundred per cent within his rights to look into allegations of irregularities and weigh his legal options." He went on to scold the many public figures who were demanding that Trump concede. "Let's not have any lectures about how the President should immediately, cheerfully accept preliminary election results from the same characters who just spent four years refusing to accept the validity of the last election," McConnell said. As he surely knew, it was a false equivalence: Democratic politicians had raised many questions about the effects of Russian interference on the 2016 election results, but Hillary Clinton had conceded the race the morning after the vote.
His own hands are not clean when it comes to fanning the flames of insurrectionist anger. His words from the election until the EC voted were such that that encouraged the doubters to doubt.
Of course, getting what he wanted (judges and tax cuts) and being unable to get anything else from Trump once the Georgia run-off had taken place, he has shifted his rhetoric. In addition to the above-noted statements on the Senate floor, McConnell has also signaled some support for the impeachment effort. (And the fact that his wife resigned from the cabinet was also a signal).
In the days after the Capitol attack, as horrifying footage emerged of marauders ransacking the building and chanting, "Hang Mike Pence!" and "Treason!," McConnell, through a series of anonymously sourced reports in major news outlets, distanced himself even further from the President. As a prominent Republican strategist noted, "Nothing's ever happenstance with McConnell"—and so each report was taken as a Delphic signal. On January 12th, the Times published a headline declaring that McConnell was "said to be pleased" about the Democrats' intention to impeach the President a second time. Unnamed associates revealed to reporters on Capitol Hill that McConnell was no longer speaking to Trump, and might vote to convict him if the impeachment process moved to a Senate trial. On January 13th, ten Republican members of the House of Representatives joined the Democrats in impeaching Trump, for "incitement of insurrection." Soon afterward, McConnell made clear to his Republican colleagues that he regarded impeachment as a matter of individual conscience, not one of party loyalty.
To me, the issue for McConnell and the GOP is this: how many of them want to rid themselves of Trump and how many fear his influence over the 2022 GOP primaries specifically?
Conviction in the Senate will lead to Trump being barred from running again (I cannot imagine him being convicted and the body not then voting to deny him further access to office). That would clear the field for a number of Republicans to run for the nomination in 2024 without worrying about Trump running. It would also lessen press interest in Trump, as he will garner more coverage if he is a potential candidate. It is also harder to raise funds if one can't run (not that he isn't gifting in the grift).
I wonder, too, if talk of forming a new political party will die out if Trump himself can't be a candidate (of course, if enough Republicans vote against Trump in the Senate, that might incentivize him to create a new party out of spite). A third party is a bad idea from the perspective of current GOP office-holders, and I don't know what good it would really do for Trump, as he is still arguably the leader of the Republican Party.
In regards to the potential for a Patriot Party, WaPo reports: Trump jumps into a divisive battle over the Republican Party — with a threat to start a 'MAGA Party'.
In recent weeks, Trump has entertained the idea of creating a third party, called the Patriot Party, and instructed his aides to prepare election challenges to lawmakers who crossed him in the final weeks in office, including Rep. Liz Cheney (R-Wyo.), Georgia Gov. Brian Kemp (R), Sen. Lisa Murkowski (R-Alaska) and Rep. Tom Rice (R-S.C.), according to people familiar with the plans.
The thing is, and this shows Trump's lack of political acumen, all that a third party challenge would do in most of these cases would be to simply hand the race to the Democrats–it certainly would in Georgia and might in South Carolina. In the case of Alaska, it would likely have no effect, especially with their new electoral rules. I am unclear on how it would help oust Cheney in WY, for that matter.
The smart play in our system is not forming a Third Party, it is funding a serious primary challenger (at least if the goal is to, you know, win the election). Although, that may be on the table as well:
Multiple people in Trump's orbit, who spoke on the condition of anonymity to discuss private conversations, say Trump has told people that the third-party threat gives him leverage to prevent Republican senators from voting to convict him during the Senate impeachment trial. Trump advisers also say they plan to recruit opposing primary candidates and commission polling next week in districts of targeted lawmakers. Trump has more than $70 million in campaign cash banked to fund his political efforts, these people say.
Financing primary challenges would be the right move, if Trump wants to influence these races and so the Patriot Party seems extremely unlikely. But I would not put it past him to make the wrong investment here.
Speaking of money and back to McConnell's concerns, there is also the fact that the capitol insurrection upsets a lot of donors. From the Mayer piece:
After the January 6th insurrection, dozens of the largest corporate campaign donors, including A.T. & T., Comcast, and Honeywell, used their cash to send a message: their political action committees would no longer contribute to the hundred and forty-seven Republican representatives and senators who had opposed certification of the Presidential election even after the Capitol riot, on the spurious ground that the process had been less than fair. Even Koch Industries, the huge oil-refining conglomerate that has served as the conservative movement's piggy bank for decades, said that it was reëvaluating its political contributions. McConnell, who once infamously declared that the three most important ingredients for political success in America are "money," "money," and "money," was reportedly alarmed. A spokesperson for McConnell denies this, but, according to the Associated Press, he spent much of the weekend after the Capitol assault talking with colleagues and the Republican Party's wealthy corporate donors, promising that he, too, was finally done with Trump.
Truth be told, Trump is a wrecking ball and the GOP deserves the chaos they are getting from him. And all of McConnell's machinations are designed to lessen the damage. His turn towards truthtelling of late is a good example of the convergence of interests leading to good outcomes, even if the politician in question is not acting out of, to use a phrase from the beginning of all of this, moral reckoning.
The country will be served if McConnell and sixteen other Republicans believe that they are better off without Trump and vote to convict and for him to be disgraced and barred from further running, regardless of their motives. I do not think that to be the likely outcome, but I do think the chances that it happens is greater than zero.
I think a lot of this hinges on what will motivate Trump to remain involved in politics (and what GOP Senators think he thinks). Will the possibility of at least playing at a 2024 run be sufficiently enticing (both as an ego boost and a source of revenue) to keep him active or will revenge on GOPers who had the audacity to vote against him be a greater motivation if his 2024 pathway is taken away from him?
In other words: would taking away 2024 demotivate him or further motivate him?
McConnell is currently having to do a lot of political calculations.
One thing is for sure: the Republicans brought this chaos upon their own heads and deserve all the distress and dismay it is causing them. Of course, the problem is that the rest of us had to endure the last four years and will be caught in the wake of current GOP travails.