It's Mitt Romney's Nomination to Lose
Mitt Romney is once again the clear frontrunner for the Republican nomination.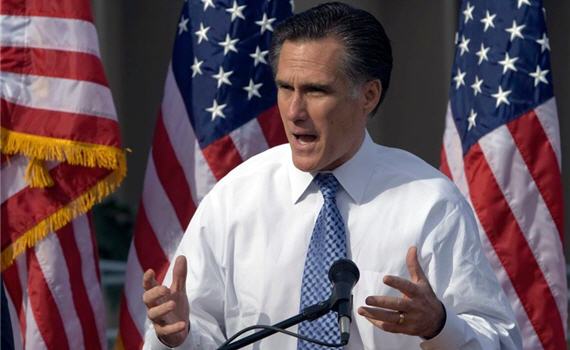 Mitt Romney is once again the clear frontrunner for the Republican nomination.
WaPo ("Rick Perry slips, Herman Cain rises in bid for GOP nomination, poll finds"):
After a quick rise in the race for the Republican presidential nomination, Texas Gov. Rick Perry has experienced an almost equally dramatic decline, losing about half of his support over the past month, according to a new Washington Post-ABC News poll.

Perry's slide, which comes after several uneven performances in candidate debates, has allowed former Massachusetts governor Mitt Romney to resurface atop the GOP field. But the most direct beneficiary of the disenchantment with Perry is businessman Herman Cain, who is now tied for second place.
Romney has a slim lead in the RealClearPolitics poll of polls but is leading in all three of the most recent polls taken and has a whopping lead in the two polls taken this month.

Rick Perry, like Michele Bachmann and Donald Trump before him, has proven not ready for the national spotlight. Chris Christie has declined, yet again, to run. And time is fast running out on Sarah Palin's ability to jump in.
Herman Cain is a bright guy and a good speaker. But he's never held elective office before and seems prone to saying odd things. Even with his folksy appeal to the Tea Party faction, it's hard to see someone whose claim to fame is a stint running the seventh largest pizza chain in America getting nominated to take over as leader of the free world.
Romney doesn't inspire much enthusiasm but he's got a plausible presidential resume, is running a competent campaign, and would have an excellent chance of winning over independents in a matchup with President Obama.
While it's not exactly and endorsement likely to endear himself to the Republican base, David Brooks thinks Romney is the right man for the time.
There are two important features of the current Republican moment. First, this is not a party riven by big ideological differences. This is not Reagan versus Rockefeller. Whoever wins the nomination will be leading a party with a cohesive ideology and a common set of priorities: reform taxes, replace Obamacare, cut spending and reform entitlements. The next president won't have to come up with a vision, just execute the things almost all Republicans agree upon.

Second, the challenges ahead are technically difficult. There's a reason that no president since Reagan has been able to reform the tax code. There's a reason no president save Obama has been able to pass health care reform. These are complicated issues that require a sophisticated inside game — navigating through the special interests, building complex coalitions. They are issues that require executive expertise.

[…]

Romney's skills are not to be underestimated. In the first place, he doesn't throw interceptions. As with quarterbacks, the chief job of a president is not to give the game away with unforced errors. [Brooks had apparently been watching Tony Romo highlights before writing the column – ed.] Romney does not take excessive risks. He doesn't make decisions without advance preparation.

He does adapt. It has been stunning to see how much better Romney is as a candidate this time around than in 2008. This improvement must have come from a pretty thorough period of self-examination and self-correction.

He seems to know how to pick staff. His economic advisers include R. Glenn Hubbard of Columbia, Greg Mankiw of Harvard, former Senator Jim Talent and Vin Weber, a former congressman. This is the gold standard of adviser teams.

He could probably work well with the leaders of his own party. If Romney were to be elected, he would probably share power with the Senate minority leader, Mitch McConnell, and the House speaker, John Boehner. These are not exactly Tea Party radicals. Instead, they are consummate professionals and expert legislators who could plausibly work together. More presidents have been undone by the Congressional leaders in their own party than by members of the opposition.
That's not exactly the stuff of stump speeches and TV commercials. But it's actually likely to resonate with the type of voters that are in play in general elections.
The extended campaign is quickly weeding out the yahoos. With Perry looking to be toast, we're left with two plausible presidents in the Republican field: Romney and Jon Huntsman. And, as much as some of us would prefer otherwise, Huntsman is  simply not catching on; he's actually losing ground as the race goes on.
None of the candidates currently running against Romney can win the nomination. And we're about three weeks away from it being virtually impossible for a new candidate to meet filing deadlines in crucial early primary states, much less set up an elaborate organization. So, the unexciting one may be the last man standing.