Janet Yellin Hints At Another Rate Increase This Month
Federal Reserve Board Chair Janet Yellin hinted strongly today that we're likely to see another interest rate increase this month.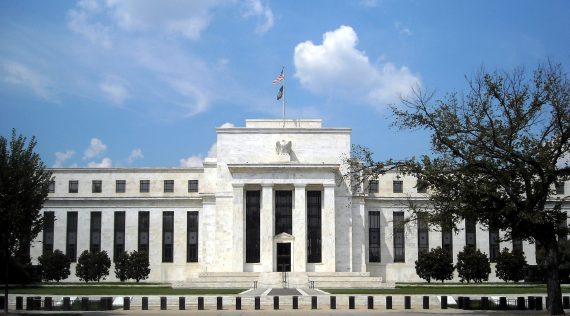 Federal Reserve Chairwoman Janet Yellin strongly hinted today that we're likely to see another interest rate increase this month:
Janet L. Yellen, the Federal Reserve chairwoman, said Friday that the Fed was likely to raise its benchmark interest rate this month, barring any unpleasant economic surprises.

Ms. Yellen's declaration, in a speech in Chicago, capped an intensification in the Fed's communication in recent days as officials put investors on notice that a rate increase was coming sooner than had been widely expected.

"At our meeting later this month, the committee will evaluate whether employment and inflation are continuing to evolve in line with our expectations, in which case a further adjustment of the federal funds rate would likely be appropriate," Ms. Yellen said, referring to the Fed's policy-making arm, the Federal Open Market Committee.

The committee is scheduled to meet in Washington on March 14 and 15.

Financial markets have taken the Fed's language in stride, which is likely to reinforce the confidence of Fed officials that they can safely raise rates. The Fed last lifted its benchmark rate in December, to a range of 0.5 percent to 0.75 percent.

Rates remain at a low level by historical standards, supporting economic growth by encouraging borrowing and risk-taking. But Fed officials have increasingly concluded that the economy is nearing the end of its recovery from the 2008 financial crisis, and that maintaining low rates could increase growth to an unsustainable pace.

The unemployment rate, at 4.8 percent in January, is in a range Fed officials regard as healthy, and inflation is rising back toward the 2 percent level that the Fed considers optimal.

Stanley Fischer, the Fed's vice chairman, echoed Ms. Yellen in separate but simultaneous remarks Friday at a conference in New York.

"We've seen a lot of substantial change in a relatively short time," Mr. Fischer said at the United States Monetary Policy Forum, noting what he described as a marked change in the economic weather since the presidential election on Nov. 8. "There is almost no economic indicator that has come in badly in the last three months."

Asked whether Fed officials were engaged in a coordinated campaign to prepare markets for a rate increase later this month, Mr. Fischer replied, "If there has been a conscious effort, I'm about to join it."

Ms. Yellen said she expected the Fed to raise rates by the end of the year to a level that would effectively end the central bank's stimulus campaign — something she said was likely to require three increases, each of 0.25 percentage points. She added that further increases were likely to be necessary in coming years to maintain a neutral stance.

"On the whole, the prospects for further moderate economic growth look encouraging, particularly as risks emanating from abroad appear to have receded somewhat," she said.

Just a few weeks ago, Wall Street analysts were skeptical that the Fed would raise rates in March. The Fed issued a measured statement after its last policy meeting in early February, and the meeting minutes, published three weeks later, conveyed little sense of urgency.

Now, analysts regard a March increase as highly likely.

Michael Feroli, the chief United States economist at JPMorgan Chase, described the shift in Fed language as "remarkably swift and decisive." Investors put the chances at almost 80 percent in trading on Friday, according to a CME Group analysis of asset prices.

The shift began earlier this week. Lael Brainard, a Fed governor who in recent years has been one of the most consistent advocates of raising interest rates slowly, suggested Wednesday that she, too, was ready to lift the benchmark rate.

"We are closing in on full employment, inflation is moving gradually toward our target, foreign growth is on more solid footing, and risks to the outlook are as close to balanced as they have been in some time," Ms. Brainard said at Harvard's Kennedy School of Government. "Assuming continued progress, it will likely be appropriate soon to remove additional accommodation, continuing on a gradual path."
So far at least, the Federal Reserve's rather modest increases in interest rates, which occurred in December 2015 and December 2016 respectively, have had no real discernible impact on the economy as whole. This came after a period in both years in which the Fed seemed reluctant to raise rates at some point during the year due to uncertain economic data either domestically or from foreign sources. When the board raised rates for the first time in more than a decade in 2015, for example, it came after nearly a year in which hints of an impending rate increase would come and go with no actual action. When the decision to raise rates was made at the end of that year, it came with the suggestion that the board would be revisiting the decision on a monthly basis at its meetings and that we should likely expect to see increases on a quarterly basis. Instead, the failed proved to be far more conservative with rates than originally planned and did not take that step again for another year. While economic growth during this period hasn't exactly been spectacular, it has been largely consistent with what we saw before the increases, so it doesn't seem as though the two rate increases have had a serious impact on economic growth. Additionally, job growth has been steady, albeit not as strong as it really ought to be. Finally, the increase in rates has had surprisingly little impact on the stock market, which has been moving in a strong positive direction for the past three months or so and hitting record highs on a nearly daily basis.
Notwithstanding all of this, we're still heading into unknown territory as far as the economy is concerned. For the most part, there seems to be some consensus on the part of investors and analysts that the Trump Administration will be good for business, especially if Republicans are able enact some of the measures they've discussed in the areas of regulatory reform and corporate tax reform. If that turns out not to be the case, or if some external factor causes the economy to slow down then the burden of increased interest rates could end up slowing the economy down even more than it ordinarily would. Additionally, it's unclear what impact the ongoing chaos in the Trump Administration could have on both the political world and the President's ability to get this allegedly pro-business agenda enacted. Finally, there's the probability that Trump will face his first international crisis at some point in the near future. His response to that crisis will likely have an economic impact back home. In any case, it looks like we'll see another short term increase in rates in the coming weeks, ready or not.