Jason Carter Leads Gov. Nathan Deal In New Georgia Governor's Poll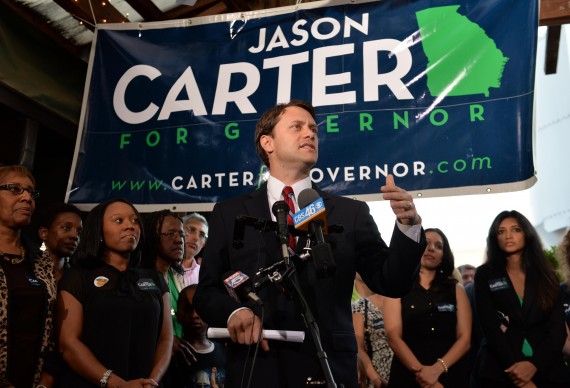 While much of the attention that the national press has paid to Georgia this year has been focused on the Senate race, there's also a race for Governor pitting the incumbent Gov. Nathan Deal against Jason Carter, a Democratic State Senator who is also the grandson of the former President. In that race, a new Rasmussen poll puts Carter ahead of Deal by a surprisingly large margin:
Incumbent Republican Nathan Deal trails Democratic challenger Jason Carter by seven points in Rasmussen Reports' first look at the Georgia gubernatorial race.

A new statewide telephone survey of Likely Georgia Voters finds Carter with 48% support to Deal's 41%. Three percent (3%) like another candidate in the race, while seven percent (7%) are undecided.
This is the first poll conducted since the May 20th primary and also the first poll to show Carter in the lead in nearly three months. Every other poll has shown Deal with at least a narrow lead. For example, a poll conducted roughly a week before the primary had Deal leading Carter by six points, while two previous polls in May had Deal up by four points and three points respectively. Even with the new poll, the RealClearPolitics average for the race still leans to Deal's advantage. So, it's possible that we're looking at an outlier here, especially since it's a Rasmussen poll and it's not at all clear that they've recovered from the problems that they had in 2010 and 2012.
Nonetheless, as with the Senate race, this Governor's race in Georgia bears watching. Much like Michelle Nunn, Jason Carter has a name with deep roots in Georgia political history that no doubt will help him. Unlike Nunn, though, Carter has political experience in the state legislature and a voting record that is conservative in many respects. For example, Carter voted in favor of a bill that recently became law in Georgia that expanded the areas where citizens could carry concealed weapons and has defended that vote in media appearances on MSNBC and elsewhere. Whether that makes him the type of Democrat who could win the election and become the first Democratic Governor of the state since Roy Barnes left office in 2003 remains to be seen. Personally, I tend to think that Deal has the advantage here. However, if we start seeing Carter running competitively with Deal in other polls then this will be a race worth paying attention to.