Jeb Bush Enters The Race For President
To nobody's surprise, Jeb Bush has entered the race for President.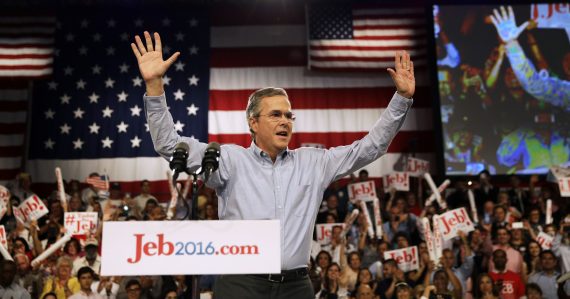 After years of speculation, and months in which he played the somewhat bizarre legal dance that people who are running-but-not-really-running-yet for President game, former Florida Governor Jeb Bush formally entered the race for President late yesterday:
MIAMI — Jeb Bush, the son and brother of a president, offered himself up as the most accomplished leader in the 2016 field, declared war on Washington's political culture and insisted that his family name gave him no singular claim to the Oval Office as he formally entered the race for the White House on Monday.

As his mother, Barbara, the former first lady, looked on, Mr. Bush directly confronted the central doubt looming over his campaign: that he presents the latest incarnation of a tired dynasty and is entitled to the Republican nomination by virtue of his surname.

"Not a one of us deserves the job by right of resume, party, seniority, family, or family narrative," Mr. Bush said inside a community college gymnasium. "It's nobody's turn. It's everybody's test."

In declaring his presidential bid before a cheering crowd at Miami Dade College, Mr. Bush promised to remove Washington as an obstacle to effective government and economic prosperity by declaring that "America deserves better."

Mr. Bush, whose two terms as governor of Florida were marked by the privatization of traditional state services, vowed to "take Washington – the static capital of this dynamic country – out of the business of causing problems."

Mr. Bush called upon his own record of ambitious, conservative-minded change as Florida's chief executive. "I know we can fix this," Mr. Bush said. "Because I've done it."

Mr. Bush, 62, declared his White House ambitions nearly 27 years after his father was elected president, molding a political dynasty that would propel one son into a governor's office and another into the White House.

But Mr. Bush entered a presidential contest — unruly in size, unyielding in pace and voracious in cost — that is unlike any faced by his father, George Bush, who won the office in 1988, or his brother, George W. Bush, who claimed it in 2000.

In his speech, Mr. Bush offered himself up as a counterpoint to a Republican Party that has struggled to connect with minority voters, costing it the last two presidential elections. He also vowed to remain true to his principles, an implicit attack on his Republican rivals who have changed their views to appeal to the party's conservative base.

And as the third member of his family to seek the nation's highest office, he brings to the race a last name that at once burnishes and tarnishes, evoking the nobility of public service and a deep distrust of political entitlement.

Mr. Bush's campaign highlighted that tension on Monday with the selection of a spare logo, first used in his failed 1994 race for governor, that excludes his surname. It reads simply "Jeb!" And while Mr. Bush's wife, Columba, and his three adult children attended his speech, his father and brother did not join him for the announcement at the Kendall Campus of Miami Dade College.

Mr. Bush's advisers and allies once predicted that he would emerge as the dominant Republican in the 2016 campaign, fueled by his record of conservative accomplishment as Florida's governor, his popularity at the end of his time in office and the fund-raising prowess of the Bush family network. But now they are resigned to a far longer and uglier slog for him in the Republican nominating contest.

"The operative word inside the campaign is patience," said Al Cardenas, a former Florida Republican Party leader and longtime ally of Mr. Bush. "As people get to know him, things will get better."

(…)

Joining a field crowded with governors and senators, he tried on Monday to distinguish himself as an executive animated by big ideas and uniquely capable of carrying them out, pointing to his record in Florida of introducing a taxpayer-financed school voucher program, expandingcharter schools, reducing the size of state government by thousands of workers and cutting taxes by billions.

Above all, he offered himself as a messenger of optimistic conservatism, uninterested in the politics of grievance, obstructionism and partisanship that, in his eyes and those of his allies, have catapulted less accomplished rivals, like Senators Ted Cruz of Texas and Rand Paul of Kentucky, to national prominence.

(…)

The announcement of Mr. Bush's White House run ends an unusual,legally problematic and occasionally comical phase in which Mr. Bush traveled, raised money and campaigned as a full-fledged candidate but insisted, despite all evidence to the contrary, that he was not officially exploring a presidential run.

It was a claim that allowed Mr. Bush to collect vast sums of cash for the political entities that could supercharge his campaign, but it produced several moments of semantic gymnastics. (A few days ago, to the barely suppressed laughter of the reporters nearby, Mr. Bush referred to "election night" and the "campaign that is likely to take place.")

Despite Mr. Bush's stumbles so far, his friends and allies said his biggest asset was his unwillingness to transform himself into something he is not.

I think he needs to put aside the last few months and continue to calmly show a grown-up attitude," said Barry Wynn, a prominent South Carolina Republican and donor. "The two things that will distinguish him are his stature, that he is a grown-up ready for the presidency, and his consistency, that he's not changing to make everyone happy."

"The worst thing for Jeb to do," Mr. Wynn said, "is give his opponents any opportunity to close the stature gap he enjoys."

But it remains unclear whether conservative-leaning voters will be as animated by Mr. Bush's "grown-up" qualities as the party's donor class, which has formed his core of early support.
There was a time not very long ago when Bush was perceived as being something of a prohibitive favorite for the Republican nomination. In the polls, he was far ahead of even the closest potential candidates, and he was seen as being the top choice among the donor class in the Republican Party, which seems to be interested in avoiding the kind of long, drawn out, nomination process that we saw in 2012. Once Bush began the exploratory phase of his campaign, though, things didn't seem to go so well for him. There were some stumbles on the campaign trail, and many of the issues that the GOP base have Bush on issues ranging from immigration to education started coming to the surface as candidates such as Ted Cruz and Rand Paul entered the race even if those candidates didn't directly attack Bush. Perhaps the biggest blow to Bush's campaign, though, came when Marco Rubio entered the race. In addition to having the same kind of deep roots in Florida that Bush does, Rubio is a candidate that could arguably appeal to both the establishment and the party base.
Despite all of this, though, Bush still remains a strong candidate going forward, and certainly should not be dismissed as a potential Republican nominee in 2016. In the national polls, Bush is grouped at the top of the field along with Rubio and Wisconsin Governor Scott Walker, who will likely enter the race next month. In Iowa, where the base voters are more conservative, Bush has slipped from his position at the top of the field but still remains among the contenders in what is likely to be a crowded field for the caucuses. Not surprisingly, Bush is in far better shape in New Hampshire, where he continues to lead the field notwithstanding the events of the past several months. Even if Bush doesn't do well in Iowa next year, New Hampshire could serve as a firewall for his campaign that would make him the top contender for the nomination along with whomever comes out on top in the Hawkeye State. Bush remains strong in South Carolina as well, where he's in the top three along with Scott Walker and Senator Lindsey Graham, who very well end up being the kingmaker in that primary. This leaves us with Florida, where Bush is well ahead of both Walker and Rubio. Looking ahead, a win in New Hampshire and Florida combined with a solid showing in South Carolina could be just enough for Bush to close the door on his opponents, but that's eight months away and this polling is going to change several times between now and then. At the very least, though, it seems fairly clear that despite all of the factors that lead one to think that Bush will have a difficult path ahead, ranging from his last name to his disagreements with the GOP base, Jeb Bush remains a serious contender for the Republican nomination. Winning is going to require a minimum of mistakes on his part, though.