Jeb Bush: Reagan And My Father Have No Place In the Modern GOP
How would modern Republicans treat Ronald Reagan and his Vice-President?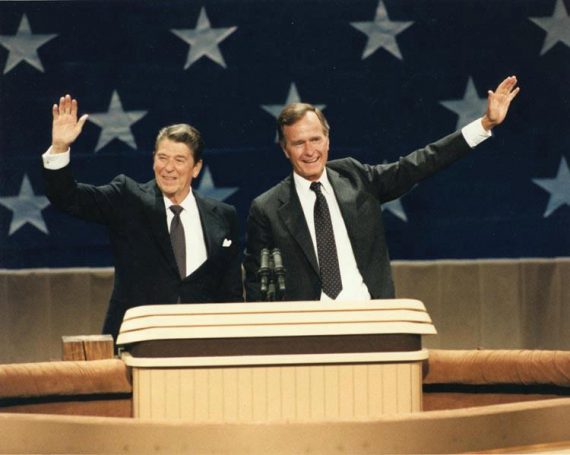 Former Florida Governor Jeb Bush, who has been far more vocal over the past week or so than at any time in recent memory, took aim at his fellow Republicans today by comparing them to his father and the party's most iconic figure:
Former Gov. Jeb Bush of Florida said his father, George Bush, and Ronald Reagan would find themselves out of step with today's Republican Party because of its strict adherence to ideology and the intensity of modern partisan warfare.

"Ronald Reagan would have, based on his record of finding accommodation, finding some degree of common ground, similar to my dad, they would have had a hard time if you define the Republican Party — and I don't — as having an orthodoxy that doesn't allow for disagreement," Mr. Bush said at question-and-answer session with reporters and editors held Monday morning in Manhattan by Bloomberg View.

"Back to my dad's time or Ronald Reagan's time," he said, "they got a lot of stuff done with a lot of bipartisan support that right now would be difficult to imagine happening."

Mr. Bush's comments help solidify his role as the Republican Party's leading voice of moderation at a time when many in the party — particularly Tea Party adherents — are calling for ever-greater ideological discipline. And he continued a trend this campaign cycle of big-name presidential endorsers going off script from the campaigns they support. Mr. Bush has endorsed Mitt Romney's candidacy.

(…)

Mr. Bush stood by his assertion that he would accept a hypothetical deal — which all of the major Republican candidates including Mr. Romney rejected when asked about it during a debate on the Fox News Channel last year — that would allow $1 of revenue increases for every $10 in spending cuts. And, when asked to point to a moment of political courage of the sort he said Mr. Obama had not produced, he pointed positively to the budget deal his father struck in 1990, which included tax increases in spite of the elder Bush's "read my lips, no new taxes" campaign pledge.

The deal angered many Republicans and is viewed as contributing to George Bush's re-election loss in 1992, but Jeb Bush said "that created the spending restraint of the 1990s; more than anything else that was helpful in creating a climate for sustained economic growth."

"He didn't win," he added, "but at least he did it."

Mr. Bush said he also hoped his party would improve its performance on immigration.

He said that Mr. Romney, the presumptive Republican nominee,  needed a different tone when it came to reaching out to Hispanic voters and should make immigration more of an economic issue than a legal one.

"Don't just talk about Hispanics and say immediately we must have controlled borders," Mr. Bush said. "It's kind of insulting when you think about it. Change the tone would be the first thing. Second, on immigration, I think we need to have a broader approach."

Mr. Bush added, "I do feel a little out of step with my party on this."
None of this should come as a surprise to anyone who has been paying attention to Jeb Bush for the past several years. Although he was, while he was Florida Governor, more conservative on some issues (especially fiscal matters) than either his brother or his father, he has also been distancing himself from the current brand of conservatism that seems to be taking hold in the GOP. Immigration is probably the signature issue where Bush differentiates himself, and he has frequently warned his fellow Republicans of the need to moderate at least the tone of their rhetoric on the subject or risk alienating Latino voters for a generation. On fiscal issues, Bush is the most recent prominent Republican to reject the tax orthodoxy of the current Congressional Republicans and the attitude exemplified by activists such as Grover Norquist. It's also not surprising that he would defend his father's record, including it's most controversial (for Republicans) decision.  So, while Jeb Bush is certainly more conservative than his father was, and is as much of a social conservative as his brother was, he likely will get labeled a "moderate" and a "RINO" for these and other recent comments.
What if his central argument, though? The idionea that Ronald Reagan would not be welcome in today's GOP is not an argument new to Jeb Bush. Indeed, James Joyner,Steven Taylor, and myself have all noted in different contexts over the past year or so, Ronald Reagan would be considered a RINO in today's GOP, judging solely on his record as President and, before that, Governor of California. Indeed, on the specific issue of taxes and deficit reduction, I made note of the very facts that Jeb Bush pointed out in his remarks:
Ronald Reagan came into the White House with the promise that he would turn the economy around by cutting taxes. By August of his first year he had delivered on that promise,and he did it despite the fact that the House was controlled by the opposition and his own party had a slim three seat majority in the Senate.One year later, though, he signed into law one of the largest tax increases in history, followed in 1986 by a major tax overhaul that, while it lowered rates, ended many popular deductions and increased revenues. He did things like this because he, and fellow Republicans at the time like Howard Baker and Alan Simpson, knew that governing could not be held hostage by ideological purity, and that compromise isn't a dirty word.

But that isn't the Ronald Reagan that most conservatives know today. Instead of the reality, or the actual history provided by former advisers like David Stockman and Bruce Bartlett, they are imbued with Rush Limbaugh's Ronaldus Magnus, a false characterization of a Ronald Reagan who governed as some sort of uber-conservative super being. Anyone who actually lived through the 1980s knows that it isn't true, but it seems to be the only way that contemporary conservatives can keep Reagan in their pantheon, because if they actually acknowledged his real record they'd be forced to denounce him as a RINO.
This style of governing wasn't unique to Reagan's time in the White House. During his eight years as Governor of California, he also dealt with a legislature largely controlled by the opposition party which meant that he frequently had to reach compromises on issues ranging from budgeting to education. When he came to Washington and faced a Congress where the Democratic Speaker of The House Tip O'Neill was pretty much the one man who could decide whether a bill lived or died, Reagan had two options. He could have gone full-bore on the confrontation, or he could work out the deals that needed to be done to run the government and achieve at least some of the goals he had set out to achieve when he ran for President. He chose the second option and, because of that he was able to get his 1981 tax cuts along with other important legislation and then, in 1986, a major overhaul of the tax code itself. Regardless of what happens on the Congressional side of the ballot in November, that is exactly the choice that Mitt Romney will have if he becomes President.
Most of the commentary on Bush's remarks in the blogosphere are coming from the left side of the spectrum, with very few conservative blogs chiming in, at least according to Memeorandum. This is unfortunate if only because it's the right that should be taking Bush's words to heart. Instead, those who are commenting on them at all are, perhaps not surprisingly, soundly rejecting them and Bush himself.
Paul Mirengoff, for example, rejects the very idea that the modern GOP would reject Reagan:
Whatever its source, the notion that Reagan would have difficulty being nominated today is laughable. The Republican party is about to nominate Mitt Romney, whose offenses against conservative orthodoxy outweigh any that Reagan had committed when he won the nomination in 1980, and any that he committed thereafter judged even by today's standards. Romney's opponents plausibly called him a Massachusetts moderate. Anyone who called Reagan a California moderate would have been laughed out of the campaign, and not just for a poor sense of alliteration.

Bush says that Reagan's "record of finding accommodation" and "some degree of common ground" with Democrats would have made his nomination difficult. Presumably, he's referring to what Reagan did as president, and to the likelihood that, today, he would be renominated.
Tim Stanley agrees:
The theory is hogwash, and here's why.

1. Reagan was so good at campaigning that he could get elected by anyone at any point in history. Ignore the popular image of a forgetful buffoon; Reagan was brilliant one-on-one, as a public speaker and as a debater. If he had been born in the Soviet Union he probably would have wound up as General Secretary of the Communist Party.

2. If the Republicans are so crazily Rightwing, why did they nominate Mitt Romney? Romney is widely regarded as a flip flopping, pseudo conservative who admitted to voting Democratic in 1992. If conservatives could reconcile themselves to Mittens, they could easily do so for Reagan.

3. Yes, Reagan did raise taxes in California and did compromise on spending as President. But in both cases he was forced to by Democratic legislatures, and he later expressed regret. The old Republican plan was to crash the budget by taking down taxes to a point whereby Democrats would be forced to cut spending. They didn't, so the Reagan administration was forced to u-turn on taxes. The GOP has learned from that mistake and that's why they've taken such a tough line on the present day Bush tax cuts. Were he running in 2012, there can be no doubt that Reagan would share their stance.

4. Bush's memory of the 1980 presidential election is off. The Republican field that year was actually quite conservative – enough to give Santorum or Gingrich a run for their money. There was common agreement on the need for a supply side tax cut, reduced spending, letting oil prices rise, action to reduce abortions and opposition to the Equal Rights Amendment. The only man who didn't agree was George HW Bush, although he still won Iowa and a handful of northeastern states.

5. Jeb's daddy pledged no compromise on taxes. When he ran again in 1988, HW Bush had moved dramatically to the Right andpromised "no new taxes" to finance Democratic spending. It was the applause line that rallied the Republican base and helped win the election. But, he broke that pledge … and here we are today.
To some extent, Mirenghoff and Stanley have a point. Looking at the candidates who have been nominated since Reagan left office (Bush, Dole, Bush, McCain, and Romney) one doesn't exactly see a parade of right wing conservatism. More importantly, though, trying to guess how the Ronald Reagan of 1980 would fare in the Republican Party of 2012 is like asking how Mitt Romney would have fared in the Republican Party of 1980. Different individuals and organizations at different points in time make this the kind of thought experiment that is essentially impossible to answer correctly, because there is no correct answer.
To me, the more important question is how the modern Republican Party would have reacted to Reagan's tendency to reach out and work with his opponents rather than adopting the take-no-prisoners attitude that has become common in the GOP since at least the 2010 elections. If the behavior of the Tea Party and the House GOP and Senate Freshman is any indication, one gets the impression that the reaction would not have been positive. Reagan worked with, and even socialized with Tip O'Neill on a regular basis. How would modern Republicans react if Mitt Romney started doing that with Harry Reid in the likely event that the Democrats hold on to the Senate (or the even more likely event that there are least more than 40 Senate Democrats in January 2013)? In an era where even John Boehner playing golf with the President last year was criticized by the some on the right, I think it's fairly obvious what the reaction would be. Indeed, if Romney wins in November he may find that his most contentious fights will be with Republicans on Capitol Hill whose agenda will be far different than his.
When it came to domestic politics at least, Reagan had rivals but he didn't have enemies. That is the lesson of Ronald Reagan that the GOP has forgotten.