Joe Biden In 2020? Probably Not
There's already speculation that former Vice-President Biden might try for a third run at the White House, but it seems unlikely.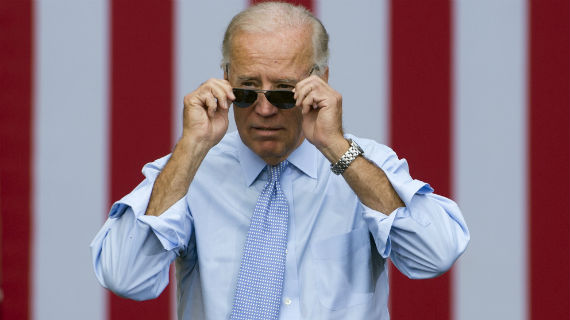 Former Vice-President Joe Biden is reportedly leaving his options open for a third Presidential bid in 2020:
Joe Biden has been saying yes to nearly all the political invitations coming his way, with new ones arriving almost daily. Privately, the former vice president and his staff have started talking about how to begin planning a strategy with a roughly 18-month timeline so that if he decides on another presidential run, he'll be best positioned to get it off the ground.

Biden will be 77 by the time of the next Iowa caucuses, but Biden 2020 just might happen.

He will be in Manchester, New Hampshire, on Sunday night for a speech at the state Democratic Party dinner. After that, he'll appear at a fundraiser for New York Gov. Andrew Cuomo, and deliver, by turns, a speech to the Florida Democratic Party, an address to investment leaders' SALT Conference in Las Vegas in May, and commencement addresses at Harvard University, Colby College and Morgan State University. It's the kind of schedule that would fit with a candidate in the early stages of a White House run, but adviser say that at this point his activities are guided only by keeping his commitment to staying involved and helping rebuild the Democratic Party.

While former President Barack Obama is holding back to avoid being drawn in directly with his successor, Biden will be stating a case, and making sure people hear him state it. The former vice president, according to people who've spoken with him, is eager to be much more political, though not directly anti-Trump.

"He doesn't sit still well," said a Biden adviser. "He wants to have a voice. The more stuff he does like this, the more people hear his voice."

People frequently approach Biden to say they wish he'd have run in 2016, that they think he would have won. Occasionally, he'll get very critical of Hillary Clinton in private conversations, but to most people he just says, "Thank you." And for the people who tell him they want to see him run against Trump, Biden keeps going back to the same line: "I'm not planning on it, but I'm not going to tell anyone I'm not doing it."

Then again, he's also told some people, "If I'm walking, I'm running."

Within the world of former Obama aides, the affection for Biden runs deep. The same is true among many Obama donors and Democratic operatives. They differ on whether they want that to lead to a 2020 run, both because they worry about seeing him lose and because they worry about holding back a new generation of party leaders.

"In a lot of ways, Joe Biden is the answer and the antidote to everything that's Donald Trump. You take a president who has more conflicts of interest than any president in the history of this country and compare him to a public servant who refused to own a share of stock, the contrast couldn't be more stark," said Andrew Weinstein, an Obama bundler and former Florida Democratic Party finance chair, who said he hasn't been contacted, but sees a "compelling case" for a Biden run.

"I have heard nothing, I swear to God I've heard nothing," said one top Obama fundraiser who is close to Biden and would be open to seeing him jump in. "It's not real until they start calling the major bundlers. Right now, they're just going around having fun being in demand."

(…)

People who've been in conversation with Biden say he's been waiting to let loose to push his vision of attention to the middle class — a mission that isn't, in his mind, in conflict with paying attention to civil rights. In what's become a new priority for him since the election, he'll be spending much of his time urging young people disappointed with Trump's win not to become disaffected and unplug from politics.

"The core commitment from my perspective in building a great country is the opportunity for people to get to the middle class and stay in the middle class," Biden said Friday, at the inaugural event of the Biden Institute at the University of Delaware. "We have to return to this sense of anything is possible, anything is possible in America. In order to do that, we have to rebuild this consensus that there used to be a basic bargain in America."

(…)n his previous president flirtations and formal runs — 1984, 1988, 2004, 2008 and 2016 — Biden has never been known for extensive advance planning, and he continues to tell aides that he's unlikely to pull the trigger this time, though … maybe.

The brain trust around him remains the same: his sister, Valerie Biden Owens, close aide and friend former Sen. Ted Kaufman, consultant Mike Donilon and former chief of staff Steve Ricchetti. That's been augmented, as the discussions about his plans continue, with three younger aides working for him at the end of his term who've stayed in the orbit even as they've taken other jobs: Kate Bedingfield, his former communications director, and top political aides Greg Schultz and Michael Schrum.
At least on the record, Biden says he's not running, but of course, that's not uncommon this early even for people who end up running:
Speaking at an annual Democratic Party dinner in New Hampshire on Sunday evening, former Vice President Biden drew a groan from the crowd when he addressed the elephant in the room.

Addressing a crowd in Manchester, Biden told the first-in-the-nation state that though his visit "caused a lot of speculation–guys I'm not running!"

Biden addressed the McIntyre-Shaheen 100 Club dinner, thanking those gathered for supporting Democratic presidential candidate Hillary Clinton and pledging to do whatever he can to help elect more Democrats, calling it "really, really genuinely important."But, he said, he's "also committed to do what I can do to help shape the public debate."
On the surface, a run by Biden in 2020 seems incredibly unlikely. As noted, he'd be 77 years old before the campaign would even get started, and 78 by Inauguration Day in 2021. By the end of a hypothetical first term, Biden would be 82 years old and, while one certainly hopes that the former Senator and Vice-President lives a long and healthy life it's obvious that at this point he has more days behind him than ahead of him. Whether he wants to spend those days engaged in what could be a rough and tumble campaign just as intense as his previous efforts in 1988 and 2008 against opponents that would no doubt be younger than him. It's also unclear whether he'd have the energy for such a campaign at that age. As we've seen over the years, running for President can be stressful and exhausting even for the youngest candidate. Is Biden up for that? I don't know, but it certainly would seem to be something that Biden and the people around him would think about before making a decision like this assuming that Biden really is considering a 2020 run and this isn't all just media speculation.
All of that being said, it isn't hard to see why attention might be paid to Biden at this early point in a cycle that really hasn't even started yet. For one thing, since Election Day last year, there have been plenty of pundits and Democratic Party insiders who have speculated that the party's fortunes might have been very different in 2016 had Biden decided to enter the race and found a way to beat the seemingly unbeatable Hillary Clinton. Given the fact that Clinton lost largely because she failed to connect with white, working-class voters in states such as Pennsylvania, Michigan, Ohio, and Wisconsin and that this is a constituency that Biden has always fared well with, there may be some merit to this theory, but it's really just all speculation. As things stood in the reality that existed in 2015 and 2016, it was unlikely that Biden could have won the nomination had he entered the race, although he likely would have been even more competitive than Bernie Sanders was. Additionally, it was obvious from the amount of time that the Vice-President took to decide about his 2016 plans that his heart just wasn't into the race. It's unlikely that will really change when 2020 rolls around.