John Boehner: I Can't Make You Love Romney, Because Most Of America Won't
John Boehner speaks an inconvenient, for Mitt Romney at least, truth.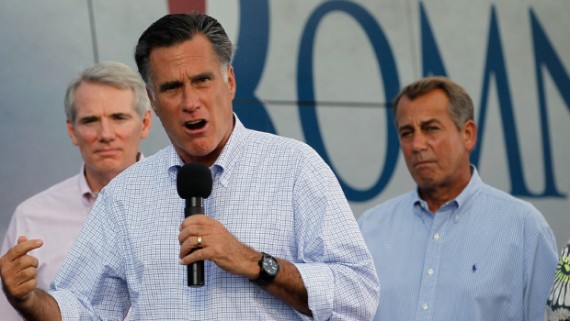 Speaker of the House John Boehner made some remarks to a group of Republican fundraisers that are, well, less than helpful to the Romney campaign:
(CBS News) When House Speaker John Boehner, R-Ohio, endorsed Mitt Romney for president in April, he pledged to do "everything I can to help him win."

In his words, however, the one thing he can't do is make voters "fall in love" with the candidate.

peaking last week at a fundraiser in Wheeling, W.Va., Boehner was surprisingly candid in his characterization of Romney's candidacy when asked, in a question-and-answer session: "Can you make me love Mitt Romney?"

"No," he answered, as first reported by Roll Call. "Listen, we're just politicians. I wasn't elected to play God. The American people probably aren't going to fall in love with Mitt Romney."

He added that the presumptive Republican nominee had "some friends, relatives, and fellow Mormons… some people that are going to vote for him," but suggested that at the end of the day, Republicans would be voting against President Obama rather than for Romney.

"I'll tell you this: 95 percent of the people that show up to vote in November are going to show up in that voting booth, and they are going to vote for or against Barack Obama," Boehner said. "This election is going to be a referendum on the president's failed economic policies. "

Calling Romney a "solid guy," Boehner went on to say that the former Massachusetts governor is "going to do a great job, even if you don't fall in love with him."
I kind of get what Boehner was trying to say here. Presented with a question from a woman asking whether he could make her "fall in love" with Mitt Romney, he tried to shift the question to the argument that the election is going to be about Barack Obama, not Mitt Romney. That's always what the party challenging an incumbent President wants to do. The thing is that, absent a Presidency that is an utter disaster, you still have to present a viable alternative and, for many voters, that means a candidate that they can vote for not just a vehicle for voting against the incumbent. In the end, I think Boehner is right and this race will be a referendum on Obama's first term, but there still has to be a  viable alternative. Maybe Mitt Romney is that guy, but that question remains open for debate.
One can argue over whether or not it matters if voters "fall in love" with a candidate, but that's really beside the point. Ever since the modern media age began it's been a fact of life that the line between the personal and political world had become blurred. For example, it's undeniable that John F. Kennedy's youth, charm, and good looks were a significant factor in his victory in 1960. Had Kennedy run in an era before mass media, a race between him and Richard Nixon likely would've turned out very differently. Similarly, Ronald Reagan's skill in front of a camera, and his personal charm, contributed greatly to his political success in California and then in his race for the Presidency. In both 2000 and 2004, many people remarked the George W. Bush was a far more personable, relateable candidate than either of his opponents. And, finally, one cannot deny the role that charisma played in the media firestorm and mass appeal that grew around Barack Obama's seemingly improbably campaign for the presidency in 2007-2008. Maybe this isn't how the world should be, maybe we need to spend more time paying attention to the candidates ideas and much less attention to trivial personal matters.  This, however, is the world we live in, and the Romney campaign can no more ignore the likability factor than it can ignore the importance of winning Ohio.
Boehner's comment raises an eyebrow because it was phrased in a way that actually hurts Romney rather than advancing the Republican argument that the election is a referendum on Obama. One of Mitt Romney's biggest problems in the polls has been the likability gap between himself and the President. Leaving aside the President's job approval numbers and the horse race numbers, the one thing that remains true in poll after poll is that the President's personal favorability is far better than Romney's. Partly, of course, this is a leftover effect from the 2008 election as well as the general sense of familiarity that the public has with a man who has been President for 3 1/2 years now. However, this favorability gap potentially gives the President an advantage in a close election because it may cause people sitting on the fence to vote for him over Romney. Until Romney closes that gap, he's going to be at risk and Boehner just pointed out the fact that people aren't falling in love with Mitt Romney. That most assuredly does not help the campaign.