John Bolton For Secretary Of State? Please Say It Isn't So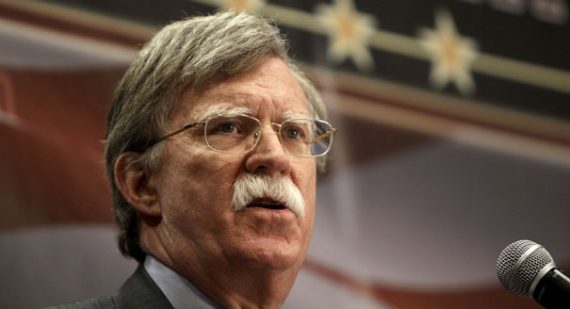 It comes from The Washington Times so take it for what its worth, but the latest rumor about a potential Romney cabinet has former United Nations Ambassador John Bolton as Secretary of State:
John R. Bolton, the U.N. ambassador during the George W. Bush administration and specialist on arms control and security issues, is said to be a leading candidate for secretary of state.
Daniel Larison sums up my feelings about this possibility quite nicely:
That's a terrifying prospect, but it's also not very surprising. Many of Romney's foreign policy views sound very much like Bolton's. Bolton is a prominent supporter of Romney. There is every reason to assume that Romney will govern in a fashion that would generally satisfy Bolton. The hope that Romney's foreign policy statements are all campaign posturing and don't mean anything has always been just that-a hope. The fact that Bolton is even being considered for this position ought to provide all the confirmation anyone needs that Romney's positions on Iran and Russia in particular are more than just election-year demagoguery.
It's possible that Bolton's name is just being floated to satisfy the base and that Romney would actually name someone else to what is arguably the most important Cabinet position, of course. It's also worth noting that Bolton would not necessarily be easy to confirm. Thanks to a Democratic filibuster in 2005, President George W. Bush had to use a recess appointment to get Bolton in as UN Ambassador, and then Bolton ended up leaving the position before he would've had to face a Senate vote for final confirmation. While it is highly unusual for the Senate, even the Senate of an opposite party to reject Cabinet nominees, it is not unprecedented. After a particularly contentious confirmation process in 1989 the Senate rejected the nomination of John Tower to become George H.W. Bush's Defense Secretary based in large part over reports of his drinking behavior. Would the same thing happen to Bolton? Would Romney risk it? Personally, I can only hope he picks someone else because John Bolton is among the last people we need in charge at Foggy Bottom.