John Ratcliffe Is Not Qualified To Be Director Of National Intelligence
President Trump's nominee to be the next Director of National Intelligence is quite simply not qualified for the position he has been nominated to.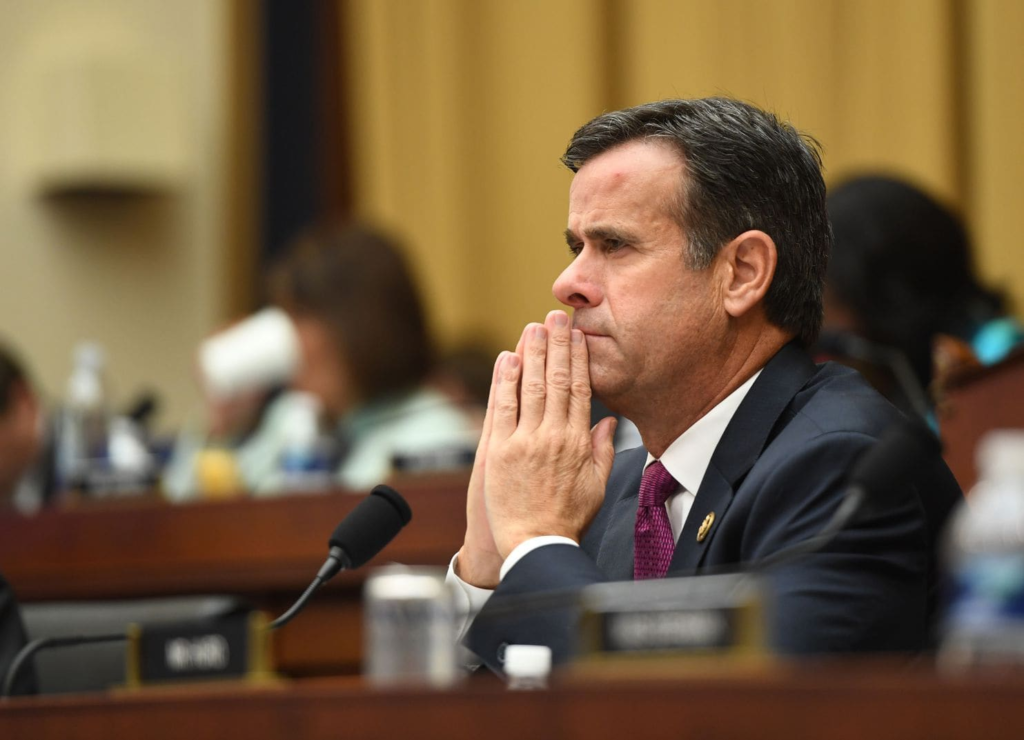 Just days after President Trump announced that Texas Congressman John Ratcliffe would be his replacement for Director of National Intelligence Dan Coats, questions are being raised about Ratcliffe's qualifications as are suggestions that he may have over-stated his record dealing with terrorism:
WASHINGTON — Aides to the congressman chosen by President Trump to lead the nation's intelligence agencies were forced on Tuesday to clarify his claims that he had won terrorism convictions as a federal prosecutor, as his background came under new scrutiny.

Mr. Trump's pick, Representative John Ratcliffe, Republican of Texas, had said on his House website and in campaign material that he had tried suspects accused of funneling money to the Hamas terrorist group. But instead, an aide said, Mr. Ratcliffe had investigated side issues related to an initial mistrial, and did not prosecute the case either in that proceeding or in a successful second trial.

The questions about Mr. Ratcliffe's résumé came amid broader concerns from Democrats and even some Republicans about the depth of his experience and his partisan outspokenness.

Rachel Stephens, a spokeswoman for Mr. Ratcliffe's congressional office, confirmed that the Justice Department appointed him "to investigate issues related to the outcome" of the Hamas case.

Mr. Trump defended Mr. Ratcliffe as the right choice to rein in intelligence agencies, which he has long viewed with skepticism and openly disparaged. "We need somebody strong that can really rein it in, because as I think you've all learned, the intelligence agencies have run amok," the president told reporters on the South Lawn of the White House on Tuesday. "They run amok."

Those comments are unlikely to persuade skeptics in the Senate, particularly lawmakers who have been supportive of Dan Coats, the outgoing director of national intelligence. Mr. Trump announced Mr. Coats's departure on Sunday and his intent to nominate Mr. Ratcliffe, an ardent defender of the president with relatively little intelligence experience, as his replacement.

Mr. Ratcliffe's statements about his role in the Hamas case seems to be the clearest instance of an overstated résumé, but there are other examples relevant to his stated credentials to oversee the intelligence community.

While he has touted his role as the United States attorney for the Eastern District of Texas during the George W. Bush administration, Mr. Ratcliffe was an interim holder of that position, bridging a gap of less than a year between two Senate-confirmed presidential appointees.

He has emphasized that his previous responsibilities as an assistant prosecutor in that office included overseeing terrorism investigations. But examples of significant national-security cases — as opposed to more common crimes like fraud and drugs — arising in eastern Texas during that period are not readily apparent in the public record; he did prosecute a psychologically troubled Iraq War veteran who pleaded guilty to possessing a pipe bomb.

Malcolm Bales, who worked as a prosecutor in the office from 1989 until his retirement in 2016, culminating in more than seven years as the United States attorney, praised Mr. Ratcliffe as "a bright guy and a quick study" but acknowledged that he could not recall a single terrorism prosecution in the Eastern District of Texas during Mr. Ratcliffe's time there.

"There were none," Mr. Bales said, adding, "They are not common in our district."

(…)

The terrorism case that Mr. Ratcliffe has touted, United States vs. the Holy Land Foundation, was one of the government's most complex and prominent efforts to shut down funding of terrorist organizations in the decade after the Sept. 11 attacks. The case involved a Muslim charity sending money to Hamas, the militant group that controls Gaza.

A 2015 news release on Mr. Ratcliffe's House website said "he convicted individuals funneling money to Hamas." A 2016 post on his campaign website said he had a "special appointment as a prosecutor" in the case.

And the biography on his House websiteappears to point to the claim, stating that Mr. Ratcliffe "put terrorists in prison." But he played no part in the substance of the case, said three former government lawyers and a former senior F.B.I. official directly involved in the case. It was prosecuted in a different Texas district.

"It doesn't sound accurate," James T. Jacks, one of the prosecutors on the case said of the Ratcliffe campaign statements. "But they have since corrected the record."

Mr. Ratcliffe was asked to investigate possible irregularities that had led to an embarrassing October 2007 mistrial, said Nathan F. Garrett, another prosecutor on the case.

"John was brought in because the trial team could not look at that," Mr. Garrett said in an interview. "It involved a jury and defendants that we were trying, so John was brought in so as not to taint it."

Ms. Stephens would not confirm further details about the Holy Lands case, citing Justice Department policy to keep private any information about investigations that result in no charges. NBC News and ABC News earlier reported the questions about Mr. Ratcliffe's résumé.

In addition to apparently exaggerating his experience prosecution terrorism cases, Ratcliffe has also apparently exaggerated his record with respect to immigration:
A sharp critic of illegal immigration, Mr. Ratcliffe has also frequently embellished the extent of his role in a 2008 immigration-related case involving chicken processing plants in five states that he helped bring as a United States attorney. "I am opposed to amnesty — period. But don't just take my word on it. Ask any of the over 300 illegal aliens I arrested in a single day," he said in a 2016 campaign statement. The biography on his House website likewise boasts that Mr. Ratcliffe "arrested 300 illegal aliens in a single day."

Mr. Ratcliffe did play an important role in the case, helping to bring charges against 280 noncitizens who had been working for a poultry producer; the government accused them of committing identity fraud and other crimes to secure employment. But he did not arrest anyone. That was left to Immigration and Customs Enforcement, as well as state and local law enforcement officials who worked in five states to round up those charged, according to a Justice Department account.
Ratcliffe's lack of apparent qualification for a position as important as Director of National Intelligence has been an issue since his name was put forward by the President after the announcement of Dan Coats's decision to leave the post by the middle of next month. As I noted in my post on the Coats resignation, Ratcliffe has no military or intelligence experience and, outside of the period of less than a year during which he served as U.S. Attorney for the Eastern District of Texas, no government-related executive experience to speak of. While he is currently a member of the House Intelligence Committee, he has only held that position since January, which is hardly enough time to familiarize himself with the vast machinery of America's intelligence community.
All of this is relevant because the statute that authorizes the creation of the Office of Director of National Intelligence, 50 U.S. Code Sec. 3023, has some very specific requirements for the position:
(a) Director of National Intelligence

(1) There is a Director of National Intelligence who shall be appointed by the President, by and with the advice and consent of the Senate. Any individual nominated for appointment as Director of National Intelligence shall have extensive national security expertise.

(2) The Director of National Intelligence shall not be located within the Executive Office of the President.

(b) Principal responsibility

Subject to the authority, direction, and control of the President, the Director of National Intelligence shall —

(1) serve as head of the intelligence community;

(2) act as the principal adviser to the President, to the National Security Council, and the Homeland Security Council for intelligence matters related to the national security; and

(3) consistent with section 1018 of the National Security Intelligence Reform Act of 2004, oversee and direct the implementation of the National Intelligence Program.

(c) Prohibition on dual service
The individual serving in the position of Director of National Intelligence shall not, while so serving, also serve as the Director of the Central Intelligence Agency or as the head of any other element of the intelligence community.
The requirement that the nominee for DNI shall have "extensive national security experience" is clearly set forth in the statute authorizing the creation of that office. It is clear from his resume that Ratcliffe not only does not meet that requirement, he doesn't even come close. Indeed, he is, as one official put it, the least qualified person ever named to this position since its creation in 2004. As a result, his nomination is already being questioned in the Senate:
President Trump's announcement Sunday that he will nominate Rep. John Ratcliffe (R-Tex.) as the next director of national intelligence drew immediate opposition from Senate Democrats and tepid support from key Republicans, an early indication that the junior congressman might not sail smoothly to confirmation.

Current and former intelligence officials also said Ratcliffe is the least-qualified person ever nominated to oversee the country's intelligence agencies and questioned whether he would use the position to serve Trump's political interests.

Sen. Richard Burr (R-N.C.), chairman of the Senate Intelligence Committee, which would vet Ratcliffe when the chamber returns from its summer recess, called the congressman to congratulate him. When the White House submits the official nomination, "we will work to move it swiftly through regular order," Burr said in a statement.

That fell short of a full-throated endorsement, congressional officials noted. And it did nothing to blunt remarks from Senate Minority Leader Charles E. Schumer (D-N.Y.), who from the Senate floor Monday called Rat­cliffe "a three-term tea party congressman who, when he goes on television, appeals to the president's sense of stridency and partisanship. Representative Ratcliffe lacks the experience required to lead an intelligence agency, much less the entire intelligence community."

(…)

Senate Majority Leader Mitch McConnell (R-Ky.) didn't mention Ratcliffe when he issued a statement praising his friend and former Senate colleague, Daniel Coats, who will step down as the intelligence director next month.

In remarks that some congressional officials read as a note of caution to the White House, McConnell said, "The U.S. intelligence community works best when it is led by professionals who protect its work from political or analytical bias and who deliver unvarnished hard truths to political leaders in both the executive and legislative branches."

Sen. Marco Rubio (R-Fla.), a member of the intelligence panel, called Ratcliffe a "smart guy and a professional" but stopped short of predicting how he'd fare before the committee.

"I don't know how my colleagues feel; obviously, we're going to have some work to do," Rubio said. "But I like him as a person, I really do."

Most Americans probably hadn't seen or heard of Ratcliffe before congressional hearings last week when he grilled former special counsel Robert S. Mueller III about his two-year probe and its origins. Ratcliffe, a former federal prosecutor, is part of a faction of Republican lawmakers who have long speculated that the Mueller probe, and a preceding FBI counterintelligence investigation into possible Russian ties to the Trump campaign, could be a product of a bureaucratic conspiracy.

"There may have been a secret society of folks within the Department of Justice and the FBI" trying to stop Trump from getting elected, Ratcliffe said in an appearance on Fox News in January 2018, after reviewing private text messages between two FBI personnel that some say revealed their anti-Trump bias.

"I'm not saying that actually happened," Ratcliffe was quick to add. But over the past two years, he has questioned whether the FBI opened its initial Russia probe because of political animus.

As director of national intelligence, Ratcliffe would be in a position to investigate the probe, declassify information and assist an inquiry overseen by Attorney General William P. Barr, who has also questioned the Mueller investigation's premises.

"I don't know Mr. Ratcliffe. I'll give him the courtesy of a meeting," Sen. Mark R. Warner (D-Va.), the Intelligence Committee's vice chairman, told reporters Monday. "But what I've seen of his performance at the Mueller hearing raises huge questions in my mind about whether this individual would bring the requisite independence that's needed" for the job.
Current and former intelligence officials said they too were concerned that Ratcliffe had neither the experience nor the political temperament to lead the intelligence community.

"Ratcliffe has some national security experience from his service in Congress and in the U.S. attorney's office," former deputy CIA director Michael Morell and former undersecretary of defense for intelligence Michael Vickers wrote in The Washington Post.

Ratcliffe served as a terrorism prosecutor and a U.S. attorney in the Eastern District of Texas during the George W. Bush administration.

"But he would come to the job with by far the least experience in foreign policy and intelligence of any DNI in two decades," the former officials wrote.

Given Ratcliffe's skepticism of the origins of the Russia probe, some current and former officials said, it would be important for senators to ask whether he agreed with the core findings of the U.S. intelligence community that Russia interfered in the 2016 election and tried to help Trump's campaign.

"I would imagine a very first-order question the committee would have for him is: Does he accept the consensus judgment?" said Nicholas J. Rasmussen, who was the director of the National Counterterrorism Center under Presidents Barack Obama and Trump. "And if he doesn't, what does that mean?"

A senior congressional official, speaking on the condition of anonymity to discuss pending confirmation hearings, said he was "not confident" that Ratcliffe would agree with the intelligence agencies' conclusions. He said senators should ask the congressman whether he shared the agencies' judgments on other key issues, including that North Korea is unlikely to give up its pursuit of nuclear weapons and that Iran, until recently, had been in compliance with an international agreement not to build nuclear weapons.

When Coats conveyed the positions of the intelligence community, it put him at odds with Trump, who has promised that North Korea will give up its weapons and has claimed that Iran never fully lived up to its end of the nuclear deal.

With Coats departing, current and former officials are concerned that a bulwark between Trump and the intelligence community could fall.

"Coats absorbed the slings and arrows from the president," the senior congressional official said. "Part of what made him so effective is he's a very mild-mannered Midwesterner, and he was able to say no to Trump but in a way that wouldn't infuriate him. And not in a way that was insubordinate."

Garrett Graffe at Wired has additional comments:
The men who have occupied the relatively new role of DNI so far are among the most experienced intelligence leaders and diplomats in the country. After the job was created as part of the post-9/11 reshuffling of the US national security apparatus, George W. Bush tapped an experienced hand to fill it: John Negroponte had served as an ambassador in four countries, including Iraq; been UN ambassador; and worked at the National Security Council. His successor, Mike McConnell, was a vice admiral in the Navy and a former director of the National Security Agency. Barack Obama's first DNI was another admiral, Dennis Blair, who had led Pacific Command and served as associate director of the CIA.

James Clapper, Obama's second pick as DNI, was arguably the most experienced intelligence officer in the entire country—a career Air Force intelligence officer who had served for four decades, risen to the rank of lieutenant general, and personally headed two of the nation's most critical intelligence agencies, the Defense Intelligence Agency and the National Geospatial-Intelligence Agency. Clapper had also served as undersecretary of defense for intelligence, where he oversaw all three of the Pentagon's intel agencies: DIA, NGA, and the National Reconnaissance Office, which runs the nation's spy satellites.

And even though Coats, the outgoing DNI who Ratcliffe may replace, had no field intelligence background, he served in the Army during the Vietnam War, spent nearly 30 years in Congress—in both the House and the Senate, including stints on the intelligence committee—and had served as ambassador to one of America's top allies, Germany.

Ratcliffe's experience pales in comparison to any of his would-be predecessors. He served as the mayor of Heath, Texas—population 8,000—for a decade, and while he did a brief stint as a politically appointed US attorney in Texas in the final months of George W. Bush's administration, his résumé on national security matters is practically nonexistent.

As Graffe goes on to note, the real danger isn't Ratcliffe's inexperience it's his lack of independence:
The biggest danger Ratcliffe poses is to the integrity of the job of director of national intelligence in the first place; the core principle of the intelligence professional is to speak truth to power

(…)

By statute, the DNI is the president's lead intelligence adviser. That's supposed to mean that the DNI leads the effort to provide the President's Daily Brief—the world's most elite newspaper—filled with daily intelligence and big-picture analysis of global, geopolitical trends affecting the US, its allies, and its adversaries. That role of chief intelligence adviser is one that Coats, Trump's outgoing DNI, never quite grew into. Mike Pompeo arrived first in the administration as CIA director, before Coats was confirmed, big-footed the PDB, and hit it off with Trump before Coats could really establish a bond with the commander-in-chief.

Yet Coats did try to speak truth to power. He spoke up when it mattered, was honest about Russia's attack on the 2016 election, and was willing to contradict Trump publicly on the future of North Korea's nuclear program. One of Coats' final acts as DNI actually was to appoint the nation's first election security czar. That honesty appears to be a not insignificant part of why Coats was shoved aside, and ultimately out the door.

With a president so divorced from daily reality as Trump, it's all the more important to fill the role of DNI with someone whose first duty is to puncture the Fox News fever swamp bubble that surrounds the White House, provide real facts and grounded analysis, and ensure—to whatever extent possible—that the information that flows into the Oval Office and the decisions that flow out of it are informed and strategic.

There's little evidence that Ratcliffe is the man for the job. Beyond his antics cross-examining Mueller last week, he's long been on the leading edge of criticizing the Russia investigation writ large. He was even the congressman who started the completely false rumor that the FBI—one of the intel agencies he is set to oversee—had an anti-Trump "secret society."
The only thing that appears to qualify Ratcliffe is the fact that he is an obsequious Trump toady who has defended the President on television and who apparently believes the President's idiotic conspiracy theories about the Russia investigation, theories that the President got from watching Fox News Channel. That may be enough for Trump, but it shouldn't be enough for the next DNI nor should be enough for the Senate.