Jupiter Keeps Adding Moons!
The science-education gap.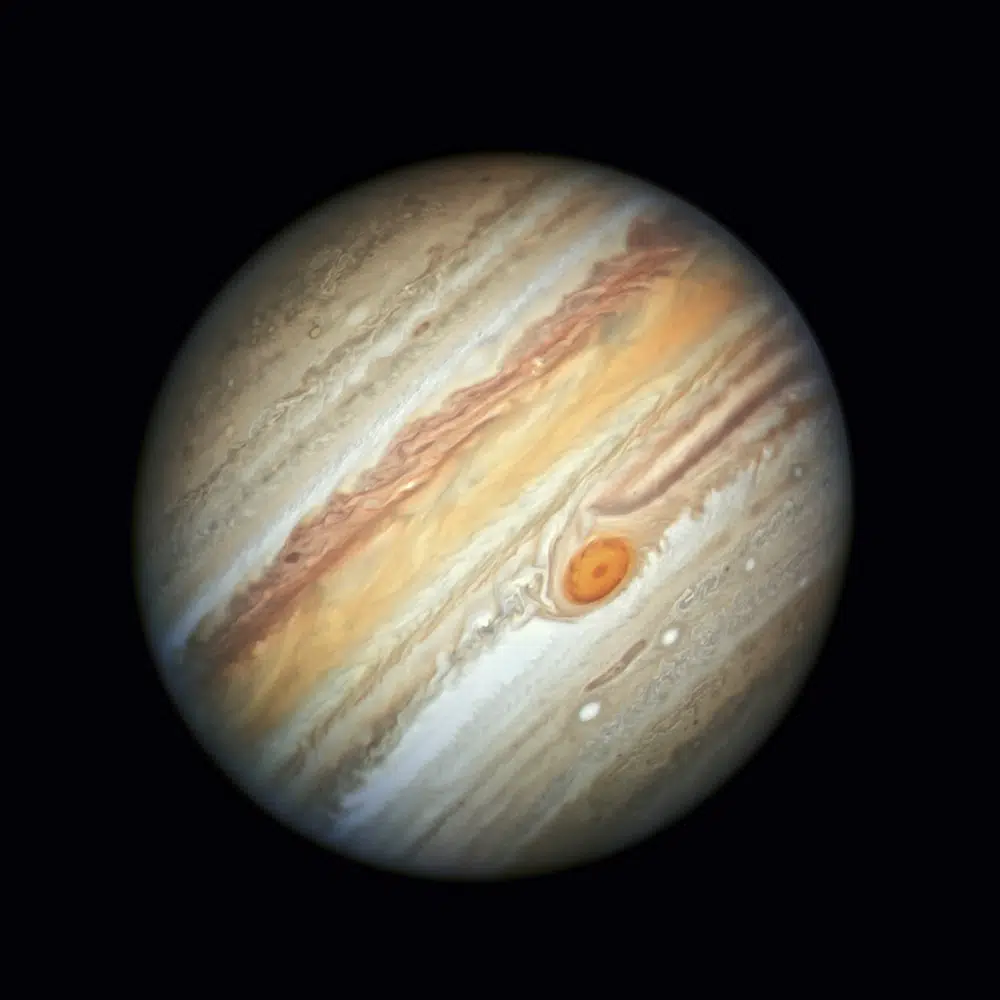 The Associated Press reports "Jupiter's moon count jumps to 92, most in solar system."
Astronomers have discovered 12 new moons around Jupiter, putting the total count at a record-breaking 92.

That's more than any other planet in our solar system. Saturn, the one-time leader, comes in a close second with 83 confirmed moons.

The Jupiter moons were added recently to a list kept by the International Astronomical Union's Minor Planet Center, said Scott Sheppard of the Carnegie Institution, who was part of the team.

They were discovered using telescopes in Hawaii and Chile in 2021 and 2022, and their orbits were confirmed with follow-up observations.

These newest moons range in size from 0.6 miles to 2 miles (1 kilometer to 3 kilometers), according to Sheppard.

"I hope we can image one of these outer moons close-up in the near future to better determine their origins," he said in an email Friday.

In April, the European Space Agency is sending a spacecraft to Jupiter to study the planet and some of its biggest, icy moons. And next year, NASA will launch the Europa Clipper to explore Jupiter's moon of the same name, which could harbor an ocean beneath its frozen crust.

Sheppard — who discovered a slew of moons around Saturn a few years ago and has taken part in 70 moon discoveries so far around Jupiter — expects to keep adding to the lunar tally of both gas giants.
If you had asked me to guess the number of moons around Jupiter—and, really, why would you?—I would have picked a number way less than 92. At the end of the day, it's not something that I'm called upon to know and, for whatever reason, isn't something that I keep up with.
Like presumably all Americans, I had a unit on the Solar System in early elementary school—probably 2nd or 3rd grade. I vaguely remember building a diorama of the planets and their relationships to one another and learning some odd facts about them. This would have been roughly 1973 or 1974—so half a century ago.
Astronomers have made tons of discoveries since then but they're not widely reported and often don't update my understanding. The only two exceptions that come immediately to mind were the 1979 discovery by Voyager 1 that Jupiter had rings—which I think I learned about from a sitcom!—that created serious dissonance because having rings was Saturn's distinguishing feature and the 2006 announcement that Pluto was no longer a planet. That happened during OTB's history so I blogged about that multiple times starting in August 2005 when the question bubbled into public consciousness.
While I'm sure there are better resources out there, Wikipedia's "Timeline of discovery of Solar System planets and their moons" does a solid job of summarizing the flow of human knowledge of the topic. What's really remarkable is how much we knew prehistorically—7 of the 8/9 planets were discovered well before the invention of the telescope (which I'm sure I knew once upon a time but had faded through lack of retrieval).
Of more direct interest, though, is just how much we've learned since I was in school. Or, more to the point, the amount scientists have learned that I have not. It turns out that, when I made my diorama, Saturn's 11th and Jupiter's 12th (and possibly 13th) moons had been "discovered." (The 13th, Leda, was discovered in September 1974 and I just can't recall when I learned this.)
Three Jupiter moons and Pluto's first moon were discovered during the remainder of the 1970s.
We had an explosion of moon discoveries in the 1980s from Voyager 1 and 2: eight more around Saturn moons, 10 around Uranus, 2 around Jupiter, and one around Neptune.
In the 2000's we named 41 more around Jupiter alone! And Saturn didn't do so bad herself, gaining 36. And that's not counting the unnamed ones.
The charts get incredibly messy after that but we're finding these moons–many of them really small—in droves now.
It's simultaneously fascinating and amusing. The latter because there are things that we learn about as kids and tend not to update much as we grow up. The best other example that comes to mind is dinosaurs. Pretty much all of the dinosaur names that I learned in school —probably around the same time I learned the solar system!—-changed years ago. (Indeed, they were changing in scientific circles already when I learned them, but it would take decades for it to influence common usage.)