Jussie Smollett Charged With Faking "Hate Crime"
Actor Jussie Smollett is charged with staging an attack initially called a "hate crime."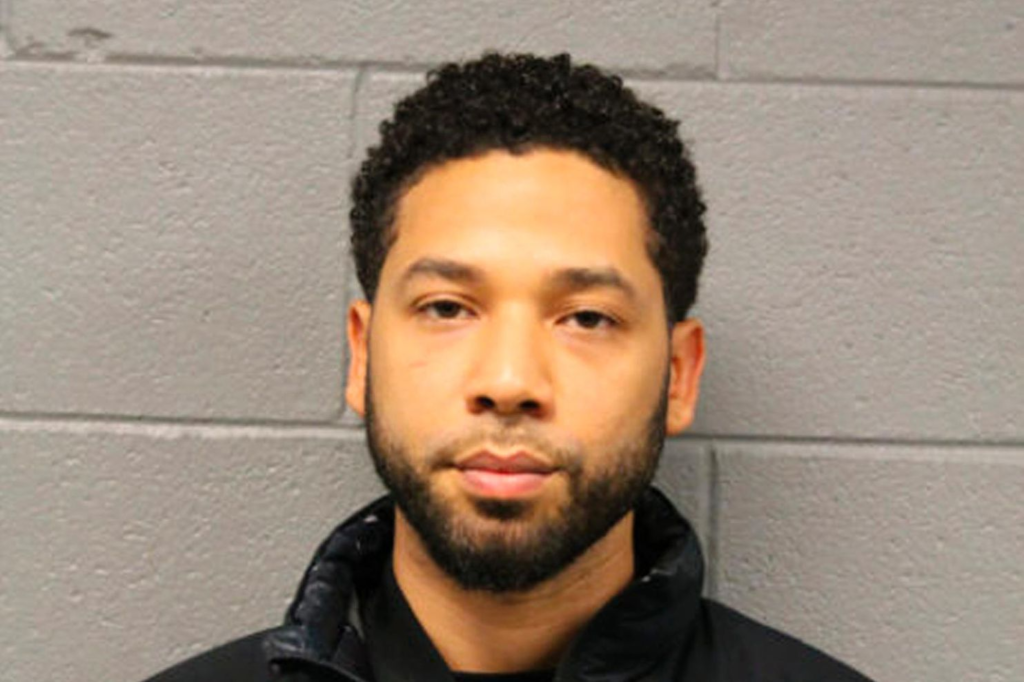 Actor Jussie Smollett, who appears on the Fox Broadcasting show Empire, has been arrested and charged with a series of crimes, including lying to police about what he alleged was a race-based attack by two men wearing MAGA hats and which now clearly seems to have been staged:
Jussie Smollett, the "Empire" actor who said he was the victim of a hate crime, was arrested on Thursday morning on charges of staging the assault he reported to Chicago police in January.

Anthony Guglielmi, the chief spokesman for the Chicago Police Department, said early Thursday that Mr. Smollett was "in custody of detectives," just hours after a grand jury heard evidence on Wednesday that Mr. Smollett falsely reported being attacked and local prosecutors charged him with a felony count of disorderly conduct. A representative for Mr. Smollett did not respond to a request for comment.

The Chicago Police Department was expected to discuss his arrest at a news conference scheduled for 9 a.m. on Thursday, Mr. Guglielmi said.

Mr. Smollett, who is black and gay, had told the police that, while walking in downtown Chicago, he had been confronted by masked men who hurled homophobic and racial slurs at him, and announced it was "MAGA country," a reference to President Trump's campaign slogan.

Mr. Smollett had received an immediate outpouring of public support. Many cited his account as an example of another in a rising tide of hate crimes, which the F.B.I. reported last fall had increased for the third straight year.

But the change in thinking by investigators as the case progressed began to unleash criticism against the news media and politicians who many critics said were too quick to embrace a sketchy account in their drive to tarnish the president. It became a nightly topic on Fox News for Tucker Carlson, who called it a case of identity politics run amok. "Identity politics is a scam," he said, "and it is not so different from the one that Jussie Smollett just pulled."

Ramesh Ponnuru, a senior editor at National Review, said on Wednesday: "I think that the initial reaction suggested that there is a lot of credulity, especially among liberals who were looking at a story that seemed to confirm their impressions about Trump supporters."

Mr. Smollett has continued to vehemently insist the incident occurred just as he reported it.

His lawyers, Todd S. Pugh and Victor P. Henderson, released a statement that said: "Like any other citizen, Mr. Smollett enjoys the presumption of innocence, particularly when there has been an investigation like this one where information, both true and false, has been repeatedly leaked. Given these circumstances, we intend to conduct a thorough investigation and to mount an aggressive defense."

From the start, investigators had difficulty corroborating Mr. Smollett's story, even with about a dozen detectives assigned to the case

No surveillance cameras caught the attack. There were no witnesses. He had not reported it from the scene, and when he got home was still wearing a noose that he said the perpetrators had placed around his neck.

Investigators, though, were able to track two men who appeared on video footage not far from the scene that night. Using ride share data, they discovered the two were brothers who in fact knew Mr. Smollett. One had acted as an extra on "Empire."

The police initially identified the brothers as possible suspects in the attack, but then released them without filing any charges. The men told investigators that Mr. Smollett had coordinated a faux attack and paid them to participate in it.

The brothers, Olabinjo and Abimbola Osundairo, were brought in as witnesses to the grand jury Wednesday evening with their lawyer. Afterward, Gloria Schmidt, the lawyer, declined to say how much the brothers had been paid but said they had testified for more than two hours.

She said the two men wanted to clear the record and she urged Mr. Smollett to do the same.

"I think Jussie's conscience is probably not letting him sleep at night," she said,"so he should probably unload that conscience and just come out and tell the American people what actually happened.

Filing a false police report in Illinois is technically referred to as disorderly conduct and can be charged as either a misdemeanor or a felony. In Mr. Smollett's case, he was charged with a felony count, which carries a maximum sentence of three years in prison.

Mr. Smollett's lawyers, Todd S. Pugh and Victor P. Henderson, have said their client denies the police account. "Jussie Smollett is angered and devastated by recent reports that the perpetrators are individuals he is familiar with," they said in a statement Saturday.

It added: "One of these purported suspects was Jussie's personal trainer who he hired to ready him physically for a music video. It is impossible to believe that this person could have played a role in the crime against Jussie or would falsely claim Jussie's complicity."

Mr. Smollett's possible motive in pursuing a plan the police now suspect him of drafting remains mysterious. Various theories have surfaced, one suggesting he might have been worried he was about to be relegated to a lower profile on "Empire," perhaps being written out of the Fox series entirely. The network vehemently denied that was the case.

On Wednesday, in fact, before the police made their announcement, Fox had put out another statement saying it was standing by Mr. Smollett. It called him "a consummate professional on set" and said, "as we have previously stated, he is not being written out of the show." The network later declined comment on the criminal charge.

(…)

As Mr. Smollett first described the attack it occurred at 2 a.m. on Jan. 29. He said his assailants hit him in the face, bruising him, then poured a chemical substance on him as he walked back home along Lower East North Water Street, after a trip to buy a tuna sandwich. Mr. Smollett, in a follow-up interview with detectives, said the attackers had mentioned "MAGA country."

Mr. Smollett's manager, Brandon Moore, said he had been on the phone with Mr. Smollett and overheard part of the attack, a statement later confirmed by phone records released to the police.

Within days, the police released an image of two men they considered "potential persons of interest wanted for questioning." Mr. Smollett would later say in an interview on "Good Morning America" that he was convinced the men in the pictures were his attackers.

"Because I was there," Mr. Smollett said. "For me, when that was released, I was like, 'O.K., we're getting somewhere.' I don't have any doubt in my mind that that's them. Never did."
More from the Chicago Tribune;
Actor Jussie Smollett faked a threatening letter and then, a week later, staged a racist, anti-gay attack in downtown Chicago because he was "dissatisfied with his salary" on the "Empire" television show, Chicago police Superintendent Eddie Johnsonsaid Thursday morning.

Smollett paid two brothers he knew $3,500 to fake the attack in the 300 block of East North Water Street around 2 a.m. Jan. 29, Johnson said, adding that detectives have the check for the money. The superintendent called the scheme "shameful" and wondered how an African-American could set up a racist attack for a "publicity stunt."

When investigators figured out the real motive behind the attack, "quite frankly, it pissed everybody off," Johnson said. "'Empire' actor Jussie Smollett took advantage of the pain and anger of racism to promote his career.

"It's shameful," he said. "It's just despicable. … It makes you wonder what's going on in someone's mind to be able to do something like that."

Looking out at a crowded room of reporters at police headquarters, Johnson said: "I just wish that the families of gun violence in this city got this much attention."

Smollett surrendered to Chicago police earlier Thursday morning on a felony charge of disorderly conduct alleging he made a false police report. Smollett, 36, turned himself in around 5 a.m. Thursday at the Central District police station at 1718 S. State St., flanked by four or five people, according to police spokesman Thomas Ahern, who was present during the surrender.

"He was very quiet and didn't say anything," Ahern said. "He went with detectives and they booked him."

Area Central Cmdr. Edward Wodnicki, who led the investigation, said police and private surveillance cameras were critical to tracing the movements of the brothers and giving detectives a break in the case. He said the brothers' use of a taxi and a ride-share service were tracked by detectives.

Wodnicki said about 100 subpoenas and search warrants were issued. Social media and video were reviewed, and detectives learned the brothers had left for Nigeria after the reported attack and that they were coming back Feb. 13. They were then arrested, but the probe began to "spin" in a new direction.

The two testified before a Cook County grand jury on Wednesday, hours before charges were announced against Smollett. "I'm told they did an excellent job," Wodnicki said.

Johnson insisted that no homicide and shooting investigations were affected by the case, despite as many as 20 detectives assigned to it. But he added, "Those are resources and time spent that we'll never get back."

Smollett was scheduled to appear for a bond hearing later in the day. If convicted, he faces up to three years in jail and could be ordered to pay for the cost of the investigation, which involved more than 20 detectives over three weeks.

Smollett, who is African-American and openly gay, has said he was walking from a Subway sandwich shop to his apartment in the 300 block of East North Water Street around 2 a.m. Jan. 29 when two men walked up, yelled racial and homophobic slurs, hit him and wrapped a noose around his neck. Smollett said they also yelled, "This is MAGA country!" referring to President Donald Trump's campaign slogan.

Chicago police initially launched a hate crime investigation, but authorities had said recently that they were looking into whether Smollett paid two brothers he knew to stage the attack. The brothers appeared before a grand jury hours before the charges were announced Wednesday evening, according to their attorney, Gloria Schmidt.

Schmidt declined to give much detail about the evidence presented to grand jurors. She did say the brothers got money from Smollett at some point, and said she believes the brothers have been in contact with the actor at least once since the attack was reported.

She urged Smollett to "unload" his conscience. "I think that Jussie's conscience is probably not letting him sleep right now, so I think that he should unload that conscience and just come out and tell the American people what actually happened."

Police say the case began to close in on Smollett last week when detectives took the two brothers, 25 and 27, into custody after they were captured by surveillance cameras in the area around the time of the incident. The brothers were taken into custody Feb. 13 at O'Hare International Airport after returning from Nigeria. Police also raided the men's North Side town home.

Two days afterward, police called them "potential suspects" but then released them 12 hours later.

The shift in the investigation's focus came amid often bitter public debate and stinging skepticism on social media — doubts that Smollett addressed in a national TV interview and in a strongly worded statement after the brothers were released.

As many as 20 detectives were assigned to the case in the weeks following Smollett's report, and nearly every camera in the Streeterville neighborhood was checked for video that might have shown the attack. Some police sources privately expressed doubts after finding little, if any, corroborating evidence or video of a crime.
To be frank, I have only been tangentially aware of this incident based on what I have seen unfold on social media over the past two weeks. I quite honestly didn't pay much attention to the story either when it was first reported or when subsequent reports were released that started to call question to Smollett's claims about being the victim of a hate crime. In both cases, it seemed quite apparent that this incident, which involved an actor I'd never heard of from a show I've never watched, was being used by both sides in the culture war that has erupted in this country to prove their claims. At first, of course, Smollett's claims, which seemed believable on first hearing if only because it was hard to imagine someone staging the kind of attack that would result in the apparent injuries he had suffered, were picked up by the political left and Trump critics. To them,  the attack was an example of the violence inspired by the President's rhetoric, examples of which we've seen plenty of real examples of since January 20, 2017, and dating back to when the President entered into the race. As time progressed and it became more and more apparent that Smollett's story did not add up, conservatives began to use the incident to prove their point that most alleged claims of race-based hate crimes are either fabrications or exaggeration. All of this before the facts were actually known. Because of this, I largely remained silent about the matter, content to let the investigation and the legal process work itself out.
It now seems quite apparent that Smollett was lying from the start, that the attack never happened, and that the injuries he received, which mainly consisted of cuts and contusions, were either self-inflicted or inflicted with Smollet's consent as part of the effort to make it appear that he had been the victim of a hate crime. As far as why Smollett would do this, the Police Commissioner of Chicago who spoke at this morning's press conference claimed that the primary motivation for the incident was not political but part of some bizarre scheme to enhance his career, his role on his television show, and to increase the salary he was negotiating with producers at the time of the incident. Instead, Smollett now stands accused of a crime that, if pursued as a felony, could result in him spending several years in state prison and which will most assuredly call his entire career into question. Why he ever thought this scheme would work is beyond me.
The danger of cases like Smollett, of course, is that it detracts from the fact that there has in fact been an increase in bias-based crimes since the President took office. Just as in any other case where a crime is alleged, when someone fakes a crime it provides ammunition to those who have political and other reasons to deny that there is any problem to begin with. This has been an issue in the past with regard to sexual assault crimes, and the result is that people become less likely to believe future accusers, or to believe evidence that shows that crimes of the type that Smollett alleged here are in fact becoming more of a problem, especially since many of the people who have committed those crimes have said many of the pro-Trump things that Smollett claimed his attackers said to him. Additionally, as the Police Commission who spoke at this morning's press conference said, these crimes divert police resources from investigating actual crimes and end up smearing cities like Chicago which already have problems over and above those created by one idiotic actor seeking to boost his career with this kind of bizarre scheme.