Justice Ginsburg "Not 100 Percent Sober" During State Of The Union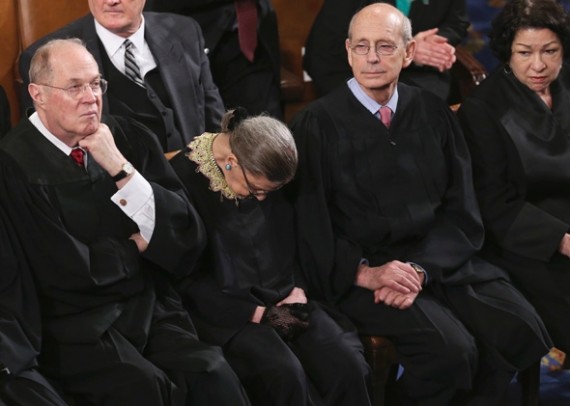 During the State of the Union Address in January, cameras caught Associate Justice Ruth Bader Ginsburg appearing to doze off about half way through the President's speech. As it turns out, the Justices were apparently partying prior to the big event:
Supreme Court Justice Ruth Bader Ginsburg admits to sharing some wine with her colleagues and not being "100 percent sober" for President Obama's State of the Union address in January.

During Obama's speech, which lasted just under an hour, many viewers on social media pointed out that the 81-year-old liberal justice appeared to be snoozing.

"The audience for the most part is awake, because they're bobbing up and down, and we sit there, stone-faced, sober judges. But we're not, at least I wasn't, 100 percent sober," Ginsburg said during a talk at George Washington University on Thursday night, according to a report by The Blaze.

"Because before we went to the State of the Union, Justice Kennedy brought in … it was an Opus something or other, very fine California wine, and I vowed this year, just sparkling water, stay away from the wine, but in the end, the dinner was so delicious, it needed wine," Ginsburg said

Ginsburg has also appeared to fall asleep during the president's annual address to Congress in prior years.

In 2013, Ginsburg also cited a "very good California wine" courtesy of Kennedy for her dozing off during the address.
Nothing to be embarrassed about Justice Ginsburg, the only way those events are even half way watchable is if there's plenty of alcohol involved.
Incidentally, the wine that Justice Ginsburg is talking about appears to be from the Opus One Winery in Napa. I've had it, and it's very, very good.
Here's video of the speech: