Justify Wins Triple Crown
For the second time in three years, we have a Triple Crown winner.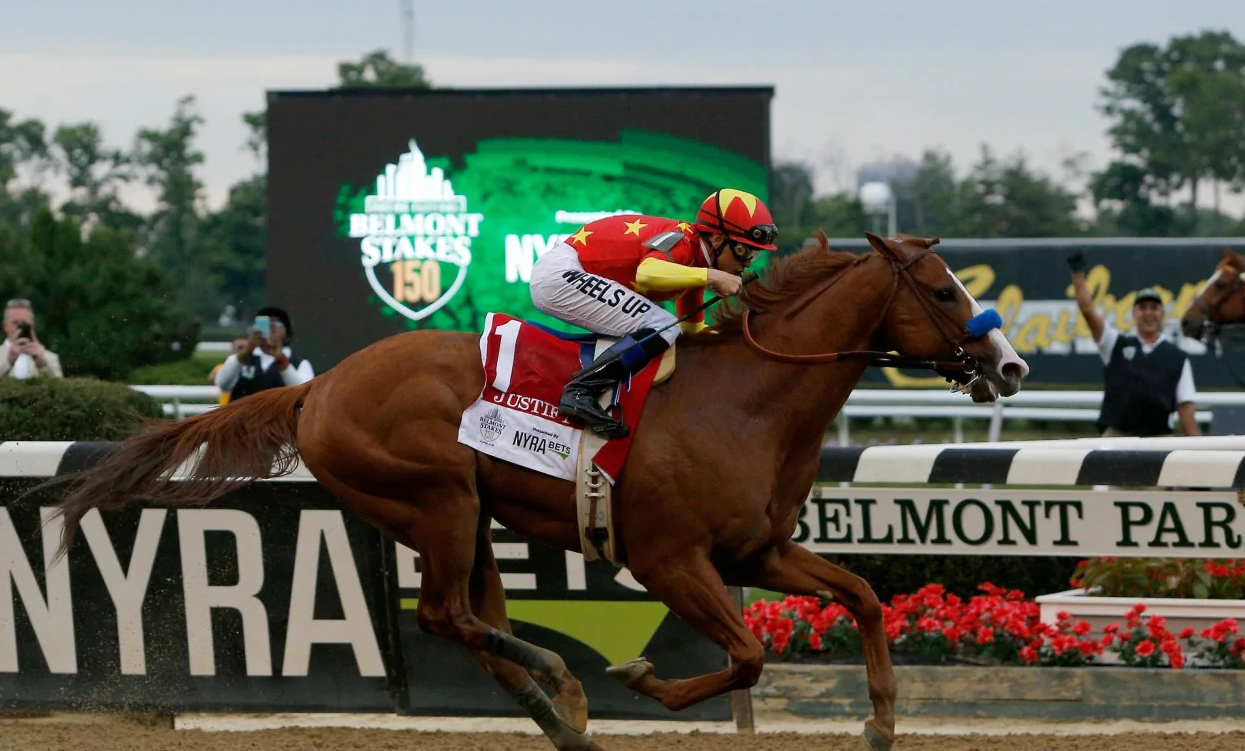 Just three years after American Pharaoah broke the thirty-seven-year long drought of Triple Crown winners, Justify completed the final leg of the feat this afternoon with a win in the Belmont Stakes:
The last time there was a Triple Crown coronation, President Barack Obama was still in office, Princess Charlotte was a month old and the long-suffering Cubs had not won a World Series since 1908.

The drought before that lasted so long — 37 years, in fact — that many began to believe that horse racing's grand sweep would never again be accomplished.

Enter American Pharoah, who effortlessly floated around the expansive Belmont Park oval in 2015, then turned for home and hit the gas, pulling away from the field to send the capacity crowd into a prolonged state of euphoria. As he crossed the finish line, the racecaller exclaimed, "American Pharoah is finally the one!"

Three years later, a strapping chestnut colt named Justify, with a white blaze, a sweeping stride and an unblemished record, came back to the site where American Pharoah had vanquished horse racing's ghosts — with the same trainer, but his own shot at making history.

And while there was no pent-up anguish this time around to vigorously stoke enthusiasm, Justify, ridden by the 52-year-old ironman Mike Smith, did not disappoint the crowd as he captured the 150th Belmont Stakes and become just the 13th Triple Crown winner.

Justify led for the entire race and completed the mile and a half in an unofficial time of 2 minutes 28.18 seconds. He is the second undefeated Triple Crown winner, joining Seattle Slew in 1977. Justify beat a field of 10. Gronkowski was second, and Hofburg third. Justify rewarded his sun-splashed backers with $3.60 on a $2 bet to win. Gronkowski paid $13.80 to place.

Since Wednesday, when Justify pulled up to Barn 1 at Belmont Park, minus the police escort that Pharoah had received, the trainer Bob Baffert appeared at ease. Gone were the nerves from 2015, when the curse of 37 years and the hopes of many rested on his shoulders.

Baffert nicknamed his crew Camp Justify, and the bucolic corner barn setting fit the bill. Owners, fans and even rival trainers stopped by to sneak a peek at the undefeated winner of the Kentucky Derby and the Preakness Stakes.

Save for a news helicopter circling during training hours, the scene was as mellow as could be — three years between Triple Crown attempts will have such an effect. But it is said that history repeats, and it certainly seemed that way on Saturday. The great Secretariat ended a 25-year drought in 1973 in record fashion, then, four years later, Seattle Slew came along to put his perfect stamp on the feat. The next year, the classic rivalry of Affirmed and Alydar reached its peak when Affirmed inched ahead by a head to become the last Triple Crown winner until Pharoah arrived.

But Justify found his own path. He conquered the slop on May 5 to become the first horse since 1882 to win a Kentucky Derby without having raced as a 2-year-old and followed that feat with a damp and daring Preakness victory through soupy fog on May 16 that sent him to New York with the crown on the line.
Given the fact that only three years had passed since the last Triple Crown winner, there wasn't nearly as much pre-race media hype as there had been in 2015 when American Pharoah won the Belmont to become the first Triple Crown winner since Affirmed in 1978.  In that case, the last Triple Crown winner came when Jimmy Carter was in the second year of his Presidency, the Shah of Iran was still in power, and the Soviet Union still existed and had not yet launched what would become a disastrous war in Afghanistan, and Grease had not yet been released in theaters. Additionally, there had only been one Star Wars movie and it was clear that Han shot first. Additionally, Affirmed was the third Triple Crown winner in five years, a streak that began in 1973 with the legendary Secretariat. This time, we're just looking back to a time when Barack Obama was still President and Donald Trump was not yet a candidate for President. In other words, the good old days.
In any case, congratulations to jockey Mark Smith, trainer Bob Baffert, who is only the second trainer to win two Triple Crowns, and, obviously to the horse that did most of the work.