Kamala Harris Disqualified Because She Owns A Gun?
One opinion writer says that Senator Kamala Harris should be disqualified as a Democratic candidate because she owns a handgun.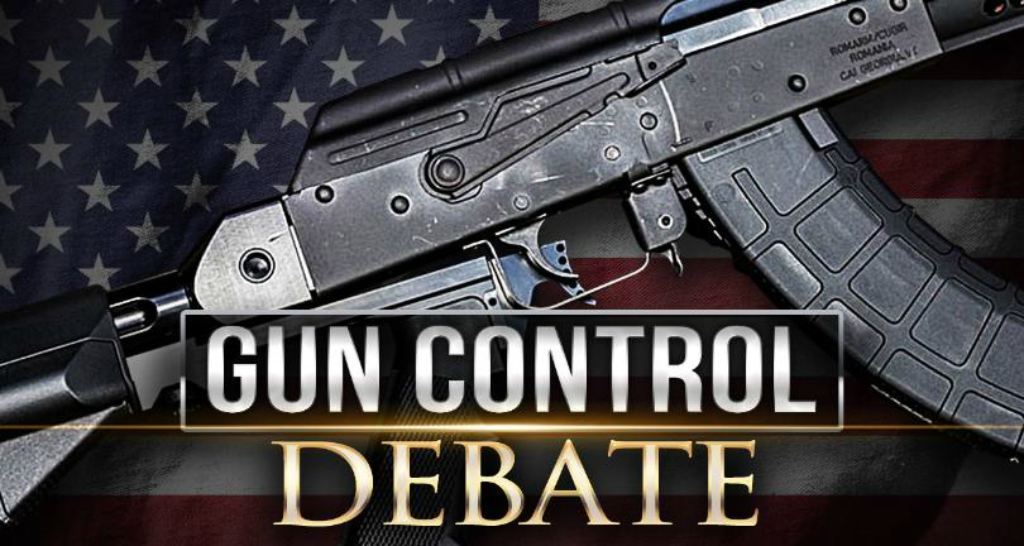 Peter Funt, the son the Alan Funt, the man who created the 1970's show Candid Camera which Peter apparently now hosts somewhere on cable, argues in USA Today that Kamala Harris should be disqualified as a candidate for President because she owns a handgun:
When it comes to gun ownership in America, presidential aspirant Kamala Harris has shot herself in the foot.

At a time when Democrats are toughening their positions on gun control and seeking to make it a core issue in the 2020 campaign, the California senator has conceded that her personal relationship with guns is unique among the major Democratic presidential contenders. She owns a handgun, a campaign aide told CNN.

This under-publicized revelation comes as Harris is getting a lot of ink for being tough about guns. Her words are fine, but for a progressive like me, they are undermined by that handgun. And I can't be the only one who is disturbed. Keeping a handgun for personal safety is a bedrock conservative view. The best defense against a "bad guy with a gun," the NRA falsely argues, is "a good guy with a gun."\

"I am a gun owner," Harris said while campaigning in Iowa, "and I own a gun for probably the reason a lot of people do — for personal safety." The campaign aide, whom CNN did not name, scrambled to explain that the senator's handgun was purchased years ago and is locked up.

Harris justified owning the gun by pointing out that "I was a career prosecutor." She could have said, "Dealing with dangerous criminals while serving as district attorney in San Francisco I felt compelled to have a handgun. After leaving that job I disposed of the weapon."

But she didn't. She played to the heartland gathering by suggesting it is wise to own a handgun for protection simply because you're afraid. Such thinking presumably extends to people riding the subway or walking home at night, or driving a car among road-raged motorists. It is exactly the bogus argument that gun opponents are seeking to deflect.

Federal statistics for 2015, for example, show women are far more likely to be shot to death by an intimate partner than killed by a stranger using any means. An earlier study found that women living in a home with guns are three times as likely to be killed at home.


The Washington Post reported earlier this month that six of 18 Democratic presidential contenders own firearms. With former Vice President Joe Biden's entry into the race Thursday, make that at least seven. Beto O'Rourke and Pete Buttigieg are among the other gun owners — but their weapons are old and inoperable. Buttigieg, a Navy veteran, says he has two antique pistols that are never fired.


Harris has wisely called for banning assault weapons and requiring universal background checks for gun purchasers. However, she seems to misunderstand the nuances of the gun control argument — particularly among elected officials and candidates for high office, whose actions speak loudly.

(…)

Kamala Harris doesn't seem to have the courage to concede that owning a handgun for protection is a bad idea. Instead, she has given voters a real choice: Back candidates who care enough about gun control to not own handguns, or support the only major Democratic contender who has one and won't throw it away.
Not surprisingly for someone who appears to be little more than a minor celebrity, famous mostly for being the son of someone who was famous, who clearly doesn't understand politics beyond what he already believes, Funt utterly fails to provide any real argument for why owning a handgun, or any other gun for that matter, should be disqualifying in a Democratic primary. Indeed. as he notes at least six of the current major candidates for the Democratic nomination have stated that they own a gun of some kind whether its a handgun like Harris or a hunting rifle of some variety like politicians who come from states where hunting is a popular activity such as Beto O'Rourke have admitted to having, should be disqualifying. Indeed, Funt makes no mention whatsoever of the other candidates and their guns and focuses his ire solely on Harris, who has acknowledged obtaining a handgun when she was a prosecutor for personal protection. He also seems to ignore the fact that the U.S. Supreme Court has acknowledged in D.C. v. Heller and McDonald v. Chicago that the Second Amendment guarantees the right to own such a weapon and to keep it in one's home for personal protection. Even if you accept Funt's argument for why this is a bad choice to make, the fact is that under the law Harris has such a choice.
What Funt appears to be doing here is taking the extreme position that not only must Democrats be in favor of things such as universal background checks, banning so-called "assault weapons," and restrictions on certain accessories for guns, but that you cannot be a good Democrat and do something that the law allows. Given that, one has to wonder if he believes that, say, a woman who chooses not to have an abortion because she believes it is wrong cannot be a good Democrat, or a Democratic candidate for office. That would after all be the logical conclusion of the position he's taking here, which is that even if the potential candidate acted within the law the mere choice of owning a gun is per se disqualifying for any Democratic candidate.
This is, of course, a ridiculous position to take. Perhaps the situation would be different if Harris or another candidate admitted that they owned an AR-15 or other type of so-called "assault weapon," that they obtained a weapon without going through a background check by utilizing one of the alleged loopholes in the law, or that they owned bump stocks or some other gun accessory that Democrats are seeking to ban. Even then, though, if the candidate acted within the law one wonders why anyone should care.
Jazz Shaw at Hot Air makes this point:
In some ways, Funt is at least directing his anger in a more productive direction than many other Democrats. While they all focus on an "assault rifle" ban (which Funt also supports, by the way), the vast majority of gun crimes in the country are perpetrated using a handgun. Of course, the lion's share of those are done with illegally owned firearms, but I'm sure Funt wouldn't want the debate sidelined by facts.

This is what passes for logic among Democrats in 2019. It's not just a problem with AR-15s. There are no good guns and people should be prevented from legally owning any of them. (No solution is offered for what to do about all the people who illegally own them so they can commit crimes.) And if a candidate for high office is discovered to legally own a firearm and safely carry or use it, they should be disqualified from running. Good luck with that message next November. But at least now we get to wait and watch to see if Kamala Harris ceremonially destroys her firearm.
Leaving the partisanship in Jazz's remarks to the side, what he says reminded me of a scene from The West Wing involving Rob Lowe's character Sam Seaborn and Ainsley Hayes, the Republican lawyer played by Emily Proctor who eventually gets hired by the White House Counsel's office and appears in several episodes before the actress that played her was offered a starring role in CSI: Miami, not returning to the show until the finale where she is apparently in contention to be White House Counsel for the incoming President played by Jimmy Smits
In any case, the scene in question takes places just a couple years after the attempted assassination of President Bartlet in the show's timeline, and it included this line that the writers used to show Hayes effectively shutting Seaborn down:
[Y}ou know what's more insidious than that? Your gun control position doesn't have anything to do with public safety, and it's certainly not about personal freedom. It's about you don't like people who do like guns. You don't like the people. Think about that, the next time you make a joke about the South.
Here's the video of that scene in full:
While it may not be true of all gun control advocates, it certainly seems to be true of people like Funt. It's not guns or even gun violence they don't like, it's the people who choose to own guns they don't like. They are certainly entitled to make that choice, but it seems like an unwise and stupid one politically and it's one that Harris should simply ignore.