Koch Brothers Not As Big A Deal As Democrats Would Hope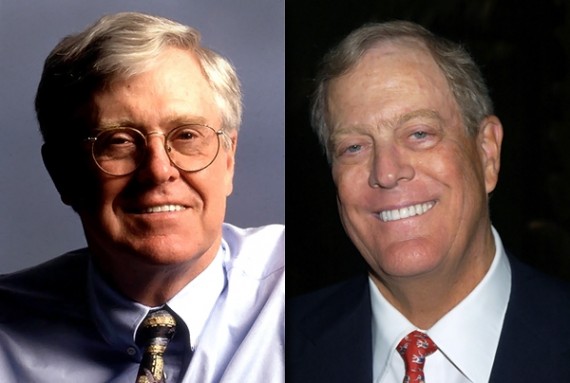 If the opening months of the 2014 campaign are any indication, Democrats intend to make the Koch Brothers a central focus of their campaign against the GOP this year. Indeed, the libertarian-oriented politically active brothers have been something of a bugaboo on the left since the 2010 midterms and have garnered more attention on MSNBC than one might expect for the relatively private owners of a multinational company. For all of the vitriol directed at them from the left, though, it doesn't seem like most Americans neither know who Charles and David Koch are nor care to the time to learn about them:
WASHINGTON — More than half of Americans have no idea who the Koch Brothers are, according to a new poll released Tuesday morning.

Democrats have spent a large amount of time in the last few weeks posturing Charles and David Koch, the billionaire oil tycoons who donate significant amounts of money to conservative causes and candidates, as the sort of bogeyman of the Republican Party. Senate Majority Leader Harry Reid even blamed them in part for Russia annexing Crimea.

But according to a new bipartisan George Washington University Battleground Poll, that strategy may be less than fruitful. The poll shows 52% of Americans still don't even know who the Kochs are and another 11% have no opinion on them.

"Trying to make the Koch brothers into that red meat is going to be about as effective as what we tried to do for several cycles with George Soros," Republican pollster Ed Goeas told reporters during a breakfast sponsored by the Christian Science Monitor.

As far as Reid's numbers go, the poll shows 25% of Americans don't know who he is and another 16% have no opinion on him.

That suggests Reid, someone many Americans don't care much about, going on the Senate floor multiple times a week to decry the actions of the Kochs, who a majority of Americans have never even heard of, may not be the most effective strategy for protecting a Democratic majority in the Senate come November.
This isn't entirely surprising. It's quite often the case that partisans on both sides of the political aisle manage to convince themselves that one issue or another is so manifestly important that it is guaranteed to lead to success if made the focus of the next election campaign. For Republicans, it's issues like the Benghazi attack, Fast & Furious, and the IRS targeting, all of which have seemingly ground to a halt with little proof of any White House involvement. Democrats, meanwhile, seem to be haning their hats on the Koch Brothers. If this poll is any indication, they're likely to have as much success with that as Republicans did with their issues in 2012.