Lee Iacocca, Who Headed Two Of The Big Three Automakers, Dies At 94
One of America's fist celebrity CEO's has passed away at the age of 94.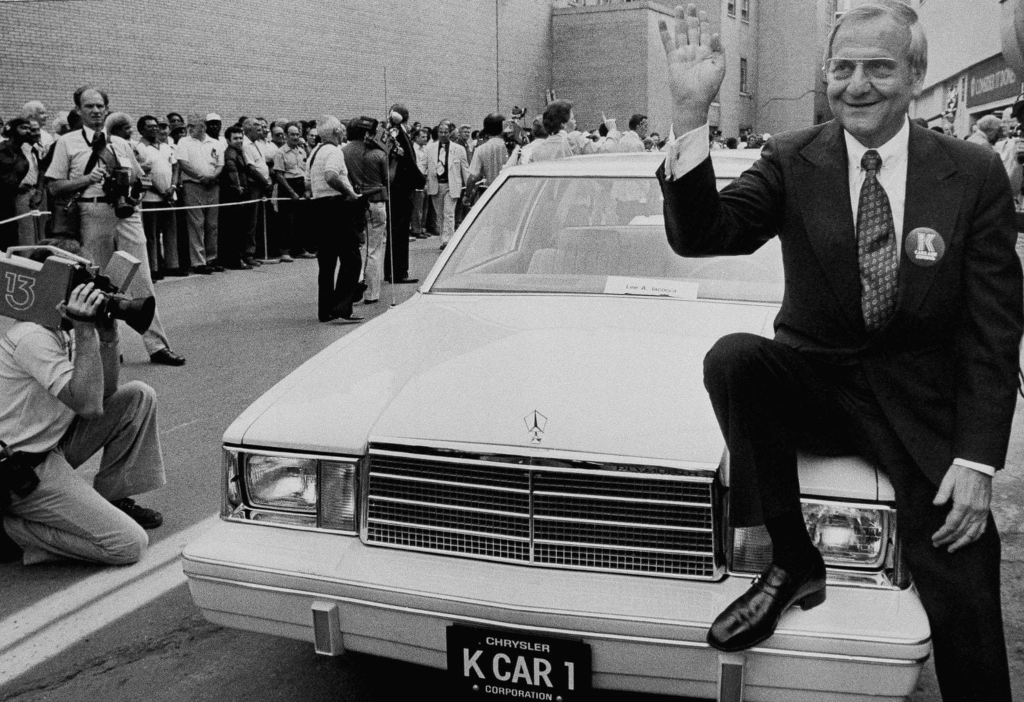 Lee Iacocca, a legendary American business executive who led two of America's "Big Three" automakers, helped create the Ford Mustang, the Chrysler "K Car," and the minivan, is credited with saving Chrysler from bankruptcy in the 1980s, and led the effort to refurbish the Statue of Liberty prior to its 1986 Centennial, has died at the age of 94:
Lee A. Iacocca, the visionary automaker who ran the Ford Motor Company and then the Chrysler Corporation and came to personify Detroit as the dream factory of America's postwar love affair with the automobile, died on Tuesday at his home in Bel Air, Calif. He was 94.
He had complications from Parkinson's disease, a family spokeswoman said.

In an industry that had produced legends, from giants like Henry Ford and Walter Chrysler to the birth of the assembly line and freedoms of the road that led to suburbia and the middle class, Mr. Iacocca, the son of an immigrant hot-dog vendor, made history as the only executive in modern times to preside over the operations of two of the Big Three automakers.

In the 1970s and '80s, with Detroit still dominating the nation's automobile market, his name evoked images of executive suites, infighting, power plays and the grit and savvy to sell American cars. He was so widely admired that there was serious talk of his running for president of the United States in 1988.

Detractors branded him a Machiavellian huckster who clawed his way to pinnacles of power in 32 years at Ford, building flashy cars like the Mustang, making the covers of Time and Newsweek and becoming the company president at 46, only to be spectacularly fired in 1978 by the founder's grandson, Henry Ford II.

But admirers called him a bold, imaginative leader who landed on his feet after his dismissal and, in a 14-year second act that secured his worldwide reputation, took over the floundering Chrysler Corporation and restored it to health in what experts called one of the most brilliant turnarounds in business history.

He accomplished it with a controversial $1.5 billion federal loan guarantee, won by convincing the government that Chrysler was vital to the national economy and should not be allowed to fail, and with concessions from unions, new lineups of cars, and a new national spokesman — himself — featured in a decade-long television advertising campaign.

"If you can find a better car, buy it," the blunt Mr. Iacocca challenged the public. "I'm not asking you to buy any car on faith. I want you to compare."

As the 1980s unfolded, his commercials hammered at a theme: "The pride is back." And so it seemed. The guaranteed loans were repaid in four years, seven years early. Americans were buying cars at a record clip again, including Chrysler's new minivans and compacts. The company's $1.7 billion loss in 1980 had become a $2.4 billion profit by 1984.

Chrysler was selling cars as fast as it could make them. Its stock price soared, as did Mr. Iacocca's popularity. His achievement in restoring Chrysler was all the more impressive because it had begun in a national recession and matured against intense competition from America's larger automakers, Ford and General Motors, and from a rising tide of imported cars from Japan and other countries.

His book "Iacocca: An Autobiography" (1984, written with William Novak) became a runaway best seller, the leading nonfiction hardcover of 1984 and 1985. With tens of millions of copies in print, it still regales readers with its intimate look at the auto industry of Mr. Iacocca's day, its cast of larger-than-life characters, its accounts of the author's dismissal at Ford and his rescue of Chrysler.

In 1987, the company that had nearly failed posted sales of $26 billion and sat on a $3 billion cash cushion. Mr. Iacocca, who had taken only $1 as compensation in the first year after winning the loan guarantee, was now the industry's most highly paid executive, with salary and stock options worth $18 million.

Television commercials and news photographs had made him one of the nation's best-known faces, an oval of grandfatherly features: a balding pate, a fleshy nose, mischievous eyes behind half-rim glasses, thin lips chomping an imported cigar, and a bland political smile that gave away nothing.

A heroic figure to many Americans, he became chairman of a project to restore the Statue of Liberty and Ellis Island, and was in demand for speeches and public appearances that took on the color of a campaign.

He conferred with President Ronald Reagan, members of Congress, governors and business leaders. He was mobbed by admirers and pursued by the press. Polls confirmed that a run for the White House was realistic, and his denials of political ambition only fueled public interest in a possible candidacy.

"The loan guarantee debate, Chrysler's subsequent return to health, and the publication of his best-selling autobiography conferred mythic status on him as the nation's economic Winston Churchill," Doron P. Levin, a former reporter and Detroit bureau chief for The New York Times, wrote in "Behind the Wheel at Chrysler" (1995). "At the peak of his popularity, many Americans believed not only that Iacocca held the answers to the nation's economic ills but also that he should lead the country as president."
Like the rest of Detroit, though, Iacocca missed the rising challenges coming from the Japanese auto industry, which made major inroads into the United States beginning in the 1980s by offering cars that were less expensive, more fuel efficient, and in many cases nicer looking than their American alternatives. Along with Ford and General Motors, Chrysler suffered under the weight of the new competition, but because of its previous financial situation, it was arguably more vulnerable than the other companies when the Japanese began to gain market share from American automakers. As a result of this, Iacocca's star at Chrysler became somewhat dimmer. Like other auto executives, Iacocca tried various gimmicks to try to compete against the Japanese, including the innovation of offering rebates on the purchase of a car, which has become standard industry practice today, but he also took steps that can be called regrettable. One of these included lobbying Congress and the Reagan Administration for tariffs to protect American auto industry, which Japanese auto companies got around by starting to open factories in the United States. A more regrettable habit he fell into was to engage in bashing the Japanese government and auto industry instead of looking for ways to compete against them by offering better, less expensive, cars to the public. Despite this, though, his star never dimmed completely.
More from The Washington Post:
Lido Anthony Iacocca was born in Allentown, Pa., on Oct. 15, 1924. His parents, Nicola and Antoinette, had immigrated to the United States from Italy.

His father was an entrepreneur who ran a variety of businesses, including a car rental agency and movie theaters.

"My father was such a great promoter that kids who came down to the Saturday matinees used to get more excited about his special offers than about the movies," Mr. Iacocca later wrote in his memoir. "People still talk about the day he announced that the ten kids with the dirtiest faces would be admitted free."

The family was wealthy for a few years before the Great Depression, but Nicola Iacocca lost all his money in the stock market crash of 1929. The family's economic suffering was a driving force in Lee Iacocca's ambitions for financial success.

In his sophomore year of high school, a bout of rheumatic fever led to paralysis in his legs for a time. This kept him out of competitive sports and later out of military service during World War II. He channeled his vigor into academics and the debating society. He became class president and a member of the National Honor Society.

He completed a bachelor's degree at Lehigh University in Bethlehem, Pa., in three years and, after graduating in 1945, won a fellowship for graduate study in engineering at Princeton University. "I wasn't interested in a snob degree," he wrote in his memoir, speaking of the Ivy League degree. "I was after the bucks."

Mr. Iacocca began his ascent of the corporate ladder at a propitious time. World War II had just ended. After a wartime hiatus to concentrate on military production, Detroit was retooling its factories to turn out civilian vehicles again. The American car was ready to transform the way Americans lived.

Millions of war veterans were back from overseas, marrying and having children. Millions more Americans were moving from the cities to suburbs, and they all needed automobiles to support their new lifestyles.

Onto this stage strode Mr. Iacocca. In August 1946, he arrived in Dearborn, Mich., as an engineering trainee at Ford. He quickly became bored and restless with the solitary and tedious work.

"I was eager to be where the real action was — marketing or sales," he said. "I liked working with people more than machines." Ford approved his request for a transfer, on the condition that he find a new job himself, which he did — a low-level fleet sales job in Chester, Pa.

In 1956, Mr. Iacocca married Mary McCleary, a receptionist at the Ford sales office in Chester. Around that time, Mr. Iacocca worked his way up to assistant sales manager of the Philadelphia district. He tried a sales gimmick that caught the attention of Robert S. McNamara, the future defense secretary, who was then the company's vice president in charge of all car and truck divisions.

"I decided that any customer who bought a new 1956 Ford should be able to do so for a modest down payment of 20 percent followed by three years of monthly payments of $56," Mr. Iacocca wrote in his memoir. "I called my idea '56 for '56.' "

The plan was so successful that in three months, sales of Fords in the Philadelphia district shot to first place from last. McNamara so liked the idea that he made it part of Ford's national marketing strategy. The company later estimated that the idea was responsible for selling 75,000 additional cars.

In 1960, McNamara became president of Ford. Mr. Iacocca replaced him as vice president and general manager of the Ford car and truck divisions. He was 36, one year beyond the goal he had set for himself for achieving a vice presidency.

To his job, Mr. Iacocca brought a new concept in sales and styling that was fundamentally different from McNamara's. McNamara, he said, had a "deep conviction that a car was a means of transportation, not a toy."

McNamara was primarily concerned with basics, such as fuel efficiency. Mr. Iacocca, not so much. Based on market research, Mr. Iacocca saw that younger buyers were beginning to dominate the market. The design and appearance of a new model was critical. Cars coming off the Ford assembly lines had to be more than reliable, efficient and functional. They had to look good, what Mr. Iacocca described as "a car you could drive to the country club on Friday night, to the drag strip on Saturday, and to church on Sunday."

The result was the Mustang.

Months in advance of its debut, an aggressive promotional campaign was launched. Editors of college newspapers were loaned Mustangs to drive several weeks before the official introduction date. Television networks were blanketed with Mustang commercials.

In its first year, the Mustang sold 418,812 models, a record for Ford products, and it generated $1.1 billion in profits for the company. The Mustang was a phenomenon — it made the cover of the major newsweeklies and had a pivotal cameo in the police drama "Bullitt" (1968), with ultracool movie star Steve McQueen behind the wheel.

Buoyed by the continuing success of the Mustang, Mr. Iacocca earned a series of promotions that culminated in his appointment as Ford's president in 1970.

As president, one of his chief tasks was finding ways to cut inefficiencies companywide — giving heads of lagging divisions a limited time to turn things around or suffer the consequences. He had long been viewed as a hard-nosed manager. He had his department heads define their goals and objectives, and then graded them on their performance in a black notebook.

A polarizing figure in the company, he had many who admired his instinctive business savvy and many who could not abide his hypercritical, micromanaging and shoot-from-the-lip personal style.

In the 1970s, Mr. Iacocca presided over one of the company's greatest fiascoes: the Pinto. Initially a moneymaker, the car was revealed to have a gas tank leakage that made it a hazard. A massive recall was ordered.

In addition, rising fuel costs during the Arab oil embargo and increasing competition from the Japanese and other foreign car industries that specialized in sporty and fuel-efficient vehicles were threatening Detroit.

Mr. Iacocca's eight years as president were made difficult by his tense relationship with Henry Ford II.

As Mr. Iacocca told it in his autobiography, Ford repeatedly reduced the president's authority and prestige through a series of executive reorganizations, directed the arbitrary and capricious firing of other executives, and had a close friend of Mr. Iacocca's investigated for Mafia connections, which were never found.

"If a guy is over 25 percent a jerk, he's in trouble," Mr. Iacocca later said. "And Henry was 95 percent."

He said Ford never gave a specific reason for his dismissal. "We had just completed the two best years in our history," he wrote in his autobiography. But he quoted Ford as telling him: "I think you should leave. It's personal. . . . It's just one of those things . . . sometimes you just don't like somebody."

The Ford-Iacocca showdown was widely perceived as a dust-up between the upstart son of Italian immigrants and the scion of the automotive aristocracy. That Mr. Iacocca would cast his lot with Chrysler, a Ford competitor, after being fired was seen as a case of "Don't get mad. Get even," which only enhanced the Iacocca mystique.
It was almost immediately after that dismissal from Ford, of course, that Iacocca was hired by Chrysler, a company that at the time was seemingly on the verge of bankruptcy and most likely seeing its assets swallowed up its bigger competitors as the Chrysler name faded into the past along with other long-gone automakers such as Studebaker, American Motors, Hudson, and Tucker. The rest, as they say, is history.
Growing up in the 70s and 80s, it was hard not to know who Lee Iacocca was. Not only was he a ubiquitous presence in the commercials that Chrysler ran as it rolled out its new cars, but his success in that effort turned him into the kind of national celebrity that you didn't see very often at the time among corporate executives. He consulted with Congressman, Senators, Governors, and President Reagan regularly, and became a frequent guest on The Tonight Show with Johnny Carson. Thus, it was only natural that President Reagan would turn to him to head up the commission created to help fund and supervise the renovation of the Statue of Liberty and Ellis Island prior to their 1986 Centennial.
Iacocca largely faded from view after the 80s and after he left Chrysler. As several of his obituaries have noted, he was highly critical of the Chrysler merger with Daimler-Benz, which was ultimately reversed, a position that led to disputes between him and the company in the 1990s. He did return to the public limelight a bit in the late 2000s as Chrysler and Ford creeped toward bankruptcy in the wake of the Great Recession, but for the most part led a quiet life in retirement. In the end, as the rescuer of Chrysler and the star at Ford, he achieved a lot in life for the son of a small business entrepreneur and first generation Italian immigrant.
Here's the iconic commercial that Chrysler used to help launch its rebound: