Less Than 7% Of House Seats Are Competitive In 2014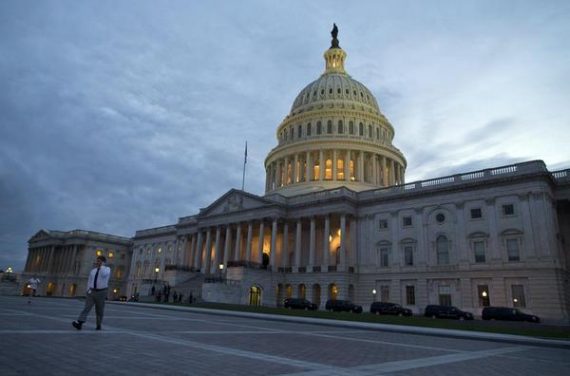 In an other sign of what the House of Representatives has turned into, The Fix's Jamie Fuller notes that there are, at most, 30 competitive House seats up for grabs in the 2014 election:
Only 30 House races have any right to be called a "race" of any sort this year. That's 30 out of 435. That's 6.8 percent of the entire House.

That's according to our Election Lab model, which found that that there are 405 races where the incumbent or front-runner has a 90 percent (or better) chance of winning at this point in the election.

The Cook Political Report rates only 43 seats as toss-up or lean Republican or Democrat — or 9.8 percent of the House. The Rothenberg Political Report counts 51 seats as competitive, 11.7 percent of the House.

This lack of competition isn't a new phenomenon. House races have been growing less and less competitive for years. In the 2002 and 2004 elections, House incumbents had a reelection rate of 99 percent. In those two elections, 7 percent of House contests were decided by a margin of less than 10 percentage points.
Another measure of the phenomenon can be seen in the massive increase in the length of tenures in the House and Senate over time: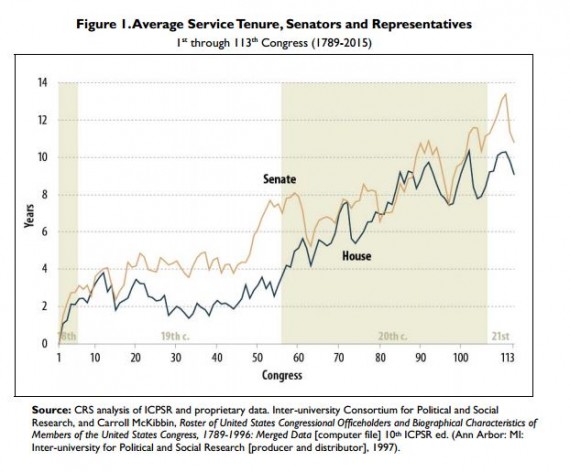 The dip in recent years, most likely, is due to the changes in members that we saw in the elections in 2006, 2008, and 2010. If current trends continue into the future, I'd expect to see the lines for both the House and the Senate start heading back north.
The reasons, of course, are quite familiar:
What's the reason for the incredible advantages held by incumbents — particularly given the "throw the bums out" sentiment voters regularly express? Alan Abramowitz, Brad Alexander and Matthew Gunning wrote in 2006 that the changing partisan makeup of districts and incumbency advantages go a long way toward explaining why there are so few competitive races. Once a candidate wins a House race, he or she almost always has fundraising and name ID advantages over any person who decides to run against them. This advantage compounds as reelection victories pile up. Some academics argue that redistricting is to blame, and that safe districts are being purposefully drawn up by both parties, erasing competitiveness from most races. Others find that redistricting is an ineffective explanation for why House races can be such a snooze.
In the end, it's a combination of all of these factors that has contributed to making the House far less competitive than it has been in the past. The result of that lack of competitiveness, of course, has been to make the partisan divide in Congress far deeper than it has been in the past, something that can be easily seen in the vote divisions on everything but the least controversial pieces of legislation like naming post offices. Now that this ideological divide has become entrenched, though, it's hard to see what is going to change it.