Liberty Set to Welcome Back 5000 Students
The university is welcoming students back to campus, even as classes are going online.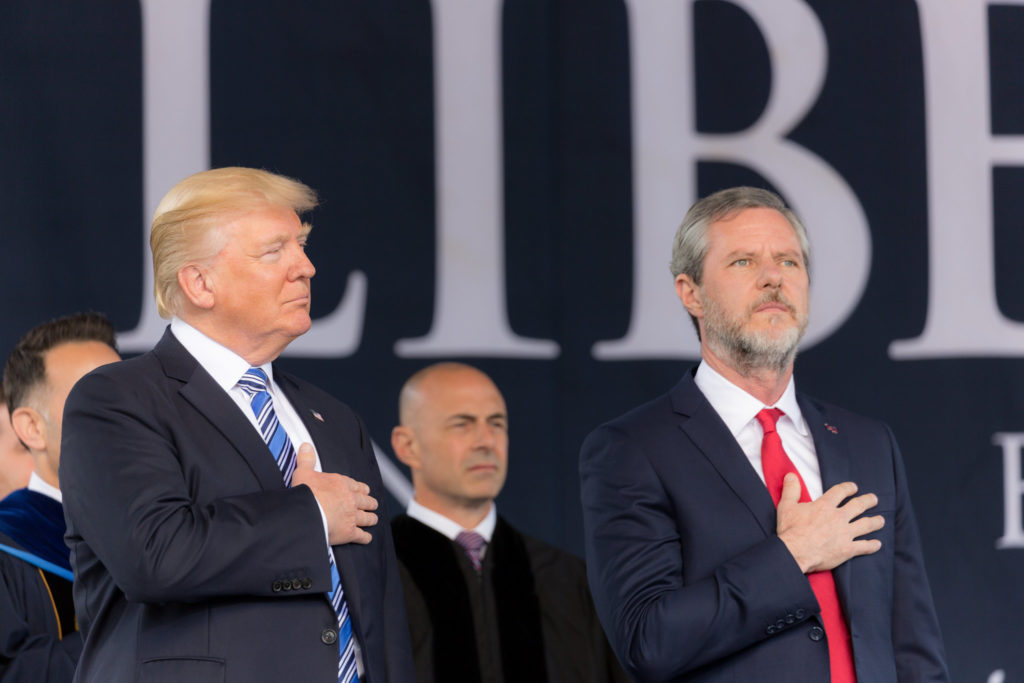 In a follow up to a previous post on Liberty University's reaction to the Covid-19 outbreak, the Richmond-Times Dispatch reports: Thousands of Liberty students expected to return to campus amid coronavirus outbreak.
In an interview Sunday night, Falwell said somewhere between several hundred to more than 5,000 students are expected to live in campus dorms, where they will continue coursework online rather than in classrooms.

Meanwhile, hundreds of professors and instructors without a valid health exemption will come to campus to hold office hours.

"I think we have a responsibility to our students — who paid to be here, who want to be here, who love it here — to give them the ability to be with their friends, to continue their studies, enjoy the room and board they've already paid for and to not interrupt their college life," Falwell said.

[…]

In contrast with other schools, Liberty's dorms, academic buildings, library and fitness center remain open to students.

The university has taken some steps to help slow the spread of the virus. Gatherings in campus buildings, including a handful of classes still holding in-person meetings, are capped at 10 people in accordance with an order by Gov. Ralph Northam.

Similarly, dining halls are only providing take-out service and campus visits have been suspended.
To my ear, as someone in the middle of these exact kinds of issues, this sounds like an attitude from a month ago (which is a long time in the current crisis) and is also highly irresponsible. Indeed, it sounds likes the worst of both worlds (that is the mix of going online while still maintaining substantial face-to-face activity). Either the virus presents a substantial public health threat, in which case social distancing is our best immediate tool or it isn't, and life should proceed apace. Trying to do both (which sounds a lot like what Trump was suggesting at yesterday's briefing) is fence-staddling of the highest order and serves neither to really maintain normalcy while at the same time creating a large number of potential disease vectors.
I do understand the challenge presented by students who may not have an immediate place to go wanting to stay in dorms and, also, meaning you have to feed them. Still, the notion that the fitness center is open and small classes are meeting strikes me as highly irresponsible.
It will be something of an experiment in several ways, to include how many students are willing to take the risk. It could also provide data on what an attempt to be more or less normal looks like (the problem is that such results could be dire).
This, however, suggests a basic lack of understanding about how diseases spread:
"I think we, in a way, are protecting the students by having them on campus together," he said. "Ninety-nine percent of them are not at the age to be at risk and they don't have conditions that put them at risk."
I would note that 1% of 5000 is 50. Is Falwell willing to let 50 of his students become seriously ill just to prove some unnecessary point? (And that assume these students do not help carry to the virus to others, which is not the way this works).
Some people (Falwell included, I guess) seem to think that the young are immune, but this is not the case. Bloomberg reported almost a week ago (Yes, Young People Are Falling Seriously Ill From Covid-19):
New evidence from Europe and the U.S. suggests that younger adults aren't as impervious to the novel coronavirus that's circulating worldwide as originally thought.

Despite initial data from China that showed elderly people and those with other health conditions were most vulnerable, young people — from twenty-somethings to those in their early forties — are falling seriously ill. Many require intensive care, according to reports from Italy and France. The risk is particularly dire for those with ailments that haven't yet been diagnosed.
One example is especially salient to the choices as Liberty:
One of those younger adults is Clement Chow, an assistant professor of genetics at the University of Utah. "I'm young and not high risk, yet I am in the ICU with a very severe case," Chow said in a March 15 tweet. "We really don't know much about this virus."
And then there's this:
emerging evidence suggests that infants and toddlers may also be at risk of severe complications. In a study of more than 2,000 young children with Covid-19 from China, published this week in Pediatrics, Chinese doctors found that about 11% of cases in infants were judged to be severe or critical, as were 7% of those in toddlers and preschoolers. While still a lower rate of severe disease than adults, it's hardly insignificant.
It would behoove decision-makers to realize that there is a lot that we do not know at this time and that erring on the side of caution is the wise course of action. Also: understanding basic math is really important these days.