Lincoln Chafee Thinks America Needs The Metric System, And Lincoln Chafee
Lincoln Chafee began his bizarre run for the Presidency in the strangest way possible.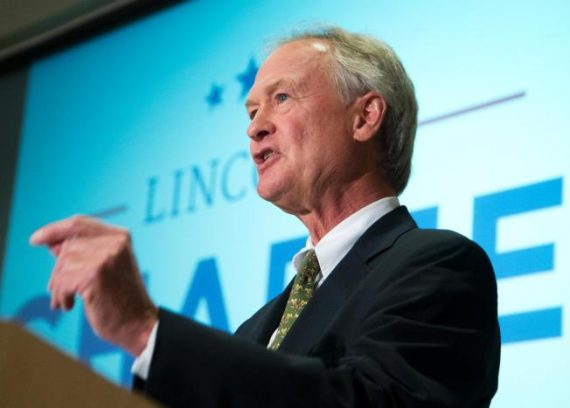 Late yesterday, former Rhode Island Governor, and former Republican and Independent, Lincoln Chafee  became the latest Democrat to enter the Presidential race and his entrance was just as bizarre as his entire candidacy seems to be:
ARLINGTON, Va. — He has served as a mayor, a senator and a governor. He has been a Republican, an independent and a Democrat. On Wednesday, Lincoln Chafee of Rhode Island added presidential candidate to the list.

During a foreign policy speech at George Mason University here, Mr. Chafee announced that he was seeking the Democratic nomination, joining Hillary Rodham Clinton, Senator Bernie Sanders of Vermont and former Gov. Martin O'Malley of Maryland.

"I enjoy challenges, and today we have many facing America," Mr. Chafee said. "Today, I am formally entering the race for the Democratic nomination for president."

Many were surprised when Mr. Chafee, 62, signaled in April that he was interested in seeking the White House. The move raised eyebrows in Rhode Island, where his record in one term as governor received mixed reviews. Facing the prospect of a primary challenge and sluggish poll numbers last year, he chose not to run for re-election.

While considering a presidential run, Mr. Chafee has shown a willingness to confront Mrs. Clinton, questioning the financial dealings of her family's foundation and criticizing her for supporting the 2003 invasion of Iraq. Mr. Chafee, a Republican at the time, was the only senator from his party to vote against the war.

"I think Chafee wants to have the same dialogue on foreign policy that Sanders wants to have on domestic policy," said Scott MacKay, a political analyst for Rhode Island Public Radio. "He sees the country as becoming too militaristic, and he will talk about the Iraq war vote."

Mr. Chafee made that clear during his announcement, arguing that the Iraq war continues to haunt America's credibility and advocating "waging peace" through multilateralism. Although he did not mention Mrs. Clinton by name, he referred to the controversies surrounding her use of a private email account while secretary of state and foreign donations to the Clinton Foundation, calling them "regrettable."

Mr. Chafee's long résumé belies what some have deemed a disappointing record. While he received praise for his overhaul of Rhode Island's pension system as governor and for his education policy, he also oversaw a flagging state economy and was ensnared in several high-profile controversies, such as a debate over whether Christmas trees should be called holiday trees.

"This is the most Catholic state in the country," said Maureen Moakley, a political science professor at the University of Rhode Island. "He took a beating over that."

Ms. Moakley said many in Rhode Island saw Mr. Chafee as principled but quirky. While he can charm voters in small settings, she suggested, he tends to struggle when trying to communicate before the types of large audiences he will face on the national stage.

Some of that quirkiness was on display Wednesday, when Mr. Chafee unveiled that switching to the metric system was an important part of his strategy for integrating the United States with the rest of the world.

"I happened to live in Canada as they completed the process," Mr. Chafee said. "Believe me, it's easy. It doesn't take long before 34 degrees is hot."

Questioned about the idea, Mr. Chafee struggled to make the case that switching measurement systems would eventually be good for the economy.

Mr. Chafee's presidential announcement lacked the festive atmosphere that some other candidates have sought to create. His logo was projected on a screen in front of about 100 people, many of whom said they were students and required to attend for class.
Chafee's call for the United States to adopt the Metric System, something which I'm fairly certain was last a political issue when I was in grade school a long time ago in a galaxy far, far way, was perhaps the most bizarre part of his speech yesterday and, of course, it led to much snarking on political Twitter:
Spontaneous crowds forming now in DC in support of Lincoln Chafee's call to join the metric system pic.twitter.com/x0bkR71JU5

— pourmecoffee (@pourmecoffee) June 3, 2015
Metric system was one line in Chafee's speech but will be the top line. Lesson is if you give the press a centimeter, they take a kilometer — Ben Jacobs (@Bencjacobs) June 3, 2015
Chafee has already lost Denver. No one wants to live in The 1.6km High City.

— Peter Suderman (@petersuderman) June 3, 2015
Even before the speech started, though, it was obvious things were going to be rather odd. Last week, for example, Chafee's wife posted a note on her Facebook page asking if any of her husband's former staffers remembered the password to Chafee's old Facebook page from when he was candidate for Rhode Island Governor. Perhaps even more embarrassing for Chafee is the fact that the largest newspaper in Rhode Island is basically ignoring Chafee's campaign even though he's the first person from that state to ever run for President.  Given his position in the polls, this would seem to be a wise use of journalistic resources. Chafee is at the bottom of the pack nationally and in all of the statewide polling, even in New Hampshire, here you'd think he'd get a boost in the polls from just being a New Englander, he's only averaging 1.7% in the polls. This is pretty much the walking definition of a non-entity, and there's really no reason to expect that will change. Unless, of course, there's a big pro-metric constituency out there that we haven't heard about.