Lindsey Graham Wants War With Iran By September
Lindsey Graham is playing cynical political games with a dangerous part of the world.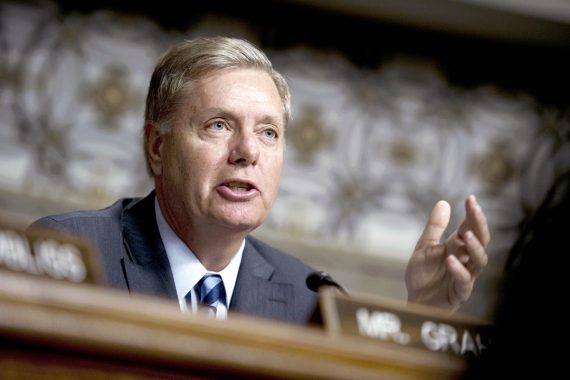 South Carolina Senator Lindsey Graham told an audience yesterday that he will begin pushing for war with Iran if there isn't "improvement" on the nuclear issue by the end of the summer:
"If nothing changes in Iran, come September, October, I will present a resolution that will authorize the use of military force to prevent Iran from developing a nuclear bomb," the South Carolina Republican said, according to a post on CQ Roll Call, which was picked up by Think Progress, at a conference for members of Christians United for Israel today. "The only way to convince Iran to halt their nuclear program is to make it clear that we will take it out," Graham added
The resolution will likely go nowhere, of course, but, as Connor Simpson notes in the linked piece at The Atlantic Wire, that really isn't its purpose. This is all about burnishing Graham's resume for what is looking like it will be a tough fight for re-election. Nobody's entered the race yet, but it's expected that Graham is going to face a tough challenge from his right due in no small part to frustration from the national GOP base over his perceived faults, the most recent being his support for the Senate's immigration reform bill. Advocating something like this, as dangerous and idiotic as it is, is obviously his way way of throwing some red meat to the right wing of the party, where hatred of Iran and blind support of Israel under all circumstances is a virtual article of faith. Whether it will be enough to satisfy anyone is another question.
That said, it's pretty cynical and not just a little bit despicable on Graham's part to be playing games like this with an important part of American foreign policy just to pad his resume and placate the Tea Party. As Simpson notes in his piece, the situation between Iran and the United States is delicate enough as it is in the wake of the recently concluded elections, the sanctions imposed by the United Nations, and our continuing efforts to try to resolve the nuclear issues by diplomatic means. The last thing that the world really needs is a Senator desperate trying to hold on to his Senate seat in the face of a challenge from the far right using the issue of the Iranian nuclear program, and threatened military action that isn't going to happen, to advance his own political interests. Not that can say that I'm really surprised by Graham's actions here given the fact that he's also been joining John McCain in pushing for further U.S. involvement in Syria. If you're going to be a warmonger in one part of the middle East, I suppose you may as well be one all over the region.