Lindsey Graham Appears Headed For Victory In South Carolina GOP Primary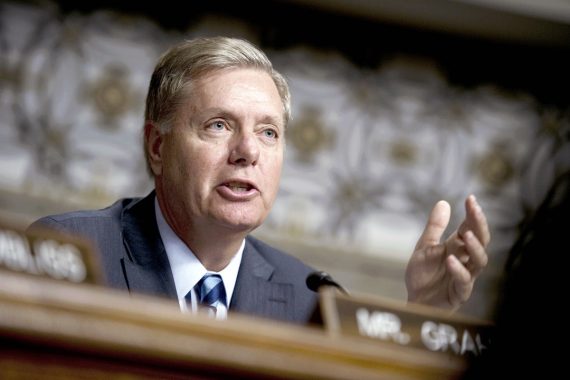 The South Carolina Primary is just under a week away and, if a new Clemson University Poll is any indication, Lindsey Graham appears to be well situated to win easily over his Tea Party backed challengers by a large enough share of the vote to avoid a runoff:
It's one of the biggest political questions in South Carolina right now: Will incumbent Lindsey Graham avoid a runoff in next Tuesday's Senate primary?

A survey released Wednesday indicates that the two-term Republican senator – who's facing off against six primary challengers – is just shy of the 50% he needs to win the contest outright. If Graham fails to top 50%, he would face off two weeks later against the second place finisher in the GOP primary.

According to a Clemson University Palmetto poll, 49% of likely South Carolina primary voters say they back Graham, with state Sen. Lee Bright a distant second at 9%. The other five candidates in the race all registered in the low single digits. A high 35% of respondents said they were undecided.

Graham has worked hard the past couple of years to shore up his standing with conservatives, many of whom don't trust the senator.

"The Graham campaign did an outstanding job in heading off the uprising at pass. Not only have they plugged the hole the boat, they have their sails raised and they're moving along at a pretty good clip," South Carolina based GOP consultant Hogan Gidley told CNN.

"What Graham was successful in doing was tethering himself to fellow South Carolina Republican Sen. Tim Scott (a favorite of those on the right), touting his conservative credentials in commercials, and basically telling voters that at the end of the day he's a conservative," added Gidley, a former executive director of the state GOP.

Graham's challengers, to this point, have not been very successful in highlighting what they consider Graham's failures as a conservative on immigration, on liberal justices and on allowing debate on gun control legislation.

They'll get another chance Saturday – just three days before the primary – when Graham debates his six primary challengers for the first time. But with early voting already underway, some ballots will have already been cast by the time the candidates face off on the same stage.
Absent some kind of massive shift in the race, it seems likely that Graham will get the 50% of the vote he needs to avoid the runoff. Even in this latest poll, not a single one of his Tea Party challengers gets above 10% of the vote, and while the undecided vote is quite high, it's unlikely at this point that enough of those people will break for the challengers to deny Graham his 50%. Even if he does fall a percentage point or two short, though, Graham would be well situated to clean the clock of whomever happened to end up in second place behind him.
This may end up being the hardest defeat for many of the Tea Party people out there to accept. As I noted when I looked at this race a month ago, Lindsey Graham has been a target of hardcore conservatives since the last couple years of the Bush Administration, although he did manage to avoid a serious primary challenge when he ran for re-election in 2008. Watching the guy they wanted to take out most of all basically walk to re-election must be really frustrating for them.