Lindsey Graham Faces A Challenge In 2020
Lindsey Graham faces a potentially interesting challenge in his 2020 re-election bid.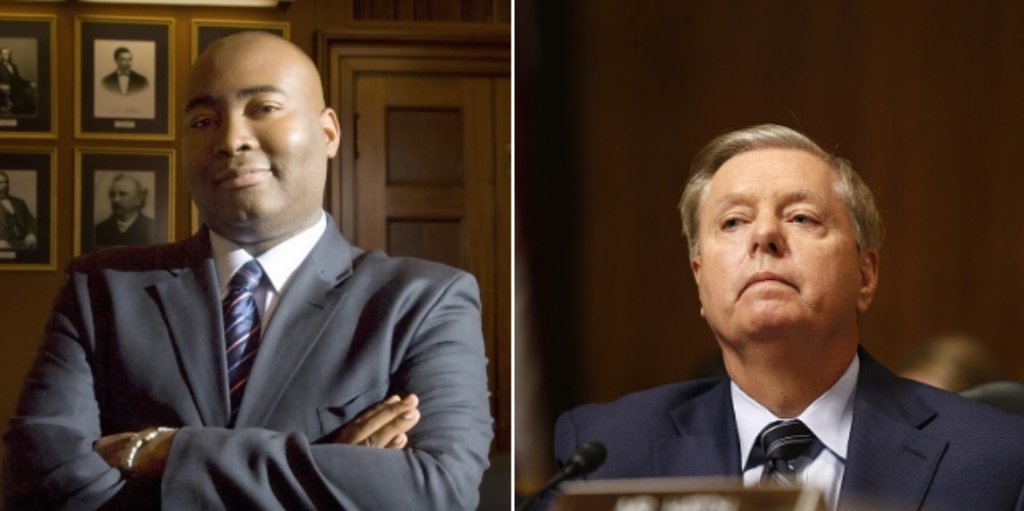 The Washington Post profiles the man who could end up being Senator Lindsey Graham's strongest General Election challenger of his career:
When Jaime Harrison was a toddler, his 18-year-old mother wrote Sen. Strom Thurmond for help. It was 1978, and in Orangeburg, where Patricia Harrison and her son shared a tiny home with her parents, jobs were few. So the high school dropout turned to the Republican lawmaker. To her surprise, an interview and position at a plumbing component factory followed.

For some, the story might be just a bit of family lore. For Jaime Harrison, it's part of why he's running for the seat Thurmond once held.

"She said, 'You know, they never asked me what race I was or what party I belonged to,' " he remembers. " 'All they knew was that I was a constituent and that I needed help.' Now when I think about what the role of a U.S. senator is all about, it's just that."

Yet the Democrat knows he'll need far more than anecdotes in his fight against incumbent Lindsey O. Graham. Harrison touts marquee credentials and deep connections in both South Carolina and Washington. And armed with a record haul of campaign dollars, he hopes to energize not only the state's nearly 1 million nonwhite voters, but Republican and independent moderates disaffected by Graham's embrace of President Trump. While he's facing long odds, Harrison is arguably Graham's strongest opponent since his first Senate run in 2002.

"It's an uphill battle, no question, but Jaime is uniquely qualified," said House Majority Whip James E. Clyburn (D-S.C.), who hired Harrison as floor director in the early 2000s. "He has the kind of life experiences that allow him to really connect with ordinary people."

Those experiences are rooted in Orangeburg, a predominantly African American city of about 13,000 and a place with outsize historical significance. In the 1960s, thanks in part to students from its two black colleges, ­Orangeburg was at the center of civil rights activism. In 1968, state troopers fired on 200 protesters there, wounding 28 and killing three. Dubbed the Orangeburg Massacre, it was among the era's most violent events.

Harrison, who was born in 1976, recalls a poor but peaceful community. He was raised as much by his grandparents — neither of whom went past the eighth grade — as by his mother. His father was absentee.

He was in junior high when his grandparents were defrauded out of their mobile home. "I never saw my grandfather cry till that moment," he recounted recently. They moved to a dingy cinder-block triplex with sweltering summer nights, living at times on welfare and food stamps. A scholarship to Yale University reached their battered mailbox in 1994, but it still left Harrison $2,500 short for tuition until a cigar-chomping African American businessman stepped in and gave him a job to bridge the gap.

"You never know when you lend somebody a hand, what that means for the rest of their lives," Harrison said. "That's the most important thing for me. Because I know how challenging it is when you're poor in this state."

At this point, his résumé lists Yale, Georgetown University Law School and a stint as chief operating officer for a nonprofit geared to helping low-income students reach college. He worked several years as a lobbyist for the Podesta Group in Washington, where his clients included Walmart as well as the South Carolina Ports Authority on its effort to deepen Charleston Harbor for bigger cargo ships. After moving back to South Carolina in 2013 to lead the state Democratic Party — the first African American to do so — Harrison was named associate chairman of the Democratic National Committee in 2017.

He launched his Senate campaign in late May, appalled by Graham's treatment of Christine Blasey Ford during Brett M. Kavanaugh's Supreme Court confirmation hearing and angered by his extreme turnaround on the president. The senator, who once likened the party's potential nomination of Trump to the Titanic disaster, is now one of his most fervent, unwavering defenders, even calling for investigations of his political rivals.

"This is a guy that I believed . . . even if I disagreed with him on policy, that at the end of the day he would do what's in the best interest of the state and the country," Harrison said over lunch at the venerable barbecue joint Earl Dukes. "But now we see Lindsey Graham is only going to do what's in the best interest of Lindsey Graham. Here is a guy who hasn't done a town hall in South Carolina in probably over two years."
All of this comes of course, at the same time that Senator Graham, who was once a harsh critic of President Trump's has turned into one of his most obsequious supporters. Aside from the occasional criticism regarding policy in Syria and the like, Graham has become one of Donald Trump's staunchest defenders, especially when it comes to the ongoing impeachment investigation. He has also used his new position as Chairman of the Senate Judiciary Committee to help Senate Majority Leader McConnell push forward the confirmation of Trump's judicial picks even when they are manifestly unqualified for the position they were nominated for. More recently, he has picked up the ball on the Ukraine matter and threaten to investigate former Vice-President Biden and his son Hunter over Hunter's business dealings in Ukraine, a move that provoked a strong reaction from the former Vice-President. This is a sharp contrast from the same Lindsey Graham who was a harsh critic of the President's during the 2016 election and is likely due to the fact that Graham is seeking to solidify his support with Trump supporters in the Palmetto State in anticipation of needing their support in 2020.
In all honesty, of course, Harrison likely has little chance of unseating Graham in November. Graham was first elected to the Senate in 2002 in an election in which he beat his Democratic challenger by ten points and nearly 120,000 votes. Six years later in 2008, he won his first re-election fight by nearly 15 points and 200,000 votes. Most recently, in 2014, he won by nearly 16 points and 200,000 votes. Moreover, this is the same state that President Trump won by 300,000 votes and 14 points in 2016 and it is likely he will win again in 2020 by a similar margin. Additionally, it has been 27 years since a Democrat won a statewide election for Senate, and 21 years since a Democratic candidate won a statewide race for Governor. Taking these numbers into account, the odds of a Democrat beating Lindsey Graham next year are somewhere between slim and none.m Nonetheless, Harrison looks like he could give Graham a run for his money and perhaps even force Graham to face the truth of his hypocrisy when it comes to supporting this President.