Lindsey Graham Takes Aim At "Anchor Babies"
Immigration "moderate" Lindsey Graham is suddenly sounding not so moderate.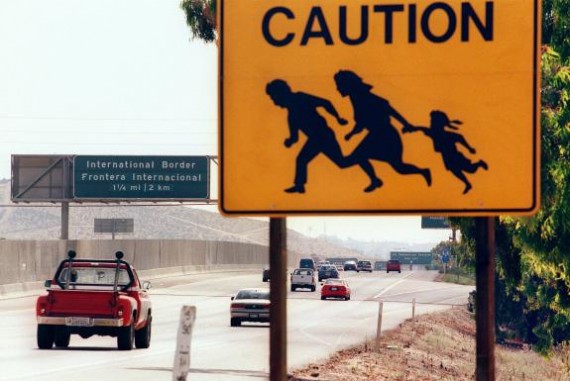 South Carolina Senator Lindsey Graham, who has long been criticized by conservatives as weak on immigration, is now telling Fox News that he's considering spearheading an effort to amend the Constitution to deny citizenship to children of illegal immigrants:
Sen. Lindsey Graham (R-S.C.) announced Wednesday night that he is considering introducing a constitutional amendment that would change existing law to no longer grant citizenship to the children of immigrants born in the United States.

Currently, the 14th Amendment grants citizenship to any child born in the United States.

But with 12 million illegal immigrants living in the U.S., Graham said it may be time to restrict the ability of immigrants to have children who become citizens just because they are born in the country.

"I may introduce a constitutional amendment that changes the rules if you have a child here," Graham said during an interview with Fox News' Greta Van Susteren. "Birthright citizenship I think is a mistake …  We should change our Constitution and say if you come here illegally and you have a child, that child's automatically not a citizen."

Asked how intent Graham is on introducing the amendment, the South Carolina Republican responded: "I got to."

"People come here to have babies," he said. "They come here to drop a child. It's called "drop and leave." To have a child in America, they cross the border, they go to the emergency room, have a child, and that child's automatically an American citizen. That shouldn't be the case. That attracts people here for all the wrong reasons."
It's rather surprising to hear rhetoric like this coming from Graham, who has long been much more moderate on immigration issues than other Republicans, and one has to wonder if, like his friend John McCain, he's seeing the political writing on the wall. He's not up for re-election until 2014 but, you know, it's never to early to start pandering.
Moreover, while there does seem to be a "birth tourism" market out there, it accounts for a few thousand births a year at most and, due to it's cost, is clearly not within the financial resources of your average immigrant from Mexico or Central America. It hardly justifies toying with one of the most important Amendments to the Constitution, and Amendment made necessary, because of the way that blacks were treated in Graham's home state.
Could an Amendment of this type actually get adopted ? It's hard to say. There is certainly high public support out there right now for restrictive immigration policies and a crackdown on illegal immigration, but public passion on this issue fluctuates, usually in response to economic conditions. The passion we see today may not be there in a year or two when a proposed Amendment might be taken up by Congress and, if it passes, sent to the states.
My own inclination is to leave things where they are. The 14th Amendment has served the Republic well as it is, and "anchor babies" are hardly the biggest problem facing the nation.