Louisianans Think Bush Handled Katrina Better Than Obama Is Handling Oil Spill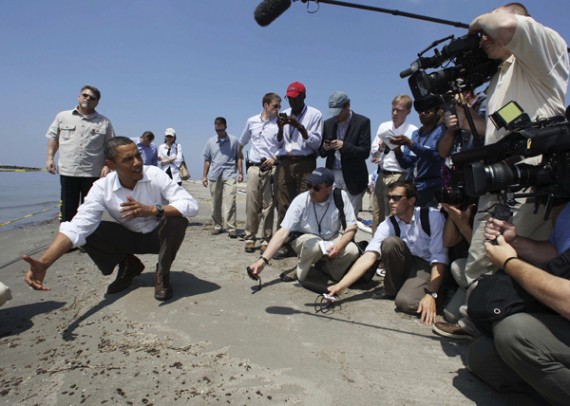 Barack Obama isn't exactly a popular person in Louisiana at the moment:
Our new Louisiana poll has a lot of data points to show how unhappy voters in the state are with Barack Obama's handling of the oil spill but one perhaps sums it up better than anything else- a majority of voters there think George W. Bush did a better job with Katrina than Obama's done dealing with the spill.

50% of voters in the state, even including 31% of Democrats, give Bush higher marks on that question compared to 35% who pick Obama.

Overall only 32% of Louisianans approve of how Obama has handled the spill to 62% who disapprove. 34% of those polled say they approved of how Bush dealt with Katrina to 58% who disapproved.
Not surprisingly, a state in which the oil industry is a major source of jobs remains supportive of offshore drilling despite the accident:
One thing the oil spill has not done is created a spike of opposition to offshore drilling in Louisiana. 77% of voters still support it with only 12% against. Only 31% say the spill has made them less inclined to be in favor of drilling while 42% say it hasn't made a difference to them and 28% say they're now stronger in their support.
The one person who's seeing a political upside from this whole mess is Louisiana's Governor Bobby Jindal:
63% of voters approve of the job he's doing, the best PPP has found for any Senator or Governor so far in 2010. There's an even higher level of support, at 65%, for how he's handled the aftermath of the spill.
That, I think, is a reflection of the fact that Jindal has been on top of the crisis from the first day, even more than the President one might say.
To be fair, Louisiana has never exactly been Obama country. In the 2008 election, Obama lost the state by more than 400,000 votes in what was otherwise a good year for Democrats nationwide. One would expect that public opinion about the spill is similar in states like Mississippi and Alabama, both also states that Obama lost by wide margins in 2008. Of far more interest in terms of the political impact of the oil spill is Florida, which Obama won by roughly 200,000 votes in 2008. If the oil slicks continue to spread, and start washing up on the shores of Florida, the President could find himself losing ground in a state that has proven crucial in the last several Presidential elections.