Majority Says They Won't Vote For Trump In 2020
A new poll shows that a majority of Americans say they won't vote for President Trump in 2020. but that's only half the battle for Democrats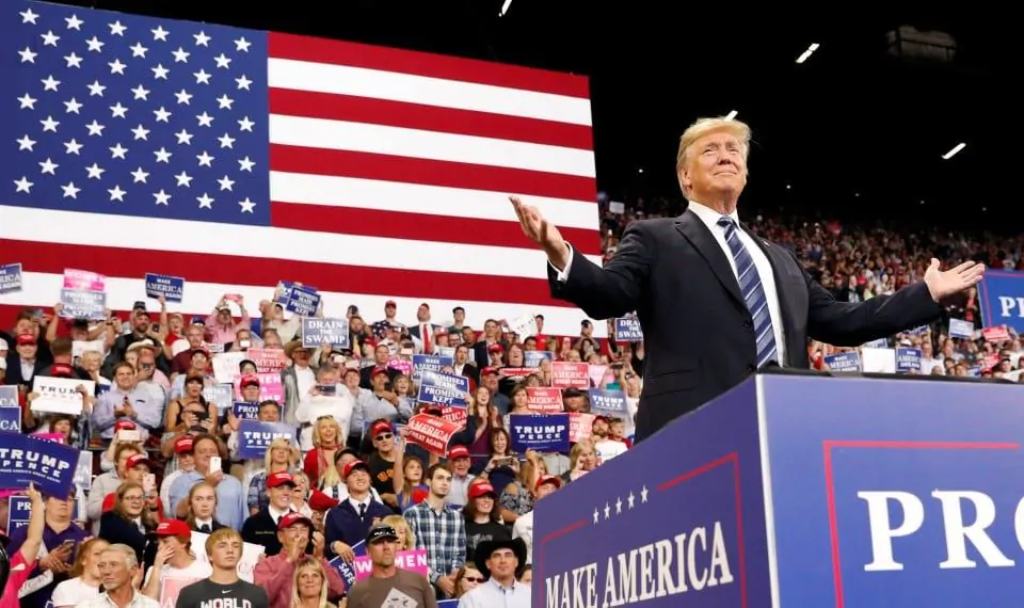 A majority of Americans won't vote for President Trump in 2020, but that doesn't mean Democrats should start celebrating just yet:
More than 50 percent of respondents in a new survey say they will not vote for President Trump when he seeks reelection in 2020.

The ABC News-Washington Post poll released Monday found that 55 percent of respondents said they will not vote for Trump next year, with only 39 percent approving of his work since taking office.

Of respondents who were asked if they would vote from Trump in 2020, 14 percent said they would consider it and 28 percent said they definitely would vote for him to have a second term in the White House.

Of those respondents who said they wouldn't vote for Trump, only 29 percent said they would for sure vote for his eventual Democratic counterpart.


Nearly two-thirds instead said they would wait to see who emerges from the crowded Democratic field, which is currently made up of 21 candidates vying for the nomination.
As Philip Bump notes in The Washington Post, though, that doesn't mean that Democrats should start shopping for dresses for the Inaugural balls just yet:
On the surface, one result from a new Washington Post-ABC News poll seems like unequivocally bad news for President Trump. Of the registered voters we surveyed, more than half indicated that there was no chance they would vote for Trump in his 2020 reelection bid.

That's the ballgame, right? If half the country refuses to vote for a candidate in what's essentially a two-person race, how can that candidate win? But, of course, it's not that simple.

(…)

But there's another warning sign from our poll. We asked a follow-up question of those who said they definitely wouldn't vote for Trump: Would they definitely vote for the Democratic candidate? The results of that question were not what would help the Democratic National Committee sleep easily: Seventeen percent of registered voters said they would definitely vote for the Democrat, while 30 percent said they would definitely vote for Trump.

(…)

But remember, too, that "won't vote for Trump" isn't as predictive as it seems. In 2016, about 63 million people voted for Trump. About 66 million voted for Hillary Clinton. Trump still won, thanks to the electoral college.


More concerning for Democrats is that a lot of people didn't vote for Trump in 2016 because they didn't vote at all. Census Bureau estimates indicate that about 20 million registered voters didn't cast a ballot. Analysis after the fact suggested that more than 4 million people who had voted for Barack Obama in 2012 stayed home in 2016, a third of them black. Notice in the data above how many nonwhite voters indicated that they weren't yet sure whether they would back the Democrat. About a fifth said they would definitely vote for the Democrat — but half said they were waiting to see what happened, significantly more than the quarter of white Trump opponents who said the same thing.

Add in the 33 million adult citizens who weren't registered to vote in 2016 (again, according to the Census Bureau) and you get 119 million Americans who didn't vote for Trump as opposed to 63 million who did. And, as you know, Trump won anyway.


Look, it's not good for Trump that more than half of voters plan not to vote for him. But it's probably not something that keeps him up at night. In 2016, part of his campaign strategy was to make Clinton unpalatable while encouraging infrequent Republicans to come out and vote. His strategy, in other words, was to keep people who didn't particularly like him from bothering to go to the polls.


If the Democrats want to win in 2020, it's not enough that most Americans don't really like Trump. They need to get those iffy voters to pull the lever for the Democrat — something to which most Trump opponents aren't yet committed.
In some respects, the truths revealed by this second half of the poll are the same as the dilemma that Democrats faced in 2016. While there was a substantial segment of the voting public that said that they would not vote for Trump under any circumstances, and Trump ultimately lost the popular vote in no small part due to this, that wasn't enough to give Hillary Clinton the Electoral College majority she needed. In some respects, of course, this was due to the fact that Clinton herself was viewed nearly as negatively as Trump to the point where a substantial number of voters apparently decided they could not vote for either major party candidate. Many of these voters ended up voting for either Libertarian Party nominee Gary Johnson or Green Party nominee Jill Stein, but there seems to have also been a substantial portion of the public that decided not to vote at all. Additionally, the outcome of the election was in no small part influenced by factors such as the investigation into Clinton's emails and her handling of classified information while Secretary of State as well as mistakes that her campaign made in not adequately focusing on states in the Midwest where Trump managed to win despite traditional Democratic advantages. It was all of this together that led to Trump's Electoral College victory, and they are factors
What this poll makes clear is that many of the same factors are at play in 2020 and that Democrats will have to craft a campaign that responds to these realities and finds a way to get these potentially reluctant voters to the polls. One thing this means. of course, is that a campaign that focuses primarily on Trump's negatives, on impeachment, and on attacking the President probably won't be enough to win. By the time Election Day 2020 rolls around, American voters will be well aware of all of this but polls like this suggest that it may not be enough get them to the polls. Indeed, to the extent that the election becomes a hyperpartisan contest of mudslinging, voters are likely to react by throwing up their hands and effectively saying "to hell with both you guys."
Since Trump knows he likely can't and won't win if voters are motivated to come to the polls it is in his interest to poison the atmosphere as much as possible such that voters become sick of the process and just tune it out rather than coming out to vote against him. While Democrats should not simply let Trump get away with such behavior. they will have to be careful to balance responding to his lies and negatively with a positive message and with realistic policy goals that the public can get behind. In other words, they need to give the public a reason to vote for their nominee as much as they need to give it a reason to vote against Trump. Where the proper balance for that lies is unclear, but if they miss then they could wake up on November 4. 2020 as surprised and shocked as they were on November 9, 2016.