Mars Has Been Losing Atmosphere For Four Billion Years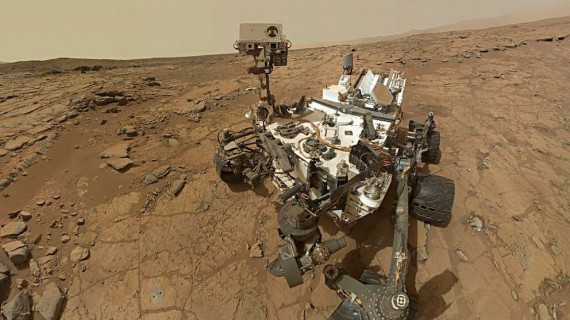 The Curiosity rover is finding that Mars will only become less hospitable to life as time goes on:
The Mars rover Curiosity is doing more than channeling its inner tourist and snapping photos every chance it gets. Two new papers appearing in this week's issue of Science are the first to come out of the Mars Science Laboratory that talk about the planet's surface. Both papers say that Mars has been steadily losing its atmosphere over the past 4 billion years.

This isn't the first time that NASA has measured the concentration of gases in the Martian atmosphere. "There was really groundbreaking work back in the '70s with the Viking landers," Paul Mahaffy, the lead author behind one of the papers and a NASA scientist, told ABC News. "But those landers were a more primitive version of the thing that's landed on Mars now."

(…)

One of the leading theories explaning this abnormality is a Pluto-sized object that rammed into Mars about four and a half billion years ago. The collision disrupted the planet's magnetic field, which in turn led to an abrupt loss of the planet's atmosphere. Following that abrupt loss, Mars has been slowly, but surely, losing its atmosphere to space. "The data we have doesn't prove this," said Webster. "But it does fall in line with the theory."
The Martian atmosphere is also being  stripped away by Solar Winds, a phenomenon that doesn't impact Earth's atmosphere thanks largely due to significant differences between the magnetic fields of the two planets. Those same differences in the magnetic fields, among other phenomenon, also mean that the Martian surface gets bombarded by harmful cosmic radiation to far greater degree than Earth does. All this suggests that any manned mission to Mars is going to be quite a difficult mission indeed.
H/T: Vodkapundit