Merkel Lashes Out Against Russia In Post G-20 Remarks
Vladimir Putin's latest actions seems to have exhausted Germany's patience.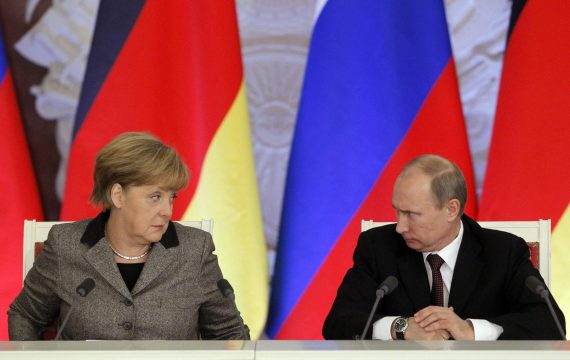 Recent events in Ukraine, and Russian President Vladimir Putin's recent behavior at the G-20 Summit in Australia, seem to have prompted German Chancellor Angela Merkel to speak out in some of her harshest language yet:
LONDON — Tit-for-tat expulsions of diplomats. Russian naval ships showing up as world leaders meet in Australia. Chancellor Angela Merkel ofGermany telling Russia sternly to play by 21st-century rules — and President Vladimir V. Putin practically spitting fury over Western reaction to his annexation of Crimea.

As relations between Russia and the West increasingly resemble the bygone days of the Cold War, Ms. Merkel abandoned her traditionally cautious tone on Monday, castigating Russia for its actions in Ukraine, for intimidating sovereign states in Eastern Europe and for threatening to spread conflict more broadly across Europe.

"The Ukraine crisis is most likely not just a regional problem," Ms. Merkel said in a speech at the Lowy Institute for International Policy in Sydney, Australia. "In this case, we see it affects us all."

"Who would've thought," she said, "that 25 years after the fall of the wall, after the end of the Cold War, after the end of the division of Europe and the end of the world being divided in two, something like that can happen right at heart of Europe?"

Ms. Merkel's speech followed a meeting of the Group of 20 leaders in Brisbane, Australia, where the souring relations were on full display as Western leaders pressed Mr. Putin on Russia's Crimea policy and support for Ukrainian separatists — and the Russian leader slipped out early, insisting he had business to attend to back home.

President Obama said his meeting with Russia's leader at the summit meeting was "businesslike and blunt." Prime Minister David Cameron of Britain, who in the days leading up to Brisbane had likened Mr. Putin's actions to those of Nazi Germany, told the Russian president that he was at a fork in the road over Ukraine. Prime Minister Stephen Harper of Canada told Mr. Putin, "Well, I guess I'll shake your hand, but I have only one thing to say to you: 'You need to get out of Ukraine.' "

As the meeting wound up, Russia expelled multiple diplomats afterGermany, Poland and Lithuania apparently took similar actions against Russian envoys accused of spying. Sweden, which for days recently was transfixed by the appearance off its coast of what appeared to be a Russian submarine, has also said Russia increased its spying this year.

ut the real surprise was the tone taken by Ms. Merkel in her speech after the summit meeting. In recent weeks, the chancellor has made it clear she sees that "Putin is testing us," as she told parliamentary deputies. In a discussion at the university, she developed that thought further, asking whether Mr. Putin's annexation of Crimea and military and political interference in eastern Ukraine meant a return to the times when Moscow decided the fate of its near neighbors.

Ms. Merkel seemed to acknowledge that the West should consider Russian sensitivities to Ukraine — with long, close ties to Russia — joining NATO. But she said that was not the case with Ukraine drawing closer to theEuropean Union, which sparked the long-running unrest and conflict with Russia.

In such a case, "it cannot be that you forbid a country to act, or that it cannot itself decide freely," she said. "Otherwise, we have to say: 'We're so weak, pay attention, people, we can't take any more members — we'll just ask in Moscow whether it's possible.' That was how it was for 40 years, or longer, and I really was not wanting to go back there."

"And it is not just a case of Ukraine," Ms. Merkel continued. "It concerns Moldova, it concerns Georgia. If things go on like this, one can ask: Should we ask about Serbia? Should we ask about the western Balkans? That is certainly incompatible with our values."
While the real test, as always, is what action Merkel is willing to take going forward when it comes to sanctions and other measures aimed at Russia and its actions in Ukraine. To date, Germany has been a somewhat reluctent partner when it comes to sanctions against Russia's business, banking, and energy sector. In no small part, of course, this is due to the fact that there are strong ties between the German and Russian business communities and that Germany's businesses and banks would likely suffer to at least some degree if stronger sanctions were imposed, or if the Russians decided to impose retaliatory sanctions. Germany would also be impacted significantly if the Russians decided to use its energy supplies, which are largely sold to eastern and western Europe, as a something of a weapon in what is quickly becoming a new Cold War. That last possibility, though, seems unlikely given that those energy sales are Russia's primary source of revenue and cutting them off would suck a huge amount of revenue out of the Russian economy, which would have consequences far beyond the Russian economy and impact the Russian war machine directly. Given all of this, the prospect of Germany becoming a more aggressive backer of sanctions and other actions against Russia in relation to its ongoing intervention in Ukraine, and threats to other part of Eastern Europe is potentially a big problem for Putin going forward.
Time's Simon Shuster says that Merkel's comments and harsher tone indicate that Putin's relationship with the West have reached yet another low point, and that they are another indication among many that the Russian leader may have miscalculated when it comes to his country's relationship with Germany:
The letdown seemed all the more painful considering his recent attempt to reach out to the German public. A few days before the G20 summit began, Putin decided to give a rare one-on-oneinterview to the national German television network ARD, whose correspondent grilled him on Russia's support for separatist rebels in eastern Ukraine. Putin tried to sound conciliatory. "Of course we expect the situation to change for the better," he said. "Of course we expect the Ukrainian crisis to end. Of course we want to have normal relations with our partners, including in the United States and Europe."

Particularly for Germany, he argued, it is important to work things out with Russia, because their economies are so closely intertwined. Trade with Russia accounts for as many as 300,000 German jobs, Putin said, and by going along with the sanctions that the West has imposed on Russia, Berlin risks hurting its own economic growth. "Sooner or later," he said, "it will begin to affect you as much as us."

The warning, more plaintive than defiant in its tone, was aimed as much at the political elites in Germany as its powerful business interests, which rely on Russia for natural resources and a huge consumer market. Last year the trade between the two countries was worth more than $100 billion, compared to less than $40 billion between the U.S. and Russia. To fuel its energy-intensive industrial base, Germany also gets a third of its oil and gas from Russia, and 14% of everything that Russia imports is made in Germany.

But Putin, for all his appeals to German pragmatism, was wrong to hope that Russia's isolation could boomerang back on the German economy, or on Merkel's popularity. Even as the sanctions war choked off trade between Russia and the West, Germany's total exports reached an all-time high in September. At the same time, Russia's reputation among the German public has been scraping bottom. In a nationwide survey conducted in August, a German pollster reportedly found that 82% of Germans do not believe that Russia can be trusted, while 70% called for tougher sanctions against the Russian economy.

"So it seems clear that Putin has miscalculated," says Joerg Forbrig, an expert on Eastern Europe at the German Marshall Fund in Berlin. "Certainly when it comes to Germany."
The big question, of course, is whether the new, stronger rhetoric from Merkel and other western leaders leads to stronger action against Russia in the future. To some extent, of course, that depends on what Russia does going forward. While it seemed as though things were calming down in Ukraine after the summer recent events, including apparent troop and equipment movements across the border from Russia into eastern Ukraine, along with a renewal of the violence that marked the area before the cease fire. Some have even speculated that Russia, or at least the pro-Russian separatists in the east may be planning a winter offensive that would bring renewed major fighting to the region during the coldest, harshest part of the year. Obviously, a military response from the west in this type of situation is out of the question for a wide variety of practical and political reasons, but Merket's comments suggest that further escalation from Putin would lead to further efforts from Europe to continue Russia's isolation from the West and the further end of the ties that had developed between Russia and the West in general, and Russia and Germany in particular, in the two decades or so since the Cold War came to an end. While that's likely to have some economic impact in the West, it's likely to hurt the Russian economy far more. The question is whether that will lead to any changes in Russian policy. So far at least, sanctions haven't had any impact at all, though, which makes it all the more difficult to figure out what, if anything, the West can do to counter Putin's current moves other than to respond in ways, such as enhancing NATO preparedness, especially among the members who were once part of the Warsaw Pact, that seem guaranteed to return us to the tense, albeit largely stable, days of the Cold War.