Michigan Congressman To Run As Write-In After Failing To Meet Ballot Access Requirements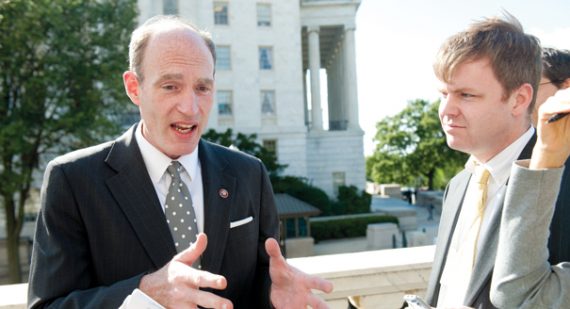 Thad McCotter has represented Michigan's 11th Congressional District since 2003 and you may also remember him for his short-lived and entirely forgettable Presidential campaign last year. Well, late last week there was news that McCotter may not have submitted enough valid signature to qualify for the August primary ballot, something which seemed rather odd for an incumbent politician. Today, McCotter acknowledged the failure and announced that he'll be running for re-election as a write-in candidate:
Admitting there were some irregularities in his signatures to qualify for the ballot, U.S. Rep. Thaddeus G. McCotter said today he is running for re-election to Congress as a write-in candidate.

McCotter, addressing the signature stunner in a column in today's Detroit News, said he is sending a letter to the Secretary of State's Office "agreeing with their finding that my petitions are insufficient to place my name on the August primary ballot."

He also asked for the office to "refer any irregularities to the state attorney general for a thorough investigation" and give voters a chance to vote for or against him — "the only way to clean up my mess."

"While I will not speculate on how this surreal outcome has happened — pending the appropriate state review — I will say that, regardless of how the insufficiencies and possible irregularities occurred, as for the failure to file sufficient petition signatures, the buck stops here with me," he wrote.

State officials are investigating whether fraud was a factor in his petitions. The five-term Livonia Republican ran for president briefly in the GOP primary last year.

"In honoring my vow to put my official responsibilities before politics, I delegated the same team that gathered signatures for me during the past decade to do so again and I had no reason to doubt the competence or credibility of our petition gatherers' assessment," McCotter wrote.

"Having promised people I would seek another term in the United States Congress and, thereby, give them the chance to vote for, or against me, the only way to clean up my mess is to run a write-in campaign for the Republican nomination for Michigan's 11th Congressional District," he wrote.
McCotter will be running for the nomination against a 60 year old Michigander who raises reindeer and doesn't like the National Debt, so he may not have much to worry about here. However write-in campaigns are difficult and, as Lisa Murkowski showed us in 2010, you have to have a well-organized campaign to pull it off. If McCotter's campaign was in such disarray that it wasn't even capable of meeting what are, in the end, not very stringent signature requirements then one has to wonder how they're going to be able to pull this off.