Mike Pence Takes A Hit In The Polls In The Wake Of RFRA Controversy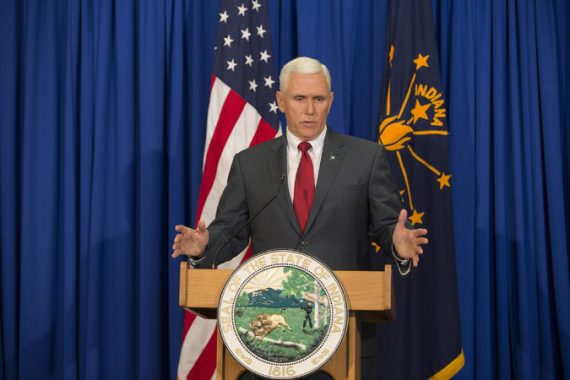 Indiana Governor Mike Pence has taken a fairly significant political hit in the wake of last month's controversy over Indiana's Religious Freedom Restoration Act:
The "religious freedom" law signed by Indiana Gov. Mike Pence has taken a toll on the potential presidential candidate's image in his home state, according to a new poll released Thursday that shows most Hoosiers think the law was not necessary.

The poll, conducted by the Republican firm Bellwether Research for Howey Politics Indiana, an in-state newsletter, pegs Pence's approval rating at 45 percent — while just as many, 46 percent, disapprove. Pence's approval rating is down from 62 percent in February.

The survey of 607 registered voters was conducted April 12-14, less than a month after Pence signed the Religious Freedom Restoration Act, a law hailed as a reaffirmation of the First Amendment by supporters but derided as bigoted against gays and lesbians by critics. The poll carries a 4 percentage point margin of error.

By a 2 to 1 margin, voters said the bill — which was identified in the phone script only by its proper name — was not needed.

(…)

Pence, who has said he's considering running for president, now faces trouble at home. His favorability rating, like his approval mark, is upside-down: 35 percent of voters have a favorable opinion of him, compared to 38 percent who view him unfavorably. And he's now locked in single-digit races with three potential Democratic gubernatorial opponents: Superintendent of Public Instruction Glenda Ritz, former Rep. Baron Hill and John Gregg, the man Pence defeated by 3 points to win the governorship in 2012.

Ritz — who runs closest to Pence in the survey, trailing 42 percent to 39 percent — has been a frequent Pence target. The governor has been trying to strip her of her power as school superintendent; the two have clashed over Ritz's calls for less student testing.
In addition to potential Democratic challengers, Pence may also face a primary challenge when he's up for re-election next year:
Bill Oesterle is quitting as CEO of Angie's List, saying he wants to re-enter state politics and help repair the "shellacking" Indiana's image took from the passage of the "religious freedom" act.

The news caught both the state's business and political communities by surprise, and some see the move as a direct effort to unseat Gov. Mike Pence over his handling of the controversial issue.

Oesterle, 49, co-founded the online consumer review company 20 years ago and has been its only chief executive. He hasn't been involved in state politics since he managed two-term Indiana Gov. Mitch Daniels' first election campaign in 2004.

His planned departure as Angie's CEO comes as the growing company faces a host of challenges, including competition from heavyweights Google and Amazon. Angie's recently outlined a $40 million expansion plan for its Near-Eastside campus that calls for hiring 1,000 new workers over the next few years.

That expansion, however, was put on hold earlier this month by Oesterle over the passage of the Religious Freedom Restoration Act. He said the act opens the door to discrimination against gays and lesbians and makes him inclined to expand in another state.

Oesterle remains one of the only prominent Central Indiana business leaders to express unhappiness over changes the legislature hastily made to state law to assuage RFRA critics. Oesterle says the changes don't go far enough to shield lesbian, gay, bisexual and transgender people from discrimination based on religious grounds

(…)

Oesterle's announcement comes as Pence's public approval seems to be suffering. A recent 500-person poll from the liberal Human Rights Campaign found Pence's job approval to be at 43 percent. A similar sized poll conducted by the Indiana Association of Realtors, taken shortly before the JustIN state-run news service controversy in January, found Pence's approval at 62 percent.

Any candidate running against Pence as a Republican would face major hurdles raising cash and rallying support among the base of conservative voters who turn out in Republican primaries.
With more than a year to go before the election, there's obviously time for Pence's numbers to bounce back, but at the very least this seems to be a sign that he is potentially vulnerable. It also suggests that whatever dreams he may have had of running for President in 2016 will likely have to be put on hold given the problems he's dealing with on the home front. In some sense, Pence helped himself by ultimately changing position on the law after a week of public pressure, and it's likely that to a large degree the controversy will be forgotten by the time the election rolls around. At the same time, though, supporting the bill as originally written and signing it into the law was a rather big unforced error on his part.