Mitch McConnell-Harry Reid Deal on Debt, Entitlements
A Mitch McConnell-Harry Reid brokered deal on the debt ceiling looks promising.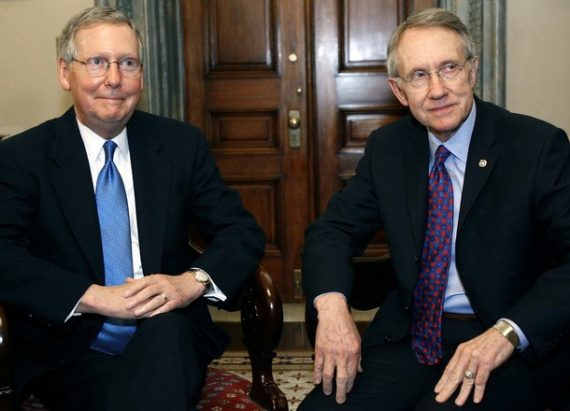 A Mitch McConnell-Harry Reid brokered deal on the debt ceiling looks promising.
Larry Kudlow broke the details yesterday afternoon:
The key part of the new McConnell package is a joint committee to review entitlements in a massive deficit-reduction package. Unlike the Bowles-Simpson commission, this committee will be mandated to have a legislative outcome — an actual vote — that will occur early next year. No White House members. Evenly divided between Republicans and Democrats. No outsiders. This will be the first time such a study would have an expedited procedure mandated with no amendments permitted. Also, tax reform could be air-dropped into this committee's report.

Senator McConnell is determined to produce something from this grand-design package. He's a smart guy. He may be saving the GOP from itself. McConnell believes that debt default must be completely taken off the table. That's the thinking behind his debt-ceiling proposal, unless overturned by two-thirds of a congressional vote.

He strongly believes that Republicans must disassociate themselves from any debt default or downgrade by the ratings agencies. And he recognizes that the monthly revenue and spending numbers are so unbalanced that the idea of revenue allocations in the event of no debt-ceiling hike is simply not feasible or desirable.
Greg Sargent independently confirms that this is the outline of the deal and observes, "Democrats are already cool to the McConnell proposal because it includes spending cuts but no new revenues, but they may be willing to accept it because it spares entitlements. But now the proposal looks as if it will also force a review — and a vote on — entitlement reform."
Off the top of my head, this looks like a very reasonable plan that should be acceptable to conservatives and moderates alike. Unlike the similar plan McConnell floated earlier this week, this appears substantive and motivated at least as much by outcomes as partisan gamesmanship. Indeed, this explains why Reid actually reacted more favorably than I did to the McConnell trial balloon: He sensed it was the basis for a deal.
I'm generally skeptical of blue ribbon panels and BRAC-style gimmickry, which tend to either kick the can down the road or evade Congressional responsibility by resort to extra-constitutional measures. But, given the hyper-partisan atmosphere in Washington and the current party allocation of power, a 50-50 panel composed entirely of legislators and a straight up-or-down vote would be a welcome approach. Both parties agree that entitlement reform is necessary. This might be just the way to achieve it with both sides getting credit and neither side being able to beat the others about the head and shoulders with it.
The Daily Kos gang is apoplectic, too, which is generally a good sign.
Then again, I'm breaking my own rule against optimism about anything Washington. They'll almost certainly find a way to muck this up. But this would at least present an opportunity for a grown-up solution. Do we really dare to dream of such a thing?