McConnell Solves Debt Ceiling Standoff?
Senate Minority Leader Mitch McConnell has proposed a simple deal to break the impasse on the debt ceiling: Cede power to raise the ceiling to the president, with a few minor caveats.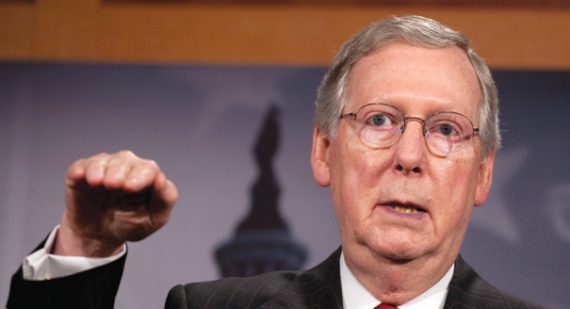 Senate Minority Leader Mitch McConnell has proposed a simple deal to break the impasse on the debt ceiling: Cede power to raise the ceiling to the president, with a few minor caveats.
Politico ("Senate GOP mulls new debt strategy"):
Desperate to get out of the political box they helped to create, Senate Republicans are actively pursuing a new plan under which the debt ceiling would grow in three increments over the remainder of this Congress unless lawmakers approve a veto-proof resolution of disapproval.

In effect lawmakers would be surrendering the very power of approval that the GOP has used to force the debt crisis now. But by taking the disapproval route, Republicans can shift the onus more onto the White House and Democrats since a two-thirds majority will be needed to stop any increase that President Barack Obama requests.

"It gives the president 100 percent of the responsibility for increasing the debt limit if he chooses not to have any spending reductions," Tennessee Sen. Lamar Alexander, the Republican Conference chairman, told reporters Tuesday.
Kevin Drum helpfully simplifies:
Next month Obama would receive approval to raise the debt ceiling $700 billion.
A "resolution of disapproval" would then be taken up by Congress on an expedited basis (i.e., no filibusters allowed).
If the resolution passes, Obama can veto it.
If he vetoes it, it requires a two-thirds vote of both houses to override.
If there's no override, the debt limit is increased, but Obama would be required to lay out a "hypothetical" set of budget cuts totalling $700 billion.
This would be repeated (in $900 billion increments) in the fall of 2011 and summer of 2012.
TPM's Brian Beutler ("The Big Blink? McConnell Proposes Giving Obama Authority To Raise Debt Limit Alone") is stoked:
The legislation would not give Obama unilateral authority to cut spending or reduce deficits. And as such, it represents a big policy cave by Republicans, who've long insisted that they would not raise the debt limit without enacting entitlement cuts long-sought by the conservative movement on a bipartisan basis. But, if Dems buy into this option, it will keep the potent debt issue alive, and central to politics, for much of this election season.
Red State's Erick Erickson ("Mitch McConnell Just Proposed the 'Pontius Pilate Pass the Buck Act of 2011'" — apparently softened from "It Is Time to BurnMitch McConnnel in Effigy He Goes Pontius Pilate on the Debt Ceiling") is pissed:
Mitch McConnell is right now talking about making a historic capitulation. So fearful of being blamed for a default, McConnell is proposing a compromise that lets Barack Obama raise the debt ceiling without making any spending cuts at all.

Consider sending McConnell a weasel as testament to his treachery. His address is [redacted by OTB] and the phone number is [redacted by OTB].

McConnell's idea is to make the debt ceiling automatic unless Congress, by a 2/3 vote blocks the increase. Oh yes, he put a salve on it by dressing it up in tough talk that, to quote the Wall Street Journal, "[a] 'eal solution' to U.S. fiscal problems isn't possible as long as President Barack Obama remains in office." So since no "real solution" is possible, McConnell proposes to go Pontius Pilate and wash his hands of spending, blaming Obama while doing nothing himself.
But Drum is baffled:
WTF? This is possibly the most juvenile, most buck passing, most transparently mendacious proposal I can recall from any party leader in recent memory. The bright idea here is to force Democrats to repeatedly vote to raise the debt ceiling during campaign season, and to repeatedly force Obama to lay out enormous budget cuts that have no purpose except to piss off interest groups. The whole thing is so patently, ridiculously political that it's breathtaking. It ought to be named the "Gratuitous Embarrassment of Barack Obama and the Democratic Party Act of 2011."

Does McConnell really think that he's being clever here? That his purpose isn't plain to everyone?
Asked and answered!
I'm actually in Drum's corner in this one. I think playing fire with the national credit rating is irresponsible but I'm willing to abide a certain amount of brinksmanship as the price of hardball politics in a polarized society. But I'm having a hard time seeing what principled position is being advanced by this stunt.
If the Republican leadership understands that the debt ceiling simply has to be raised–which, of course, it must–then they should negotiate to get the best deal possible and then sell it to their base. If they think Obama demanded too much entitlement spending, then make the case to the public and try to get one of their own elected next November.
Instead, they're afraid of their own base–which they've helped rile up with absurd rhetoric–and being compared to Pontius Pilate by the likes of Erick Erickson. McConnell is left trying to score silly political points for no advancement of the Republican agenda.