Mitt Romney's Misleading Claims About The United States Navy
Mitt Romney is making claims about Naval readiness that are, at best, misleading.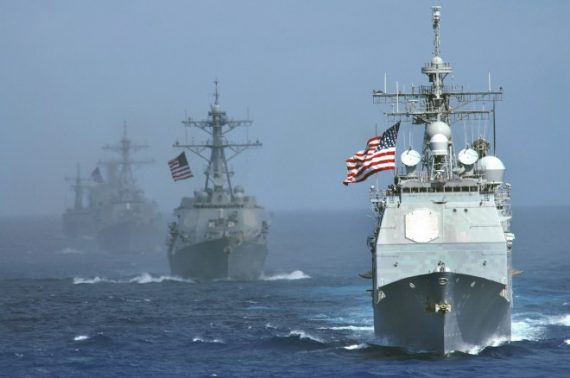 Last night, amid a question regarding what the appropriate response might be to aggressive Iranian action in the Straits of Hormuz, Mitt Romney made this claim:
Under this president and under prior presidents, we keep on shrinking our Navy. Our Navy is now smaller than any time since 1917. And — and — and the president is building roughly nine ships a year. We ought to raise that to 15 ships a year, not because we want to go to war with anyone, but because we don't want anyone to take the — the — the hazard of going against us. We want them to see that we're so strong they couldn't possibly defeat us.
It's a comment I've heard Romney make before, most recently at the January 16th debate in South Carolina in the middle of a response to a question about the National Defense Authorization Act:
ROMNEY: I've still got time. So as long as I still have time I just want to go back and agree with what Governor Perry said, the most extraordinary thing that's happened with this military authorization is the president is planning on cutting $1 trillion out of military spending. Our Navy is smaller than it's been since 1917. Our Air Force is smaller and older than any time since 1947.

We are cutting our number of troops. We are not giving the veterans the care they deserve. We simply cannot continue to cut our Department of Defense budget if we are going to remain the hope of the Earth. And I will fight to make sure America retains military superiority.
As Jason Linkins notes, neither the moderator nor the questioners at the January 16th debate followed up with Romney about what sounds like a rather extraordinary and alarming claim about the state of our defense, and Brian Williams similarly failed to follow-up on Romney's claim regarding Naval readiness last night. (So much for that liberal media, huh?) It would have been helpful if they did, though, because it turns out that Romney's claim is, at the best, only half true and not very relevant to an honest assessment of the readiness of the American military.
Politifact took a look at Romney's claims about the Navy after the January 16th debate and pointed out that merely focusing on the number of ships in active service isn't really an accurate measure of the strength of the Navy:
Counting the number of ships or aircraft is not a good measurement of defense strength because their capabilities have increased dramatically in recent decades. Romney's comparison "doesn't pass 'the giggle test,' " said William W. Stueck, a historian at the University of Georgia.

Consider what types of naval ships were used in 1916 and 2011. The types of ships active in both years, such as cruisers and destroyers, are outfitted today with far more advanced technology than what was available during World War I. More importantly, the U.S. Navy has 11 aircraft carriers (plus the jets to launch from them), 31 amphibious ships, 14 submarines capable of launching nuclear ballistic missiles and four specialized submarines for launching Cruise missiles — all categories of vessels that didn't exist in 1916.

As for the Air Force, many U.S. planes may be old, but they "have been modernized with amazing sensors and munitions even when the airframes themselves haven't been," said Michael O'Hanlon, a scholar at the Brookings Institution. Human factors matter, too. "The vast superiority of the U.S. Air Force has little to do with number of planes, but with vastly superior training, in-flight coordination and control, as well as precision targeting and superior missiles," said Charles Knight, co-director of the Project on Defense Alternatives at the Massachusetts-based Commonwealth Institute.

Ruehrmund and Bowie write in their report that "although the overall force level is lower, the capabilities of the current force in almost all respects far exceed that of the huge Air Force of the 1950s. Today's Air Force can maintain surveillance of the planet with space and air-breathing systems; strike with precision any point on the globe within hours; deploy air power and joint forces with unprecedented speed and agility; and provide high-bandwidth secure communications and navigation assistance to the entire joint force."

Increasingly crucial today are pilotless aerial vehicles, some of which are more commonly known as drones.

"The Air Force now buys more unmanned than manned aircraft every year, and that trend is not going to change," said Lance Janda, a historian at Cameron University. "Within our lifetime, I think you'll see an end to manned combat aircraft, because unmanned planes are more capable and a lot cheaper."

For a sense of comparison, in 1947, "it took dozens of planes and literally hundreds of bombs to destroy a single target because they were so inaccurate," said Todd Harrison, a fellow with the Center for Strategic and Budgetary Assessments. "But thanks to smart bombs and stealthy aircraft, today it only takes a single plane and often a single bomb to destroy a target."

Or as John Pike, director of globalsecurity.org, puts it: "Would anyone care to trade today's Navy or Air Force for either service at any point in the 20th century?"
It strikes me that the answer to that question is rather obvious. The kind of mass aerial bombardments that we saw in World War II and, to a lesser extent, Korea and Vietnam, simply aren't necessary any more because we can accomplish far more with cruise missiles, or a much smaller amount of Stealth bombers. The same goes for the United States Navy. We simply aren't likely to ever see the kind of multi-ship battles that were a crucial part of World War II's Pacific component. Today, our Naval resources are more about force projection to far corners of the world and protecting one corner of the nuclear triad. More importantly, even with recent Chinese advances there simply isn't a Navy on the planet that can match our force today (and there barely was even with the Soviet Union still existed). When it comes to numbers, Romney seems to be correct to a large degree but, as Politifact notes, it's the kind of fact that doesn't really mean much of anything, and certainly not what Romney wants it to mean:
This is a great example of a politician using more or less accurate statistics to make a meaningless claim. Judging by the numbers alone, Romney was close to accurate. In recent years, the number of Navy and Air Force assets has sunk to levels not seen in decades, although the number of ships has risen slightly under Obama.

However, a wide range of experts told us it's wrong to assume that a decline in the number of ships or aircraft automatically means a weaker military. Quite the contrary: The United States is the world's unquestioned military leader today, not just because of the number of ships and aircraft in its arsenal but also because each is stocked with top-of-the-line technology and highly trained personnel.

Thanks to the development of everything from nuclear weapons to drones, comparing today's military to that of 60 to 100 years ago presents an egregious comparison of apples and oranges. Today's military and political leaders face real challenges in determining the right mix of assets to deal with current and future threats, but Romney's glib suggestion that today's military posture is in any way similar to that of its predecessors in 1917 or 1947 is preposterous.
Romney may as well be saying that the Army has fewer horses than it did in 1874. It's true, but it means nothing.
It's worth noting that one of the experts consulted by Politifact disagreed somewhat with their "Pants On Fire" rating for Romney's claims (preferring to call it "Half True), and makes this observation of the context of the numbers themselves:
As for the issue of context, it cuts both ways. Certainly the Navy had to deal with rivals of varying strength and compositions throughout the era from 1917 to now, much as the Air Force was dealing with a peer competitor in the Soviet Union for most of its history. Likewise, newer technologies for the Navy and Air Force are probably more lethal, both absolutely and relative to most competitors, than they were in the past. So, given the geopolitical situation and the state of technology, it seems that the Navy and Air Force can stand to be smaller than they have been in the past. But there is a key contextual difference. Because the forces are so reliant on a small number of expensive and highly sophisticated ships and aircraft to to the job of large numbers of less sophisticated technologies in the past, the current technologies are more valuable and the overall system is more fragile.

If the Navy loses one carrier to enemy action, for any reason, that loss would be catastrophic in a way such a loss would not have been in the past. Likewise, the Air Force cannot afford to lose even small numbers of the highly sophisticated airframes of today. An additional contextual difference is that the U.S. military used to prepare during peacetime to mass produce weapons and material in the event of war. That is not the case today. For better or worse, the military is stuck with what it has for a long time once war begins, and regardless of losses (e.g.: the delay in producing up-armored Humvees and MRAPS for Iraq). In that sense, the small but sophisticated military is also risky.
This is a fair point, and it's also worth noting that if a military disaster on the scale of Pearl Harbor occurred today, it would be a lot harder for the United States to rebuild a functioning Navy in the manner it did starting almost immediately after the smoke from December 7, 1941 cleared. The hull for the super-carrier USS Gerald Ford was laid in 2009 and construction isn't expected to be completed until 2015. Replacing a ship like that wouldn't be an easy or inexpensive task. Furthermore, there are fairly good arguments in favor of enhanced future Naval construction. Nonetheless, both of those are completely different issue from the one Romney is raising, which is a blatant claim that the President's policies have weakened the U.S. Navy's ability to protect American interest. That, quite clearly, is simply false.