More Kook Than Coup
A shameful farce continues to unfold.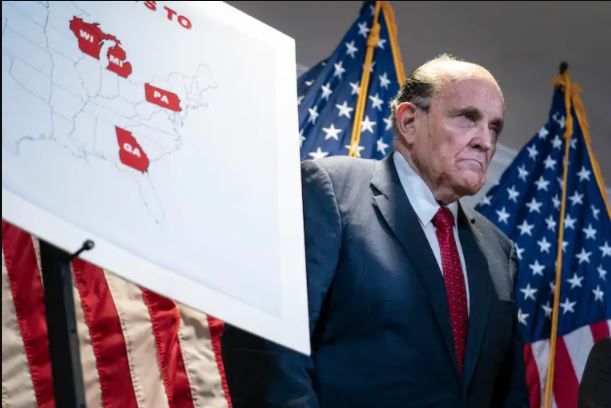 The NYT's David Sanger argues "Trump's Attempts to Overturn the Election Are Unparalleled in U.S. History."
President Trump's attempts to overturn the 2020 election are unprecedented in American history and an even more audacious use of brute political force to gain the White House than when Congress gave Rutherford B. Hayes the presidency during Reconstruction.

Mr. Trump's chances of succeeding are somewhere between remote and impossible, and a sign of his desperation after President-elect Joseph R. Biden Jr. won by nearly six million popular votes and counting, as well as a clear Electoral College margin. Yet the fact that Mr. Trump is even trying has set off widespread alarms, not least in Mr. Biden's camp.

[…]

Mr. Trump has only weeks to make his last-ditch effort work: Most of the states he needs to strip Mr. Biden of votes are scheduled to certify their electors by the beginning of next week. The electors cast their ballots on Dec. 14, and Congress opens them in a joint session on Jan. 6.

Even if Mr. Trump somehow pulled off his electoral vote switch, there are other safeguards in place, assuming people in power do not simply bend to the president's will.
The comparison with 1876 really doesn't work here, in that Hayes was not the incumbent President and the outcome of four states was genuinely in dispute in that contest and there's no serious question in this one. But the fact that Trump has essentially no chance to swing the election outcome and Hayes did is a bigger deal than Sanger acknowledges.
Philip Rucker, Amy Gardner, and Josh Dawsey have a similar piece at WaPo headlined "Trump uses power of presidency to try to overturn the election and stay in office."
President Trump is using the power of his office to try to reverse the results of the election, orchestrating a far-reaching pressure campaign to persuade Republican officials in Michigan, Georgia and elsewhere to overturn the will of voters in what critics decried Thursday as an unprecedented subversion of democracy.

After courts rejected the Trump campaign's baseless allegations of widespread voter fraud, the president is now trying to remain in power with a wholesale assault on the integrity of the vote by spreading misinformation and trying to persuade loyal Republicans to manipulate the electoral system on his behalf.

In an extraordinary news conference Thursday at the Republican National Committee headquarters, Trump's attorneys claimed without evidence there was a centralized conspiracy with roots in Venezuela to rig the U.S. presidential election. They alleged voter fraud in Atlanta, Detroit, Milwaukee, Philadelphia and other cities whose municipal governments are controlled by Democrats and where President-elect Joe Biden won by large margins.
This is, without question, outrageous conduct on the part of the President and his cronies. That more Republican leaders in Congress aren't condemning this in the strongest terms and assuring their constituents that Biden won the election fair and square is shameful.
But it's more farce than coup. The courts have ruled Biden's way at every turn. The election boards, even in states where Republicans control the mechanisms, are doing their jobs. Biden will be the officially certified winner in enough states to assure him of 270 Electoral votes by next week.
It's a sad, shameful gambit by the President and it's being aided and abetted by cowards for reasons I can't fully fathom. But our democracy, such as it is, has not been "subverted." Trump will exit office no later than noon January 20 and Biden will be inaugurated the 46th President. There's simply zero doubt of that.
"We cannot allow these crooks — 'cause that's what they are — to steal an election from the American people," said one of the attorneys, Rudolph W. Giuliani. "They elected Donald Trump; they didn't elect Joe Biden. Joe Biden is in the lead because of the fraudulent ballots, the illegal ballots that were produced and that were allowed to be used after the election was over. Give us an opportunity to prove it in court and we will."

Neither Giuliani nor other Trump attorneys have furnished evidence to support that or any other claim of widespread fraud.

Thursday's show by Trump's lawyers disquieted many, including Christopher Krebs, the Trump-appointed director of the Cybersecurity and Infrastructure Security Agency whom the president fired Tuesday after he stated publicly that the election had been secure.

"That press conference was the most dangerous 1hr 45 minutes of television in American history. And possibly the craziest," Krebs wrote on Twitter.

On Capitol Hill, senior Democrats ratcheted up their rhetoric. "I think this borders on treason," said House Majority Leader Steny H. Hoyer (D-Md.). "He is undermining the very essence of democracy, which is: You go to the poll, you vote and the people decide. There's no doubt that the people decided."
But, the thing is, this is widely being treated for what it is: bizarre theater. There's no both-sides reporting of this from any of the major outlets. While Fox continues to give their air to firebrands scaring old people, the news side of the house is reporting things like "Joe Biden wins presidential race in Georgia, defeating Trump; Biden now has 306 electoral votes" and "Biden turns 78, will be oldest US president."
Indeed Dawsey's separate report, with Dan Zak, on the press conference ("Rudy Giuliani's post-election meltdown starts to become literal") explicitly treats it as farce.
It's very simple, according to Rudolph W. Giuliani and the rest of President Trump's legal posse, but also very vast. China is in on it. Cuba is in on it. Antifa and George Soros are in on it. At least two presidents of Venezuela, one dead and one living, are in on it. Big Tech is in on it; a Web server from Germany is involved (there's always a server involved). Multiple major U.S. cities are in on it, as are decent American citizens who volunteer at polling precincts. Argentina is in on it, too, sort of. Chicago Mayor Richard Daley was in on it back in 1960, when, according to an unproved conspiracy theory, he stole the presidency for John F. Kennedy, thereby launching an ongoing pattern of corrupt cities stuffing or scrapping ballots. The "it" is a massive, premeditated scheme to steal the election from Donald Trump, according to Giuliani, and it also involved corralling poll watchers at great distances from the ballot counting.

Perhaps a cinematic example would help explain.

"Did you all watch 'My Cousin Vinny?' You know, the movie?" Giuliani asked Thursday. He was sweating at a lectern in the small lobby of the Republican National Committee headquarters on Capitol Hill. "It's one of my favorite law movies, 'cause he comes from Brooklyn."

About 100 journalists and hangers-on had crammed into this potential coronavirus incubator for a news conference on the perverse legal strategy of President Donald J. Trump's failed reelection campaign, which Giuliani is trying to hustle toward a twist ending. As the former New York mayor digressed about votes that could've been cast by dead people and Mickey Mouse, Trump campaign officials were at their headquarters in nearby Rosslyn, Va., winding down operations and closing out the budget.
That it's a sad, bizarre, joke doesn't make it not dangerous. Millions will somehow be fooled by it. But it's just not going to change the outcome of the election. Nobody really thinks otherwise.
Peggy Noonan captures it perfectly in her column headline: "A Bogus Dispute Is Doing Real Damage."
No hard evidence of widespread fraud, no success in the courts or prospect of it. You can have a theory that a bad thing was done, but only facts will establish it. You need to do more than what Rudy Giuliani did at his news conference Thursday, which was throw out huge, barely comprehensible allegations and call people "crooks." You need to do more than Sidney Powell, who, at the same news conference, charged that "communist money" is behind an international conspiracy to rig the U.S. election. There was drama, hyperbole, perhaps madness. But the wilder the charges, the more insubstantial the case appeared.

More than two weeks after the election, it's clear where this is going. The winner will be certified and acknowledged; Joe Biden will be inaugurated. But it's right to worry about the damage being done on the journey.
While Republicans in Congress are mostly refusing to publicly stand up against Trump's outrages, they're clearly fully expecting to seat Biden. We're getting daily reports along the lines of POLITICO's "Republican Senate signals it will confirm Biden Cabinet." While that's the minimum standard, not something laudatory, it's rather clear evidence that the institutions are moving toward the inevitable outcome.
National Review's Kevin Williamson calls this "The Dumbest Coup" and makes a rather salient point:
I've been writing about conspiracy theories for a while now — QAnon, the Flat-Earth gang, etc. — and one of the things you quickly learn about conspiracy theories is that every conspiracy theory is, in some part, every other conspiracy theory: They all overlap, in part or entirely.

Donald Trump has always been a conspiracy kook — vaccines, 9/11, Obama's birth certificate, etc. — and he came into the presidency retailing a conspiracy theory: Let's not forget that he also claimed that the 2016 election was illegitimate, that he'd actually won the popular vote but that electoral fraud had made it appear otherwise. Trump is a conspiracy kook who surrounded himself with other conspiracy kooks and cultivated kooky impulses in his aides, meaning that he is a kook in himself and the cause of kookery in others. The new Dominion-based conspiracy theory is only a variation on a longstanding theme.

And what we are seeing now, in the twilight of Trump's kookery, is the merger of QAnon, the Republican Party, and the large part of the conservative movement that earns its bread by peddling miracle veggie pills to gullible elderly people on the radio. When I first starting writing about QAnon, some conservatives scoffed that it wasn't a significant phenomenon, that it had no real influence on the Republican Party or conservative politics. That is obviously untrue. Rather than ask whether conspiracy kookery is relevant to Republican politics at this moment, it would be better to ask if there is anything else to Republican politics at this moment. And maybe there is, but not much.

This raises some uncomfortable questions for conservatives. One of those questions is: How long are we going to keep pretending that this madness isn't madness? Another is: How long will we continue to pretend that what's being broadcast by Fox News and talk radio is political commentary rather than the most shameful, irresponsible, and unpatriotic kind of sycophantic for-profit propaganda? A third is: What exactly is the benefit — for our ideas, and for the country — of making common cause with these lunatics and hucksters?
Again, the fact that the "news" side of Fox News is playing this straight is encouraging. But the fact that Murdoch and others continue to profit from spreading poisonous conspiracies to entertain the rubes is not.
I don't know how a society, much less a democracy, can function with people living in wildy different realities. We're never going to return to the days of three television networks that broadcast a rather standardized set of news into everyone's home. But we have to somehow get to a common understanding of what's happening around us.