Donald Trump Apparently Pretending To Run For President Again
He's back.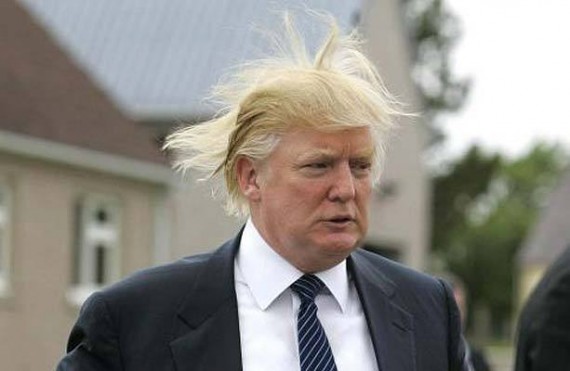 As you may recall, back in 2011 Donald Trump spent the better part of three months leading the media on with the supposed possibility that he would throw his hat in the ring for the Republican nomination for President in the 2012 election cycle. It began with Trump speaking at the Conservative Political Action Conference that February, where he first laid out the possibility of running, and continued through much of March and April and only finally came to an end in late May when Trump announced that he was not running at roughly the same time that NBC announced that his show The Apprentice had been renewed for another season. In between that time, the real estate mogul kept himself in the headlines by openly suggesting that the President was not born in tahe United States, and thus ineligible to be President, and that he may very well be a Muslim. Additionally, while several polls over this period showed that a solid majority of Americans would never vote for Trump in a General Election, there was at least a brief period of time when he was topping all of the other declared or potential 2012 Republican candidates in polls of Republican voters.  In the end, Trump's "candidacy" was viewed by most political observers as either a political stunt or an elaborate joke, and he went back to hosting a "reality" show and making real estate deals.
With the race for the 2016 Republican nomination just starting to heat up, though, it looks like Trump is back:
Real estate mogul Donald Trump announced Wednesday he will be forming a presidential exploratory committee ahead of the 2016 election.

"I have a great love for our country, but it is a country that is in serious trouble. We have lost the respect of the entire world. Americans deserve better than what they get from their politicians — who are all talk and no action!" Trump said in a statement.

In addition to the committee, which will help Trump decide whether to officially announce a run for president, the Republican has "made several key hires" of staff with roots in Iowa, New Hampshire and South Carolina, and hired additional advisers based in New York.

In his announcement, Trump touted his experience building his company and creating jobs throughout the Trump Organization, with "very little debt."

"Our real unemployment rate is staggering while our manufacturing base is eroding on a daily basis," Trump said. "We must rebuild our infrastructure, control our borders, support local control of education, greatly strengthen our military, care for our veterans and put Americans back to work!"

Trump has publicly toyed with running for president in the past, including announcing in 2010 that he was interested in a possible 2012 bid.

But he has a steep hill to climb with Republican voters. In a Wall Street Journal/NBC News poll from March 11, 74 percent of Republicans said they viewed Trump in a negative way — more than any of the 14 other candidates discussed in the poll.

On Thursday, Trump will travel to New Hampshire, a battleground state, to meet with veterans and local business owners.
The easiest conclusion to reach, of course, is that this is just like all of Trump's previous flirtations with politics and the campaign trial and that he won't actually take the step of getting in the race, most likely bowing out at the last minute as he did four years ago. There are, after all, plenty of reasons for Trump not to run regardless of what he might say online. If he is a candidate for President, then he's going to have to come down from his pedestal and actually get out among common people in states like Iowa, New Hampshire. As many people have noted in the past, Trump is no fan of that kind of glad-handing and indeed has something of a phobia about shaking hands. He'd have to get over that if he were going to be a real candidate. Additionally, running for office would mean that he would have to release much more public information about his personal finances, investments, and business contacts than he has ever done in the past. This is one area of his life that Trump seems to guard jealously, and it just seems unlikely that he'd be willing to do that this time around. Finally, even though Trump is claiming now that he's leaving his reality show behind, NBC is saying that it still plans to go forward with at least one more season of the show at some point in the future. Much as was the case in 2011, then, it seems fairly easy to dismiss this entire announcement as part of another publicity stunt for the show and, of course, the omnipresent Trump "brand."
At the same time, though, Trump has never gone so far as to form an exploratory committee before, so that could mean he's serious this time, or at least as serious as Donald Trump is likely to be about anything. If that's the case and he does enter the race, then the Republican clown car is going to be even more entertaining than any of us imagined.