Donald Trump at CPAC: Running For President (Maybe)
Donald Trump sounds like a man running for president.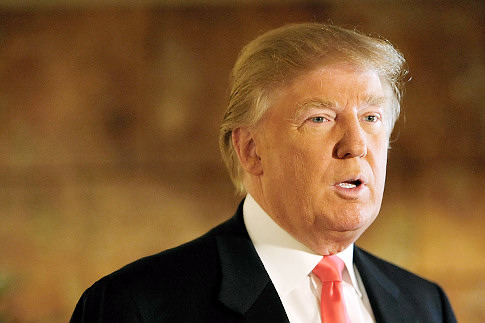 Donald Trump began his CPAC speech saying  that he "will decide by June whether to run for president."  But the speech certainly sounded like that of a political candidate.
His rationale for why he would give up a job he loves to run for president: "US has bcome a whipping post for the rest of the world" and "is not being treated with respect."  What this means, exactly, he never explained, but he repeated variants of this charge throughout the speech.
But "We're missing quality leadership and foreign countries quickly realized" that fact.  As a result, "America is becoming the laughingstock of the world. They can not believe what they're getting away with."  What are they getting away with? He didn't say.
So, why Trump?  Unlike President Obama, who, Trump claimed, even people who he went to school with didn't know when he threw his hat in the ring, he's highly successful. "I've earned billions, which is both a scorecard and acknowledgment of my abilities." Granted, the ability to earn money, not gain international respect. But, certainly, he's tenacious and intelligent.
Alas, Trump observed, "Most successful people don't run for office because they don't want to be scrutinized or abused. But it's what the country needs."
As for his platform:  "I believe in fair trade.We don't have free trade. I love free trade but not when China's manipulating its currency. This makes it almost impossible to compete, even though our companies make a better product."
But, "Even worse than China is OPEC.:  They are truly criminals. Yet we have no one that can call them and say prices better get lower fast."
Responding to a catcall from crowd, Trump correctly observed, "By the way, Ron Paul can not get elected, I'm sorry."  After boos, "I like Ron Paul and think he's a good guy. But he's got zero chance of getting elected, I'm sorry."
Getting back to his non-campaign campaign, "If I run and get elected, this country will be respected again."
What he stands for:  "I'm pro life.  I'm anti-gun control. And I oppose ObamaCare and will replace it with something that makes sense.   I won't raise taxes because we'll be taking in hundreds of billions of dollars from other countries that are screwing us."
It was not the most impressive speech I've heard, either in terms of style or substance.  But it does sound like Trump fancies running for president.  Mark me down as predicting that he'll not get very far.