Trump Threatens To Up The Ante On His Trade War
The President is apparently getting ready to take yet another ill-advised step in his ill-advised, economically illiterate trade war.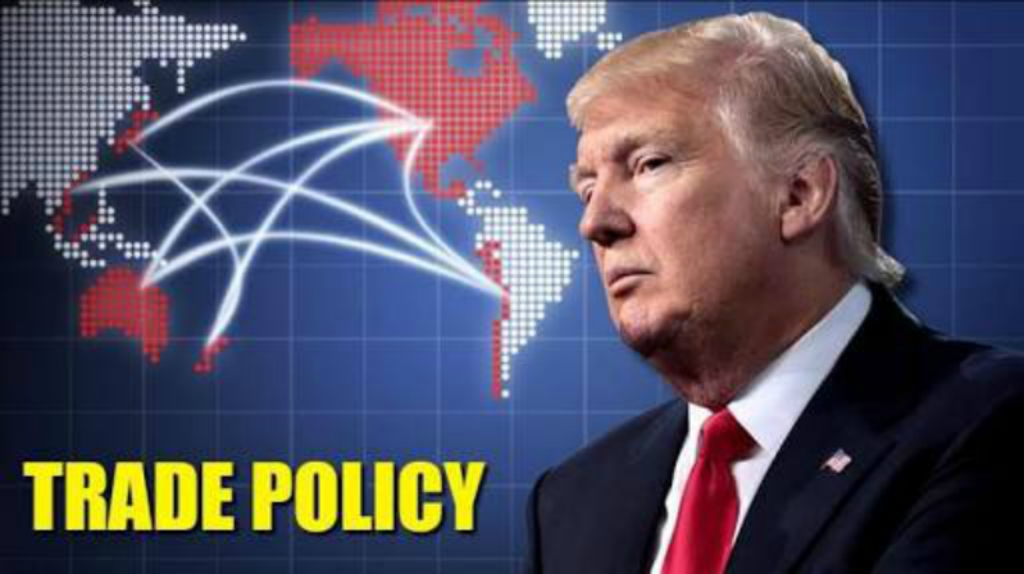 President Trump is threatening to significantly ramp up his ill-advised trade war, this time by threatening increased tariffs on virtually every product imported into the United States from China:
President Donald Trump is prepared to take his tariff fight with China to the max — and believes the stock market's rise since the election gives him the cushion to do it.

Trump told CNBC in an interview that aired early Friday morning that he would be willing to crank up the tariff pressure on China to the point of hitting $500 billion worth of Chinese imports — meaning U.S. import duties would tax nearly all of the $505.5 billion in total goods and services that Beijing exported to the U.S. last year.

"This is the time. You know the expression we're playing with the bank's money," he told CNBC's Joe Kernen in an interview on "Squawk Box."

The comments signal growing confidence that Trump thinks a further escalation in a trade war with China won't cause mass economic destruction as critics have argued.

Pressed about the possibility that such a move could drag down the stock market, Trump said, "If it does, it does."

"I would have a higher stock market right now, it's already up almost 40 percent, as you know, since the election," Trump said. "It could be 80 percent if I didn't want to do this, but ultimately, what I'm doing is making it so it's right."

Trump has made resetting U.S. trade relationships around the globe a priority for his administration, controversially targeting longtime allies and partners like South Korea, Mexico, Canada and the European Union.

Trump on Twitter also took shots at China and the European Union, accusing them of lowering the value of their currencies, and criticized the Federal Reserve's gradual interest rate increases — actions that could undermine the impact of new tariffs.

"China, the European Union and others have been manipulating their currencies and interest rates lower, while the U.S. is raising rates while the dollars gets [sic] stronger and stronger with each passing day — taking away our big competitive edge. As usual, not a level playing field," Trump wrote on Twitter.

"The United States should not be penalized because we are doing so well. Tightening now hurts all that we have done. The U.S. should be allowed to recapture what was lost due to illegal currency manipulation and BAD Trade Deals. Debt coming due & we are raising rates — Really?"

Trump's comments echo a long-standing complaint from U.S. manufacturers who argue that China and other countries often artificially depresses the value of their currency to give their companies an export advantage. A lower Chinese renminbi — China's own currency — relative to a stronger dollar allows Chinese companies to sell their products more cheaply in the United States.

But the dollar lately has been strengthening against essentially all currencies, said Fred Bergsten, senior fellow and director emeritus at the Peterson Institute for International Economics.

"The fact that the Chinese currency is going down is not unique," he said. "The question is whether the Chinese officials have done anything deliberate to push it down."
As David Lynch notes in The Washington Post, Trump is following a strategy that threatens to spin wildly out of control, assuming it hasn't done so already:
Perhaps no part of President Trump's campaign to overhaul U.S. trade policy enjoys broader support than his indictment of China.

Yet if the president's push to reshape the U.S.-China trade relationship reflects a bipartisan consensus, his method for doing so does not.

This month, Trump threatened to levy tariffs on an additional $200 billion in Chinese products, a move that, coupled with fees already approved, would hit nearly half of China's shipments to the United States. The administration says Beijing steals American trade secrets, discriminates against foreign companies and subsidizes state-backed enterprises in a way that warps global commerce.

Industry executives and lawmakers agree but fear that Trump's approach risks an open-ended trade war that will leave American companies with less access to the Chinese market, not more.

"We're playing Russian roulette with the American economy," said Myron Brilliant, executive vice president of the U.S. Chamber of Commerce. "The administration has a tool that they think provides leverage over other countries. But I don't think it has a good strategy for getting a deal done."

U.S. hopes of exporting more cars to China are among the first casualties. As a conciliatory gesture, Chinese officials in May cut their tariff on imported automobiles to 15 percent from 25 percent. But only days after that reduction took effect on July 1, China hiked its tariff on U.S. cars to 40 percent in retaliation for Trump's initial levies on Chinese goods.

That means that cars made by BMW in South Carolina or Mercedes-Benz in Alabama and exported to China will face a crippling 40 percent import tax while those shipped from Europe or Japan pay just a 15 percent levy.

"Trump is right that China plays unfair and that unilateral measures are likely needed to get China to play fairer," said Scott Kennedy, director of the project on Chinese business and economy at the Center for Strategic and International Studies. "But his diagnosis of the underlying dynamics and symptoms is full of key mistakes, which has then resulted in some hideous execution errors."

[GM says new Trump auto tariffs threaten American jobs]

Trump's confrontation with China is complicated by his missteps and global trade rules that have not kept pace with China's blend of authoritarian capitalism, according to trade specialists.

The president — who cultivates an image as an accomplished dealmaker — has repeatedly suggested that his tariffs provide leverage for negotiations with China to end discriminatory trade measures.
The consequences of a trade war are well-known, and none of them are good. On the macroeconomic level, they tend to have a far more negative impact on the economy than a positive one due to the fact that domestic industry ends up getting harmed both due to the higher prices created due to tariffs themselves and the impact of any retaliatory tariffs that may be imposed in response. While there may be some isolated pockets of the economy that benefit from higher tariffs, albeit usually temporarily, the broader impact is inevitably negative even if it may take time for the impact of those higher tariffs to be felt or to register in economic statistics. In addition to businesses being harmed by trade wars, of course, the harm is also felt by consumers who end up paying higher prices for products impacted by increased import duties and for goods that may include products that are subject to those duties, such as automobiles and durable goods such as appliances.
In the United States, there are already signs that the President's ill-advised trade war, which has led to increased duties on goods not only from China but also from Europe, Canada, and Mexico, is already starting to have an impact. Within two months after the President imposed tariffs on steel and aluminum, for example, The Wall Street Journal reported that prices for both foreign and domestic steel and aluminum were increasing and having a negative impact on manufacturers that rely on these raw materials for their products. Other reports have indicated that American pork farmers were becoming increasingly nervous about their overseas business with nations like China. In Iowa, meanwhile, it has been reported that Chinese retaliation for the tariffs imposed on Chinese goods could cost soybean farmers in the Hawkeye State $624 million this year alone, with the prospect of larger losses if the retaliation continues beyond this year. This has led many leaders in Iowa and elsewhere, including Senator Chuck Grassley to express concern about the impact of the trade war on Republican fortunes in the fall. This is especially true given the fact that the tariffs seem to be expressly targeted toward Trump voters and middle-class Americans. This month has also seen that the tariffs have had a negative impact on other American businesses, and has even led an iconic American brand like Harley-Davidson to announce that they are moving some production overseas in response to the retaliatory tariffs imposed by the European Union.
To be fair, it's not inaccurate to say that there are some unfair trade practices engaged in by China, the Europeans, and other nations that have a negative impact on the ability of American businesses to compete in those nations. It's also clear, though, that there are also similar trade practices on the books here in the United States that impose unfair burdens on foreign manufacturers and suppliers. The international agreements that the United States has entered in the past, including agreements such as NAFTA and organizations such as the World Trade Organization, which was specifically established to adjudicate trade disputes between member nations. Additional protections would have been provided by the Trans-Pacific Partnership, but, of course, President Trump pulled the United States out of that agreement as one of the actions he took during his first week in office. These procedures aren't perfect either, of course, but they are better than the tit-for-tat that we're seeing unfold before our eyes.
Notwithstanding the fact that there is blame for trade imbalances to be found on both sides of our many trade relationships, one has to be clear where responsibility for the current trade wars, both the ongoing fight with China and the one that appears to be developing between the United States and its most important allies, lies. It's not in Europe, Canada, Mexico, or in China, it's right here in the United States in the person of President Donald J. Trump. Even if one could make the case that some of the complaints the President has voiced regarding the status of our trade relations with other nations are accurate, and most of them are not, the proper way to respond to them isn't by engaging in an ill-advised series of escalating tariffs that will ultimately cause far more harm than good to the American economy.
When the final chapter is written, of course, neither the United States nor China is going to "win" this trade war. Inevitably, the costs of the tit-for-tat tariffs will be felt by the economies of both nations and most especially by the businesses and consumers in both countries. Indeed, the proper way to handle any disputes between the U.S. and China or any other nation would be to take whatever disputes exist to the World Trade Organization for adjudication as provided in the treaty or to negotiate directly. Absent going through the W.T.O., the only hope is that the leaders of both countries will find a way to end the ridiculous tit-for-tat tariffs and reach an agreement that reduces trade barriers in both countries, makes it easier for manufacturers and producers such as farmers in both countries to sell their goods overseas, and reduces the rising tension that inevitably comes from a trade war. Until that happens, though, we're going to continue to see this kind of nonsense from Washington and Beijing, and the people who pay the price for what they're doing will most assuredly not be the leaders responsible for what's happening. That's apparently not good enough for Trump, and he's apparently surrounded himself with people such as Gary Cohn and Peter Navarro who agree with him that "trade wars are good and easy to win," and he has convinced himself that this is the proper way to proceed. If he stays this course, then we're all going to find out just how wrong he is.