Trump's Destructive Trade War Expands
China has retaliated for the tariffs that the President imposed late last week, and things look like they're only going to get worse.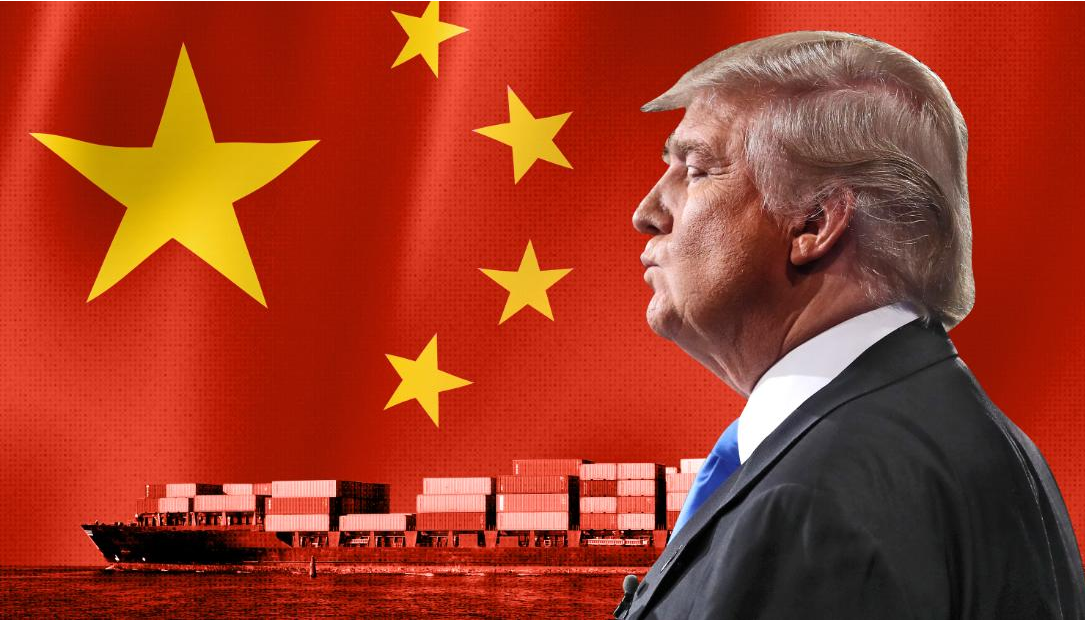 Just days after President Trump escalated his ill-advised and largely failed trade war with China by increasing tariffs on a wide scope of Chinese made goods, China has come back with the expected retaliation:
BEIJING — China moved to retaliate against the United States, announcing plans on Monday to raise tariffs on American goods ranging from beer and wine to swimsuits, shirts and liquefied natural gas.

The decision, which follows President Trump's increase in tariffs on Chinese goods last Friday, escalates the pressure in the ongoing trade war.

Trade talks between the two sides broke down last week without a deal, causing tensions that have rippled through financial markets and the global economy. American stocks plunged on Monday, extending the recent losses.

Beijing's retaliation comes at a time when many in China feel that the United States has behaved highhandedly in threatening tariffs. "Mutual trust and respect are of the essence in handling the negotiations," said Zhu Ning, a Tsinghua University economics professor.

It isn't clear whether China's retaliation would end with the tariff increases. In the past, China has slowed imports at customs and launched investigations into foreign companies during times of tension.

Hu Xijin, editor of the Global Times, a tabloid owned by the Chinese Communist Party, tweeted on Monday evening that he was expecting broader retaliation, including halting purchases of American agricultural and energy products, reducing orders for Boeing aircraft and possibly even the sale of part of China's large holdings of Treasuries.

The last of these threats once unnerved markets but has since lost some of its edge. China has been diversifying for the past decade where it parks its money, and had to spend a quarter of its huge hoard of foreign currency reserves three years ago to stem a decline in its currency.

China's finance ministry announced on Monday evening that it was raising tariffs on a wide range of American goods to 20 percent or 25 percent from 10 percent. But the ministry delayed implementation until June 1.

The delay will allow time for negotiators to make one last push for a deal. It roughly matches a delay that the Trump administration put on its own tariff increase.


President Trump on Friday raised tariffs on $200 billion a year worth of Chinese goods, particularly auto parts, to 25 percent from 10 percent. He had already imposed 25 percent tariffs last summer on another $50 billion a year of Chinese goods, including a wide range of products that his administration views as strategic, from cars to aircraft parts and nuclear reactor components.


The Trump administration has more tariffs planned. The Office of the United States Trade Representative has said that on Monday, it will issue for public comment at Mr. Trump's direction a proposal to raise tariffs on "essentially all remaining imports from China, which are valued at approximately $300 billion."

Because China's entire imports from the United States are considerably less than $200 billion, it has not had the option of matching the United States dollar for dollar. Last September, China had matched President Trump's 10 percent tariffs on $200 billion a year in goods with its own tariffs of 5 percent to 10 percent on $60 billion a year in American goods.


On Monday, China's ministry of finance raised those tariffs by introducing four new categories for the $60 billion in goods. The tariffs on those four categories are 25 percent, 20 percent, 10 percent and 5 percent.


The finance ministry did not specify the dollar value of goods in each of the four categories. But the largest number of tariff codes in the $60 billion was assigned to the 25 percent category, suggesting that China was raising the tariffs on many imports to that level.


China's tariff increases on Monday included raising the tariff on liquefied natural gas imports from the United States to 25 percent from 10 percent.

That could hurt Texas, Oklahoma and Louisiana, three states with a lot of Trump supporters.
This announcement from China, of course, comes just days after Trump imposed wide-ranging new tariffs on Chinese-made goods, and just a day after one of the President's chief economic advisers admitted on Fox News Sunday that the President's claim that China is somehow paying for the tariffs is completely false:
WASHINGTON — President Trump's chief economic adviser said on Sunday that American consumers would bear a burden from the escalating trade war with China, contradicting Mr. Trump's claim that his tariffs were a multibillion-dollar, one-way payment by China to the United States Treasury.

The adviser, Larry Kudlow, made his comments two days after negotiations for a trade deal with China broke off and Mr. Trump followed through on a threat to raise tariffs on $200 billion worth of Chinese exports.

"In fact, both sides will pay," Mr. Kudlow said in an interview on Fox News. "Both sides will pay in these things."

Mr. Kudlow's acknowledgment was merely a recognition of Economics 101. But it flew in the face of one of the president's favorite arguments: that trade wars are easy to win, and that the pain falls disproportionately on America's trading partners, which he accuses of having exploited the United States for years through predatory trade practices.

After months of pressing urgently for a deal with China, Mr. Trump abruptly shifted course in the past week, stung by what he viewed as its attempt to renege on key parts of a draft agreement. The president declared he was ready to prolong the standoff with Beijing because the cost of a trade war is much higher for the Chinese, with their huge numbers of exports to the United States, than it is for Americans.

"Talks with China continue in a very congenial manner," Mr. Trump said Friday on Twitter. "There is absolutely no need to rush — as Tariffs are NOW being paid to the United States by China of 25% on 250 Billion Dollars worth of goods & products. These massive payments go directly to the Treasury of the U.S."

He went even further in a subsequent tweet, claiming that tariffs would "bring in FAR MORE wealth to our Country than even a phenomenal deal of the traditional kind" — a statement that seemed to undercut his administration's contention that China has robbed American companies of billions of dollars through coercive practices like the forced transfer of technology and unfair licensing agreements.

There is no doubt that China is being buffeted by the tariffs, which could soon apply to virtually everything it exports to the United States. Mr. Kudlow said economic growth in China would slow down as its exports diminished. He argued that the effect on the American economy would be modest — only a 0.2 percent reduction in growth — even if Mr. Trump extended tariffs across the board, as he has threatened to do.

"You got to do what you got to do," Mr. Kudlow said. "In my judgment, the economic consequences are so small but the possible improvement in trade, and exports, and open market for the United States — this is worthwhile doing."
President Trump, meanwhile, spent the weekend and much of this morning defending his trade policies even as world financial markets spiraled downward on word of the apparent escalation of the trade war with China:
Trump's comments are, of course, complete nonsense. For one thing, the increased tariffs played almost no role in the calculation of the first quarter Gross Domestic Product. In no small part, this is because many of the tariffs didn't begin to take effect until the second quarter Additionally, the numbers that the President is pointing not only don't establish what he claims but actually proves quite the opposite. It's true that it may be hard for one to point directly to the impact that the trade war is having on the economy. One reason for that, obviously, is the fact that the tariffs are a relatively small part of what is a nearly $20 trillion economy. Therefore it may not be readily apparent that the tariffs have retarded economic growth even if only by a small amount compared to the overall economy. The other factor to consider is the fact that, while the tariffs have apparently resulted in a drop in imports, this has not had an effect on the trade deficit, which actually increased. While this is largely a meaningless number for reasons I've explained in the past it is a strong indication that the President's trade policies are having the opposite effect from what he claimed would happen.
.
Additionally. as economists on both sides of the aisle agree, the evidence has shown that the tariffs that have been imposed so far have done far more harm to the economy than they have done well. For example, after President Trump raised tariffs on aluminum and steel last year, the price for those products, including from domestic sources unaffected by the tariffs, increased. This has had the impact of raising the cost of doing business for industries that rely on these materials, such as carmakers, and appliance manufacturers, many of whom have in turn found it necessary to pass those cost increases on to consumers, to cut back on hiring or planned business expansion, or both.
When China retaliated by imposing tariffs on American goods their retaliation was primarily focused on the agricultural industry, something that made American pork farmers increasingly nervous about their overseas business. In Iowa, it was reported that Chinese retaliation for the tariffs cost soybean farmers $624 million this year alone, with the prospect of larger losses if the retaliation continues or if Chinese companies that buy American soybeans start entering into contracts with growers in places such as Australia and India, which compete with American farmers for the lucrative Chinese market. Additionally, we have also seen that the tariffs have had a negative impact on other American businesses, and has even led an iconic American brand like Harley-Davidson to announce that they are moving some production overseas in response to the retaliatory tariffs imposed by the European Union. Finally, there is increasing evidence that the trade war has actually opened economic doors for China because it has forced them to look in places other than the United States for things like agricultural imports. If that continues to happen, then the impact on the American economy from the President's trade war could become more permanent than many realize. In other words, as I put it last week, Trump's trade war is bad and everyone is losing.
Not surprisingly, today's developments are having the expected effect on world stock markets in general and Wall Street in particular, as the major stock indexes continue the downward trend that started at the beginning of the week. In some respects, that response has been somewhat more muted than in the past, at least so far, in part due to the fact that people seem to be either believing or hoping that Washington and Beijing will resolve this matter quickly and reach a broader trade deal. Those hopes have obviously been dashed by this latest round of tariffs from both sides and by reports that, despite optimistic public remarks from both sides, the reality behind closed doors is that Beijing and Washington are further apart on a deal than ever. This makes the probability that talks will collapse and we'll be in for a long-term trade war much, much higher. If that does not happen, or if there are signs that the situation is actually getting worse then it's likely that this will be reflected in world markets and in the returns that investors, including retirement investors who primary invest via mutual funds, see in their quarterly statements.
As I've noted in the past, the arguments that these tariffs help either American industry or the American economy are nonsense. In the end, higher tariffs end up being paid by American consumers, by American businesses that depend on international trade such as the agriculture industry, and by the businesses that rely on the products that are subject to the tariffs. President Trump's arguments to the contrary notwithstanding, there is no economic benefit at all to tariffs and a heck of a lot of negative. Despite that, the Trump Administration appears committed to this ill-advised, self-destructive policy.
Donald Trump once said that "trade wars are good and easy to win." Over the past year we have learned just how ignorant and ill-informed about reality that statement actually is. If things get worse, then things are likely to just get worse.