More on Newt Gingrich's Academic Career
Newt constantly lays claim to the title "historian" and asserts it as evidence of his insights and as a qualification for office. As such, the quality of the claim matters.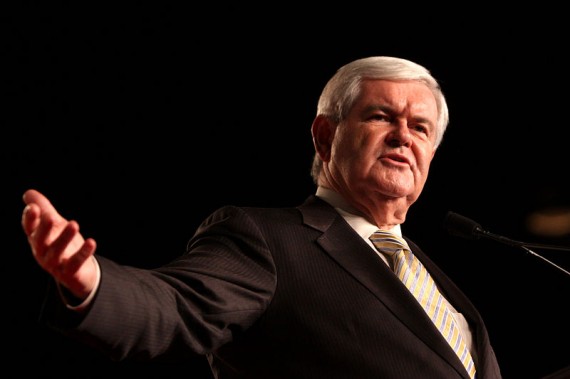 I have written about Newt's academic career (such as it was) before: Newt Gingrich, "Academic" and now the WSJ have unearthed some additional information: Gingrich's College Records Show a Professor Hatching Big Plans.
I find Newt Gingrich's academic career interesting for two fundamental reasons.  One is personal:  as a university professor I am understandably interested as it is a world with which I have a great deal of experience, and therefore provides insights into his early days with which I can easily identify and understand.  The other is more broadly applicable:  Newt constantly lays claim to the title "historian" and asserts it as evidence of his insights and as a qualification for office.  As such, the quality of the claim matters.  Indeed, the WSJ provides a good summation of the way these claims work:
Mr. Gingrich often says his experience as a historian would make him a superior president. During Monday's GOP debate, he lectured "as a historian" on "a fact-based model" for revamping Social Security, citing the success of programs in Galveston, Texas, and Chile.
Let me note:  the notion of an academic and "fact-based" approach to politics is one that I applaud in the abstract.  However, in Gingrich's case, the degree to which he can credibly make such claims is problematic.  Indeed, when one looks back at his academic career the degree to which he can really claim to have been much of a historian/professor/academic are dubious.  I note the thinness (to be kind) or his academic career in the post linked above and the WSJ piece doesn't thicken the record, shall we say.
(Weird) Ambition.  In his first year at West Georgia College he applied to be the college's president and the next year he applied to be department chair.  The first bit of information is new (to me, anyway) although I have read the second bit before.  These are both profoundly odd moves for a young assistant professor to make for a host of reasons, especially the first one.  Some basic background for those unfamiliar:  assistant professors are hired on a tenure-track, meaning they typically have 5 to 6 years to make the case they ought to be granted tenure.  The exact nature of that case depends on the institution, but includes teaching, service, and scholarship.  A new Ph.D. in a such a position is acutely aware of the clock.  It usually takes a year to get adjusted (not to mention preparing new classes) and one is not well settled in for two to three years.  To not be granted tenure, by the way, means being told to leave.  It is a slow-motion firing in which one is given a year after denial to find another job.  As such, most assistant professors are quite focused on developing their tenure packet from day one.
To apply for the president's position as a first year professor is weird for a lot of reasons, including the fact that to do so is to say that one wants to change careers (or, at least, substantially alter one's career path).  Now, I understand that people make career path shifts, however for a first year assistant professor to apply, immediately, for an administrative position for said first year prof to be saying, amongst other things "yes, I just spent half a decade plus acquiring graduate education in a specialized field, but I think that a year on the job using those skills should be enough for me."  For while it is true that both college professors and college presidents work in higher education, they are very different jobs.  This is like a new accountant joining a large firm and applying to be the managing partner of the firm in his first year.  Such an application would be viewed a s joke (which, I have no doubt, was how Gingrich's application was viewed at the time).
Likewise, to seek to be the department chair as a second-year faculty member is likewise odd (although not as odd as pursuing the top administrative position at the school).  First, you are likely to alienate your colleagues (after all, you just arrived). Second, and perhaps more importantly:  without tenure you are going to be a lousy chair, since you don't have the protection of tenure when you come into conflict with administration.  Third, since you are still in the process of developing your classes, not to mention needing to focus on scholarship for tenure, you don't need the time suck that is administrative work.
In general, both these moves indicate some (not mutually exclusive) possibilities:
1.  Gingrich is highly egotistical (even moreso than most Ph.D.s).  To assume that one ought to be the president of the college in your first year at a school and that you should be chair in your second takes some serious narcissism.
2.  Gingrich is not very self-aware.  Both of these moves are not only egotistical in the extreme, but they are also the moves of a man who isn't aware of how he is coming across to others.
3.  Gingrich never was serious about being a real historian.  None of these moves indicate any real interest in scholarship.   To become the president would have been to abandon any time for scholarship (indeed, it would have been an abandonment of teaching as well).  To become chair would have severely diminished his time for research and writing.    None of this indicate any planning on his part to create a viable academic career.
An Odd Path for a "Historian." Apart from job-seeking, Gingrich's teaching duties strike me as odd, especially if one is going to lay claim to the title "historian."  For example:
Mr. Gingrich coordinated the school's fledgling environmental-studies department and by 1976 was removed from the history department because his "interest in long-range and broad-range planning for the future…is clearly more appropriate to the orientation of our Department of Geography," a 1975 letter from then-college president Ward Pafford reads.
Now, that he moved from the History Department to the Department of Geography has been noted before.  But let me note how strange this is.  First, he was trained in history and yet he is described as having an interest in planning and the future.  Now, the notion of using an understanding the past as a means of planning for the future is fine, but it is helpful to actually cultivate an actual background in one's area of expertise before making recommendations about the future.  Further, one would expect those recommendations to have something to do with one's area of study.  Gingrich's dissertation was on the Belgian Congo.   So, if he was going to be engaging in discussion of the future based on his academic expertise, one would expect it would be linked to his academic expertise (such a political development in the post-colonial world).  However, there is no evidence that this is what happened.  Instead, he is moved to the Geography Department, was teaching about the environment, and also apparently had a foray into planning for public schools:
After his unsuccessful bid for the president's job, college officials asked him and a colleague to draw up ideas for modernizing the institution. That led to the 1973 creation of "The Institute for Directed Change and Renewal," a platform the two men used to try to sell the institute's services to public schools.

Mr. Gingrich wrote to a college vice president asking if it was "appropriate and legal" to profit from their work. College President Pafford responded swiftly: "You are not entitled to financial compensation by any other State of Georgia agency or institution," he wrote in a memo. The institute soon went defunct.
None of this could be said to be linked to his graduate studies or his dissertation.  Further, since he was such a new scholar he had not had time to develop new expertise.  Instead, he just seemed to take the following view: I'm a smart guy and I have good ideas, so people should listen to me and give me important positions (which, quite frankly, is pretty much his campaign rationale).  Also, like the applications for president and chair, this path does not indicate a serious interest in building an academic career (which is fine, by the way, but he needs to stop pretending like he had a real academic career).  
A note on moving departments:  often (although not always) one gets moved from one department to another (something that is rare, btw) because one is a trouble-making in the original department.  Also (fair or not) a move from history to geography would normally be considered a demotion in terms of academic discipline (apologies to any geographers in the audience).
One last point on this count of his non-historian behavior:
Mr. Gingrich threw himself into working as "a specialist in futurism," according to a 1973 college news release.
The interest is "futurism" is not news, but it is worth noting because being a futurist is pretty much the opposite of being a historian.
At any rate, the piece (and all examinations of Gingrich's academic career) bring forth a portrait of an unhealthily self-confident, intellectually undisciplined individual whose claims to being a historian are shallow at best.