Newt Gingrich, "Academic"
Trying to construct Gingrich's c.v.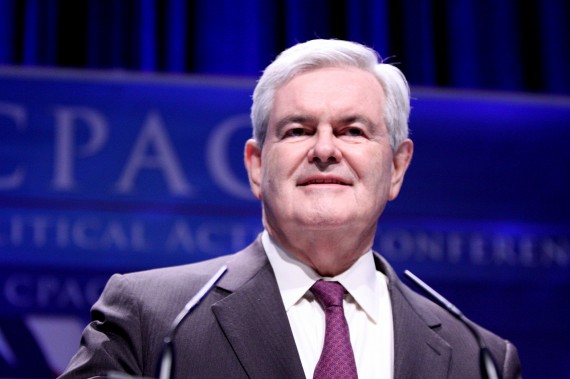 One of Newt's claim to fame is that he is a historian.  A recent example of this is the following explanation for the work he did for Freddie Mac:
"I offered them advice on precisely what they didn't do," he said at the debate. "My advice as a historian, when they walked in and said to me, 'We are now making loans to people who have no credit history and have no record of paying back anything, but that's what the government wants us to do.' As I said to them at the time, this is a bubble. This is insane. This is impossible." (source)
Of course, one of the weird things about that assertion is that Newt's dissertation was on colonialism in the Congo, not the history of, say, financial crashes.   The notion that they wanted Gingrich as a historian and not as a politician is absurd on its face.  Indeed, I have some historian friends who would love to understand how it is possible to make seven figures doing consultation work!
All of this made me want to revisit Gingrich's bio in terms of his academic credentials.
Here the basics (source) :
-He earned a BA in history from Emory in 1965.
-He earned a Ph.D. in Modern European History in 1971 from Tulane.  His dissertation was entitled "Belgian Education Policy in the Congo: 1945-1960."  A political scientist at Morehouse College gave the thing a look:  click.  The most damning thing to me from an academic point of view:  no evidence Gingrich did any field work in the Congo.  Another review can be read here.
-He was hired as an assistant professor (a tenure track position) at West Georgia College.  While he clearly thought highly of himself (the timeline linked states that he tried to become department chair in his second year—an odd move for a variety of reasons.  These reasons include:  1)  it is difficult to be in a leadership position like that sans tenure, given that one would have to come into conflict with people who would have direct influence over tenure decisions, including senior faculty, deans, and upper administration, depending on the system in place and, 2) new faculty have a lot of time demands, including preparing a large number of classes from scratch as well as working towards publications.
-Gingrich failed to achieve tenure, meaning that his academic  career at West Georgia College was over.  Of course, from there he goes on to get elected to the House, ending his stint in academia altogether.
The interesting thing about Gingrich rather brief stint in academia is the record suggests he was never especially serious about it.  Not only did he try to become chair in his second year (an indication that he was, at a minimum, confused about how to get tenured) but he ended up running for congress during this period (a time-consuming activity).  Given the time needed to engage in teaching and scholarly output, something had to give and clearly political ambitions overtook academic ones.  Now, this is a legitimate choice for Gingrich to have made (although odd in the sense that getting the Ph.D. in the first place took a lot of work), but clearly he abandoned the academic enterprise almost at the beginning of his career (his first run for Congress was in 1974, at that point in his time at GWC that he should have been focusing intently on the fact that he would be going up for tenure and promotion soon).  As such, his claims to being a historian from a professional point of view are quite dubious.
Yes, he has published a number of books (22, I believe) but they are a  collection of co-authored novels and political/ideological tomes.  Indeed, none of the books written or co-written by Gingrich listed at Amazon would qualify as "scholarly" by actual historians.  And yes, before someone says it, there is little doubt that his books have been read by more people than the typical scholarly book produced by an actual historian, but that's another issue (and I would readily allow that he is a successful author—but he is no scholar).  Really, he has no credibility claiming the mantle of either scholar or historian at the moment.  I can find, by the way, no evidence of any scholarly output whatsoever during his stint in the academy (I check a couple of databases that cover publications in history, but it is possible I am missing something).
Indeed, I think that the run-down in a column by New York University historian Jonathan Zimmerman (Newt Gingrich, pseudo-historian) is pretty much on target:
here's what you need to know about Gingrich: He's not a real historian. Sure, he's got a Ph.D. in the field, and yes, Gingrich has written more than 20 books. But when he left academia for Congress in 1978, he also left behind the most basic canons of our discipline: rigor and humility. Put simply, we're supposed to know what we're talking about. And when we don't, we're supposed to say so.

That's what I learned on my very first day of graduate school, almost a quarter-century ago. The world is infinitely complicated, a professor told us, and we'll only be able to study a very small slice of it. And even when we think we understand that tiny piece, someone else will come along to prove us wrong.
And:
to Gingrich, history is politics by any other means. In his "Renewing American Civilization" course, he calls history "a resource to be learned from and used." If you just use history to vilify your opponents, however, you're not really learning. History should make you critique your own dogmas, which might not be as clear-cut as you've assumed.
Indeed.