Time For A Gingrich Boomlet?
Is Newt Gingrich on the verge of a rise in the polls?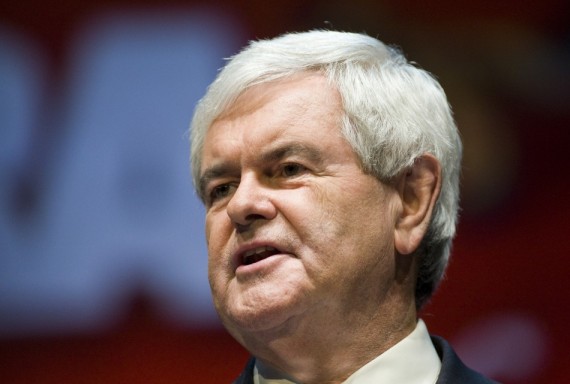 Byron York reports from Iowa and sees signs of what seems to be most improbably, the possibility that Newt Gingrich could be the next candidate who rises in the polls to challenge Mitt Romney:
For days, there's been talk of a Newt Gingrich boomlet in the Republican presidential race here in Iowa.  After Friday night's Reagan Dinner at Hy-Vee Hall in downtown Des Moines, that Gingrich boomlet talk might turn into talk of a Gingrich boom.

Five candidates — Gingrich, Rick Perry, Michele Bachmann, Rick Santorum, and Ron Paul — addressed a crowd of about 1,000 GOP faithful at the state Republican party's biggest fundraiser of the year.  In brief interviews after the dinner — the only question was which speaker did the best job — audience members were unanimous: Gingrich, Gingrich, Gingrich.

"It was Newt," said Chad Kleppe of Waukee, Iowa.  "I think he's the smartest one in the field."

"Gingrich knocked it out of the park," said Earlene Nordstrom of Fort Dodge, Iowa.

"Newt," said Tim Heldt of Johnston.  "The energy in the room picked up.  It didn't feel like a stump speech."

"He is so good," said Becky Ervin of Urbandale.  "I want to see a debate between him and Obama."

"I would have to say Newt Gingrich might have convinced me to caucus for him," said Eric Johansen of Grimes.  "I've been undecided up to this point."

In a dozen interviews, the score was Gingrich 12, the rest of the field 0.  That doesn't mean everyone will vote for Gingrich at the January 3 Iowa caucuses — voters here reserve the right to hold off on making a final decision until the night of the voting — but they certainly walked away impressed with the former House speaker.
It seems completely unlikely, for so many reasons. Within a week after he had entered the Presidential race, Gingrich had the ire of conservatives directed against him when he criticized Congressman Paul Ryan's Medicare reform plan despite the fact that he had been praising the plan only two weeks previously.  Then, Gingrich came out with yet another statement saying he actually supported a plan he had just called "right wing social engineering" and when the DNC featured Gingrich's critical comments in an ad, he said that any ad that quotes what he said about the Ryan Plan is a lie. Before May was even over, we learned that Gingrich and his wife had maintained an extraordinarily large line of credit at Tiffany & Co., and while the story seemed irrelevant it became the butt of jokes and was just more bad news for Gingrich. Then his entire campaign staff and his fundraising team quit in June, and we learned that he was basically operating the campaign out of the trunk of his car. When the second quarter fundraising reports came in, we learned that Gingrich had raised less money than Herman Cain, and was in debt. While other candidates were spending the spring and summer campaigning, Gingrich was taking vacations on a Greek cruise, and rounding up support for the not-so-crucial Hawaiian primary. The Gingrich campaign looked for all the world like what many suspect it still is, an opportunity for Newt to raises his speaking fees and sell books.
In addition to this there's the fact that, well, this is Newt Gingrich we're talking about. As I've noted in several Twittter conversations I've had on this idea of a Newt boomlet, this is a guy who has more baggage than Imelda Marcos had shoes. There are his marriages, of course, but also his tenure as Speaker, the 1995-96 government shutdowns, the Clinton impeachment and the circumstances that led to Gingrich's own resignation has Speaker, and the hundreds if not thousands of things that Gingrich has written and said since leaving Congress which are inevitably going to be dredged up again if he ever did become a serious contender in the race for the nomination. Anyone remember when he sat on the couch with Nancy Pelosi to do a Global Warming television advertisement? On top of all that, Gingrich hardly seems like the kind of candidate that would be able to garner the support of enough independents to win a General Election. In short, the logical conclusion seems to be that Gingrich on the Republican ticket in 2012, in either position, would be political poison.
And yet, Gingrich seems to be succeeding despite all the odds against him. In most recent national polls, he sits in third place behind Romney and Cain and although his numbers are usually comparable to Ron Paul's, it's arguably the case that Gingrich has a chance of rising above that number that Paul would never have. In part, it's due to the fact that other conservatives like Rick Perry and Michele Bachmann have faltered while others, like Rick Santorum, have failed to rise at all. Gingrich, helped in part by his name recognition, has benefited from the fact that the population of viable not-Romney's seems to be dying off quickly, and that the other not-Romney is a guy with no political experience whatsoever. Additionally, Gingrich has gotten generally positive marks from everyone for nearly all of his debate appearances. This isn't surprising. Newt Gingrich has been playing the political game since the 1980s and debating in the form we do it now is just another form of giving a speech from the House floor. Say whatever you will about Gingrich, and there's much to say, but he's intelligent and he knows how to make a good argument, voters seem to be responding to this. Additionally, York notes, he's giving the voters a positive message that the other candidates seem to be missing:
Gingrich won the night in large part by doing one simple thing: He lavished praise on his fellow candidates.  Perry has been "my mentor on the 10th Amendment," Gingrich said.  Bachmann deserves credit for efforts to stop the Dodd-Frank financial regulation bill.  Rick Santorum has worked to "rouse America to understand the challenge of radical Islam." Ron Paul has been "consistently correct" about a sound dollar.  Gingrich did not offer praise for the two frontrunners, Herman Cain and Mitt Romney, who skipped tonight's dinner.  But had they attended, Gingrich said, "I would have said nice things about them, too."

"I am here with very fine competitors, but no opponents," Gingrich concluded.  "We only have one opponent, and that's Barack Obama."
I'm still skeptical of the idea that Gingrich could become a viable competitor to Romney in the primaries. The negatives I noted above are still there, and voters don't forget those sorts of things. Additionally, Gingrich has largely been running a guerrilla campaign on a shoestring budget, because that's all he can afford to do at this point.  That's not enough to win primaries. Nonetheless, a surprise showing in a state like Iowa could be all that's needed to propel him into the spotlight and then, who knows what could happen. It's unlikely, but there have been a lot of unlikely things that have already happened in this race. So, stay tuned.
Incidentally, tonight, Gingrich and Herman Cain will be participating in what Gingrich is referring to a "Lincoln/Douglas style debate" in Iowa, it will be broadcast on C-Span and will likely be available for viewing in their video archive afterwards. If nothing else, it should be an interesting spectacle.