Newt Gingrich To Press: Ignore My Record Except When I Want To Cite My Record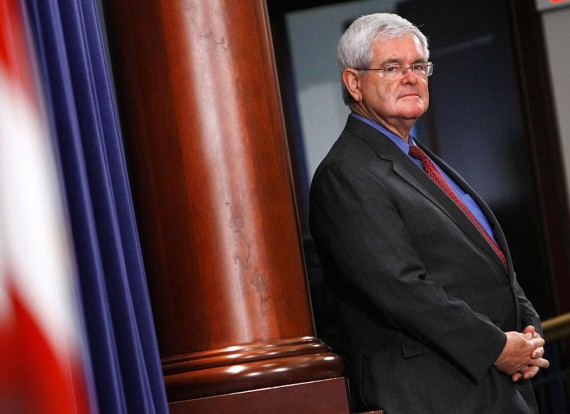 Newt Gingrich is back telling the press that they are not allowed to quote him on things he's actually said in the past:
Newt Gingrich doesn't plan to answer what he calls "gotcha" questions or fight the 2012 campaign over obscure, years-old political debates.

Except when he does.

The former House speaker told a room of journalists Monday morning that he won't allow the press to pin him down on every detail of his political and personal record, saying twice that he has cast over 7,300 votes, given more than 5,000 speeches and over 10,000 interviews, produced several films and written some two dozen books.

"All of you who want to play 'gotcha,'" Gingrich said, "I'll go to the next question."

Gingrich then proceeded to confirm that he is himself on Medicare, defend his involvement in a 2009 special congressional election, cite a documentary about national security he co-produced with his wife, reveal partial details of his financial history and tout his work leading the Alzheimer's Study Group with former Nebraska Sen. Bob Kerrey.

In effect, Gingrich claimed a blanket exemption from discussing parts of his career he doesn't want to address – and broad license to bring up whatever he wants.

Asked to define the line between relevant information and "gotcha" question, Gingrich said that "everything is fair" for candidates asking "to lead the American people in the most important governmental job on the planet."

But in the event he gets asked for information he doesn't have at his fingertips, or considers trivial, Gingrich said: "My answer in the future is going to be: That's really interesting, and I'm going to check it out and I'll let you know."
I have to wonder if Gingrich actually thinks that the media is going to follow his "instructions" here, or just laugh at him. I'm guess it will be the second.
Gingrich also said that he was not a Washington figure, despite the fact that he has spent his entire political career either in office in Washington or working there:
Former House Speaker Newt Gingrich (R-Ga.) said he doesn't view himself as a "Washington figure," positioning himself as an anti-D.C. candidate in his campaign for president.

Gingrich railed against the Washington establishment in a breakfast Monday hosted by the Christian Science Monitor, claiming the mantle of the "change" candidate in the field of GOP presidential aspirants.

"I'm not a Washington figure, despite the years I've been here," Gingrich said. "I'm essentially an American whose ties are across the country and is interested in how you change Washington, not how you make Washington happy."

Gingrich was first elected to Congress in 1978, where he remained until 1999, when he resigned both the Speakership and his seat in Congress. In the time since, he's set up a network of organizations (colloquially known as "Newt Inc.") based in Washington. He's made his home in the D.C. suburbs.
You really can't make this up can you?
I will say this much, Gingrich is conducting a master class in how not to roll out a campaign for President of the United States.