Newt Gingrich's Breakfast At Tiffany's
Newt Gingrich and his wife had a quarter million dollar line of credit at Tiffany's. A story, a scandal, or much ado about nothing? I'll take Door Number Three.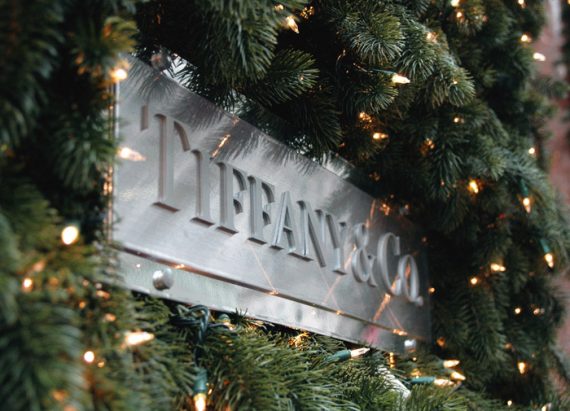 I've resisted writing about it because just seems so darn silly, but the story about Newt Gingrich and his wife having an open credit line at Tiffany's that at one time amount to $250,000 is a story that just won't seem to go away:
Republican presidential hopeful Newt Gingrich, facing criticism over a large charge account he held at upscale jewelry store, Tiffany & Co., remained defiant on Wednesday.

"People should be free to spend their own money the way they see fit," the former House speaker said at a campaign stop in Manchester, New Hampshire, noting that he and his third wife, Callista, have virtually no debt.

Gingrich's no-interest revolving charge account at Tiffany's, with a limit of between $250,001 and $500,000, was first reported by Politico on May 17, and has attracted widespread attention.

The Republican has since said that he and wife are "very frugal." On Wednesday he described himself as someone who has "founded four small businesses."

If nothing else, the jewelry hubbub has drowned out much of Gingrich's campaign message at a time his campaign is struggling to gain traction.
Some pundits have compared this story to John Edwards's $400 haircuts, and I suppose there is some similarity there to the extent it shows how much the political class really is out of touch with how real Americans live their lives. One difference, however, is that Gingrich isn't basing his campaign on being a man of of the "little people" and talking about "two Americas: the America of the privileged and the wealthy, and the America of those who lived from paycheck to paycheck." (Although, in Edwards's case, I guess there really were two Americas) So, the hypocrisy charge doesn't really fit.
On some level, I don't really care what Newt and Callista spend their money on and the fact that this is a story is largely a reflection of the fact that there are more hours on cable news than there are stories to fill the time so they have to concentrate on the silly stuff.
That said, there are some allegations out there that there may be more to this story:
At the same time Tiffany & Co. was extending Callista (Bisek) Gingrich a virtual interest-free loan of tens of thousands of dollars, the diamond and silverware firm was spending big bucks to influence mining policy in Congress and in agencies over which the House Agriculture Committee–where she worked–had jurisdiction, official records show.

Filings

by Tiffany's lobbyist, Cassidy & Co., and other government records show that the firm's spending on  "mining law and mine permitting-related issues" in Congress, as well as the Forest Service, the Interior Department, and Interior's  Bureau of Land Management shot up sharply between during the period when Callista Gingrich was chief clerk at the House Agriculture Committee.
Tiffany has issued this statement about the whole affair:
Tiffany & Co. offers two forms of credit.  The first is a Tiffany revolving credit card agreement with state-specific interest rates.
The second is a Tiffany Time Account.  To meet competitive conditions, Tiffany makes Time Accounts available to revolving credit card customers who wish to purchase engagement rings over $1,000 or other merchandise valued over $5,000.  On a transactional basis, this program offers interest-free borrowing for up to one year for credit-worthy Tiffany customers.
All customer information is confidentially held at Tiffany & Co.  With the permission of Speaker Gingrich, we can confirm that his Tiffany Time Account has a zero balance and that all payments were made in a timely manner.
If the Gingrich's were offered a revolving account that would be available to anyone who meets their criteria  — and, admittedly, you'd have to be wealthy and have a excellent -credit rating to qualify I would imagine — then I don't see what the problem is here, even taking Callista's job into account. There's a small whiff of smoke, but no fire.
Now, a word to the news media. Stop making me defend Newt Gingrich.
Update: Tim Carney at The Washington Examiner uncovers another link between Gingrich and Tiffany's:
Christy Evans, formerly a top staffer to then-whip Newt Gingrich, is a registered lobbyist for Tiffany's, the high-end jeweler where Gingrich and his wife enjoy an extraordinary line of credit.

Evans, former floor assistant to Gingrich and now a lobbyist at the legendary K Street firm Cassidy & Associates, has represented Tiffany's on mining issues since 2000, according to lobbying filings.
Again, unless there's evidence that the Gingrich's got special treatment I don't think there's a story here.