More On Unlawful Command Influence
There's essentially no analogue in the civilian justice system. Here's why.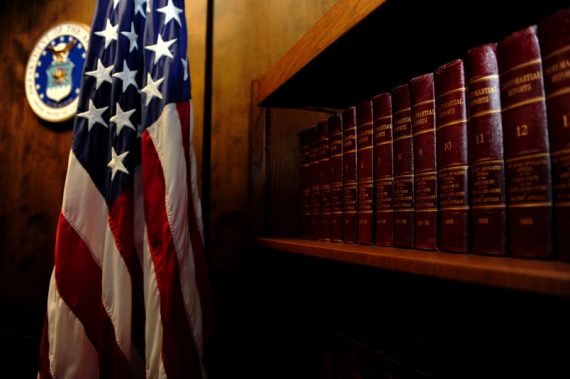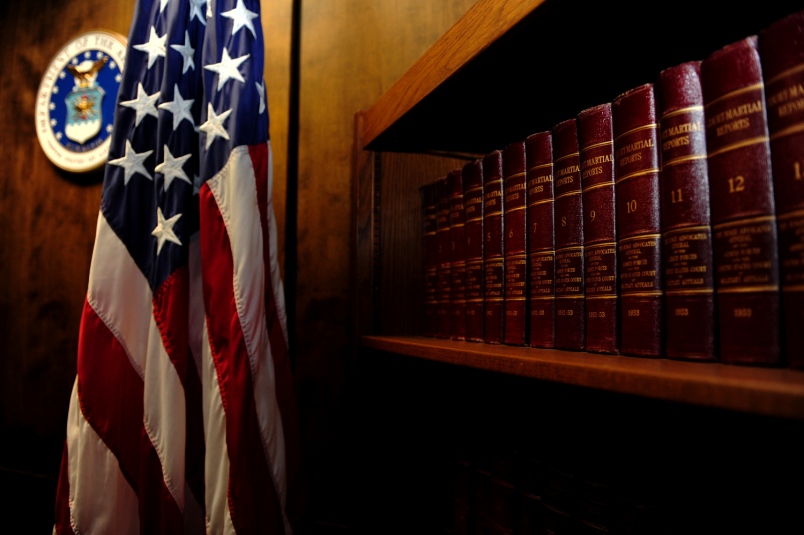 Yesterday, I passed along word that a Marine staff sergeant's sexual assault conviction had been overturned on appeal on grounds of unlawful command influence. The discussion in the comment thread, quite naturally, is perplexed by the whole thing because, as I've noted in several postings on the topic, both President Obama and Commandant of the Marine Corps Jim Amos were absolutely sending the right message about a real problem within the American military, albeit in a way that was problematic. Additionally, there's essentially no analogue in the civilian justice system.
The opinion by U.S. Navy-Marine Corps Court of Criminal Appeals Chief Judge Moira Modzelewski does an outstanding job of laying out the background and reasoning behind the ruling. I commend it in full to those who want to dive deep. But some excerpts will help.
First, it's worth noting that we're not talking about a single Amos speech but rather a very comprehensive effort on his part to change the culture.
In April 2012, General James F. Amos, the Commandant of the Marine Corps (CMC), and Sergeant Major Michael P. Barrett, the Sergeant Major of the Marine Corps (SMMC), embarked on a tour of  all major Marine Corps installations, as well as a few other  locations where Marines were stationed, to deliver a lecture that came to be known as the Heritage Brief. The CMC's target audience for the Heritage Brief was "every single staff NCO and officer in the Marine Corps."
This is a crucial point, in that this was a major emphasis by the senior leadership of the service. And, given the Marine Corps culture, it's especially important. For reasons I don't fully understand, the Commandant is a revered figure in a way that the other service chiefs aren't. The Corps is unique among the services in its esprit and its leadership is especially powerful.
Second, the timing:
On 19 April 2012, the CMC and the SMMC presented the Heritage Brief at Marine Corps Recruiting Depot Parris Island, SC., where the appellant was pending trial by general court-martial. His trial was docketed for the week of 11 June 2012, and the standing convening order had been modified specifically for the appellant's court-martial on 23 March 2012. Of the eleven members listed on the convening order for the appellant's trial, eight members were present in the audience for the Heritage Brief on 19 April 2012, which was video-recorded and later transcribed.
Third, Amos wasn't merely condemning sexual assault but making very specific declarations.
The CMC then turned to media coverage of sexual assault within the Marine Corps, starting with allegations arising at the Marine Barracks in Washington, D.C. Noting that Congress was "livid" about such incidents, General Amos informed the audience that there were five bills pending in Congress related to military justice, one of which proposed to remove CAs from the sexual assault referral process because "they have no confidence in our ability or willingness to do anything about (sexual assaults) ourselves." The CMC described that bill as wresting control from commanders and giving it to the Department of Justice. General Amos also discussed a breakfast meeting at his home the prior day, at which he hosted four members of Congress along with general officers, female officers, and the SMMC. The CMC stated that two Congressmen abruptly left the breakfast meeting after complaining that they didn't trust the Marine Corps to fix the problem of sexual assault.9 The CMC recounted a particularly tense conversation between himself and one of the Congressmen about a particular sexual assault case. The CMC related to the audience that he told the Congressman, "I am the Commandant of the Marine Corps and I am telling you we are going to fix it. I'm sick of it and we are fixing it."
To a civilian audience, this might seem rather innocuous. But he's telling Marine leaders that their ability to maintain internal control of good order and discipline is under challenge from Congress and will be taken away if they don't "fix" the perception that they're soft on sexual assault. Furthermore, Amos added,
[W]e had 348 sexual assaults in 2011 and you go — males in here, I know exactly what you are thinking, well . . . it's not true; it is buyer's remorse; they got a little liquored up and got in the rack with corporal, woke up the next morning, pants were down, what the hell happened; buyer's remorse. Bull shit. I know fact. I know fact from fiction. The fact of the matter is, 80 percent of those are legitimate sexual assault.
And:
(W)e have got a problem with accountability. I see it across the Marine Corps. I see it in the Boards of Inquiry, in their results and we have got an officer that has done something that is absolutely disgraceful and heinous and the board . . . he goes to a court-martial and he goes before a board of colonels and we elect to retain him. Why? Do I need this captain? Do I need this major? I don't. Why would I want to retain someone like that? I see the same thing with staff NCOs. You go before a board and the board sits around through milk of human kindness and misguided loyalty and says this is a good staff sergeant, this is a good gunny, he has got 17 years in, never mind the fact that he was sleeping with a corporal and he is married, we already took him, we have already hammered him, he has a letter of reprimand, let's keep him. Why? There is a lack of accountability that just befuddles me with the commanding officers and the senior enlisted in the Marine Corps. And I will tell you that. I am very, very disappointed.

I see this stuff in courts-martial, I see it in the behavior and just for the life of me I can't figure out why we have become so ecumenical, why we have become so soft? Where are we going [to] keep a sergeant that absolutely does not belong in the United States Marine Corps. Why would we need to do that? And the answer is we don't.

And I want the Staff NCOs in here and I want the officers in here, the commanding officers, and the sergeants major to take a hard look at how we are doing business. If you have a Marine that is not acting right, you've got a Marine that deserves to leave the Corps, then get rid of them; it is as simple as that.
Amos is essentially directing potential jurors to start with the presumption of guilt and that, if they do find guilt, dictating that the punishment should be dismissal from the service regardless of other mitigating factors. There's simply no escaping that this is unlawful command influence. Now, to be fair, Amos subsequently issued two White Papers on the matter making clear that he expected jurors to exercise "independent judgment" and act according to the facts of the case. But the damage was done.
Fourth, the impact on the jury was not theoretical but actual and documented in the voir dire of the case in question.
Individual voir dire revealed the following: eight of the eleven members attended the Heritage Brief; many had also either read White Letter 2-12 or the media coverage; virtually all acknowledged a high degree of deference to the CMC, particularly when he holds a strong opinion on a topic; they recalled the Heritage Brief primarily focusing on two things – sexual assault and accountability; almost all remembered and accepted as true the CMC's statement that 80% of sexual assault allegations are legitimate; and, most would characterize the CMC as unhappy, frustrated, or disappointed in his officers and senior enlisted for their failure to hold Marines accountable.
We turn to particular responses that convey the flavor of the voir dire responses from the panel. Two members were particularly frank in their responses. They each opined that, although they could remain fair and impartial, they believed other Marines sitting as panel members might be swayed by the CMC's remarks either to find an accused guilty or to punish him with a punitive discharge. LtCol M stated, "I can see where someone after the White Letter and if they sat in that meeting they could see where there is some pressure. And the Commandant says he's not happy with something; I can see where some people would feel some pressure to do something . . . I don't want to say their judgment is clouded but they could feel some pressure to think one certain way."

LtCol M then characterized a possible reaction by a panel member as "[I]f it's close, I'm on the fence, I'm going to go with the Commandant."LtCol B also asserted his own independence, but conceded that "I think it's entirely possible that some people could have been (influenced to give punitive discharges based on what the CMC said)." Both of these members referenced conversations among fellow officers following the Heritage Brief: LtCol M referenced conversations in which officers spoke about "undue influence."

Master Gunnery Sergeant (MGySgt) P, when asked about the CMC's statement that 80 percent of sexual assault allegations are legitimate, responded, "I believe that . . . that's his opinion that 80 percent are true. I don't take it to mean though that the other twenty percent are made up."  She also acknowledged that the CMC's remarks may have "some bearing" in her decision-making as a panel member.

Master Sergeant (MSgt) H, when asked about the same remark from the CMC, responded, "Like I said, ma'am, I would think highly that he has (done) his homework and that he's been advised correctly." Later, in response to a similar question, MSgt H replied, "[L]ike I said, he has knowledge of those things. So if he said it happens, it happens."

When asked what message the CMC conveyed in the Heritage Brief, First Sergeant (1stSgt) W summed it up as follows: "Basically . . . that senior enlisted and senior officers, we're not doing our jobs as far as keeping the Marines in line. He's tired of the sexual assaults/sexual misconduct amongst officers and Staff NCOs, and he's holding us accountable."  This same member later engaged in the following exchange with the trial counsel:

Q. Do you feel . . . based on what the Commandant said that you would be expected to find the accused guilty?
A: If the evidence was there, yes, sir.
Q: Okay, and what if the evidence wasn't there?
A: Then I'd have to dig deeper.
The bottom line, then, is that the Commandant, while acting in good faith and doing his duty as he correctly saw fit, went over the line in exercising unlawful command influence. Furthermore, as the questioning before trial by members impaneled on the jury demonstrated, that influence was actual, not theoretical. This ruling, while distasteful in its effect, is absolutely solid in its application of the law and in assuring that the accused got due process. I fully expect it to survive further appeal.