Most Americans Find President's Tweets Un-American And Racist
Two new polls show that the President's recent racist tweetstorms have not gone over well with Americans as a whole, but that's unlikely to cause the President to walk them back.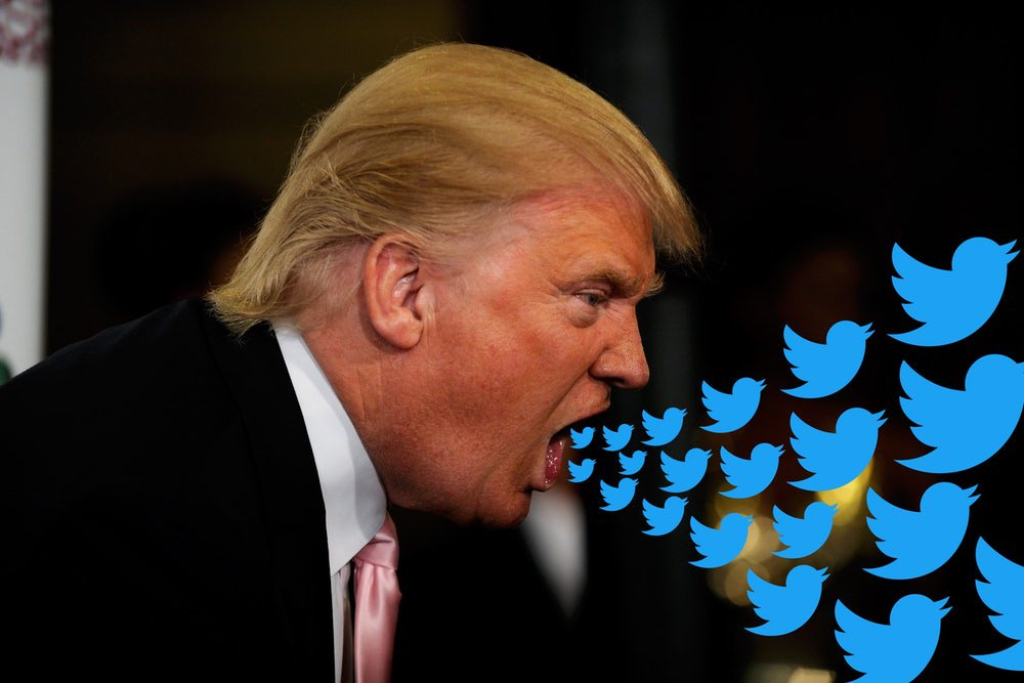 A new poll finds that a majority of Americans find the President's racist tweets and comments about four Democratic Congresswomen, telling them to 'go back where they came from' are un-American:
WASHINGTON – A clear majority of Americans say President Donald Trump's tweets targeting four minority congresswomen were "un-American," according to a new USA TODAY/Ipsos Poll. But most Republicans say they agreed with his comments, an illustration of the nation's sharp partisan divide on issues of patriotism and race.

More than two-thirds of those aware of the controversy, 68%, call Trump's tweets offensive. Among Republicans alone, 57% say they agree with tweets that told the congresswomen to go back to the countries "from which they came," and a third "strongly" agree with them. All four lawmakers are American citizens; three were born in the USA.

That finding may help explain the reluctance of GOP leaders and most GOP members of Congress to castigate the president for tweets and comments targeting the congresswomen, liberals who are among his sharpest critics on Capitol Hill. Only four Republicans joined House Democrats on Tuesday in passing a resolution condemning Trump's comments as "racist."

That said, the dispute could be costly for Trump among key voters in his bid for a second term. Three-fourths of the women polled call his tweets offensive. Independents, by more than 2-1, say the comments are "un-American."

Overall, 59% call the president's tweets "un-American."
A new CBS News poll found similar results:
The controversy around President Trump's tweets last week comes at a time when nearly nine in 10 Americans see a nation divided along racial lines, and most believe the parties each hold different ideas about what makes a person an American.

A majority of Americans (59%) disagree with what the president said in his tweets last week about four Democratic congresswomen of color, including 44% who disagree strongly with what he said. But 40% of the country agrees with what Mr. Trump said. "'Progressive' Democratic Congresswomen" should "go back" to their countries, he tweeted last Sunday.

And in a nation which nine in 10 Americans believe is divided along racial lines, sharp partisan and racial differences define their views. Among Democrats, disagreement with what the president said runs high, at 88%. Most of those in agreement with the president are from his party, with 82% of Republicans agreeing, including 47% who strongly agree with the statements. Independents mirror the country overall — 58% disagree, including 41% who strongly disagree.

Most Republicans like the fact that the president tweeted those statements in the first place, and on this view, they stand apart from other Americans. While only 26% of Americans like Mr. Trump's tweeting of the statements about the Democratic congresswomen, 57% of Republicans somewhat or strongly like that he did so, and only 18% say they dislike it. Most Republicans feel the ideas expressed in the tweets were pro-American, and 70% feel they were not racist.

Republicans are, however, comparatively less likely to call the tweets presidential (43%). Seventy-seven percent of Republicans feel the media has given the tweets too much attention.

Democrats call the tweets racist (84%), un-American (78%) and unpresidential (87%).

Most independents also call them unpresidential (55%) and unnecessary (54%).
What both of these polls show, of course, is the fact that, while Americans as a whole oppose the President's tweets and consider them to be racist and un-American, the story is quite different when one looks solely at what self-identified Republicans think. Looking solely at that demographic group, it's clear that the President's tweets are generally speaking very highly supported and that his claims about the "the squad" being un-American are widely accepted. These numbers are likely to be far more important to the White House than the issue of what the public as a whole thinks since the Trump 2020 campaign's entire strategy appears to be aimed at energizing the same base that got him elected in 2016 and which has steadily supported him throughout his time in office to rally behind the President. Indeed, the more that Democrats and the media promote the President's tweets, no matter how outrageous and obnoxious they become, the more this segment of the public seems to be eating it up. Given that, one can presume that we'll see more of this from the President over the coming weeks and months, and well into 2020 itself. Whether that amounts to a winning strategy remains to be seen.